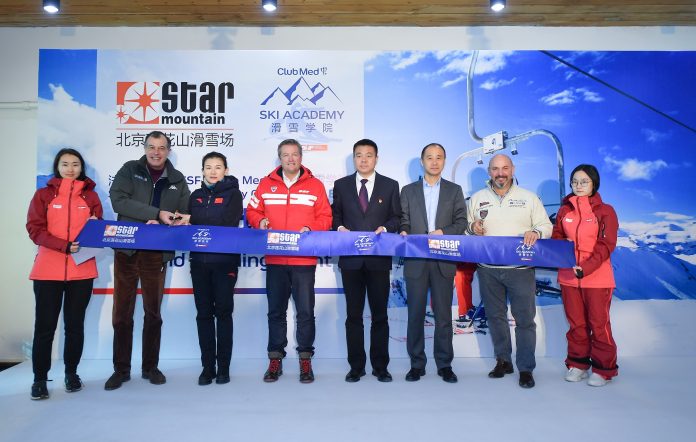 1月15日,全球知名的度假品牌及滑雪度假领导者Club Med与享誉全球的滑雪指导机构——法国滑雪学校(以下简称ESF)合作的滑雪学院在北京莲花山滑雪场举办了盛大的开幕仪式。Club Med全球总裁 Henri Giscard d'Estaing、法国滑雪学校ESF总裁Eric Breche、国家体育总局冬运中心大众冰雪部副部长唐叶红女士以及中诚信投资集团有限公司副总裁韩刚先生等嘉宾出席了开幕仪式。
On 15th January, Club Med celebrated the grand opening of a premium skiing and snowboarding school powered by Club Med and the world-leader Ecole du Ski Francais (ESF, French Ski School) at Beijing Star Mountain Ski Resort. Henri Giscard d'Estaing, Chairman and Chief Executive Officer of Club Med, Eric Breche, President of ESF and Miss Yehong Tang, Deputy Director of Mass Ski Division of Winter Sports Administrative Center, were on site for the important occasion, invited by Mr. Gang Han, Vice President of China Chengxin Investment Group, owner of Star Mountain.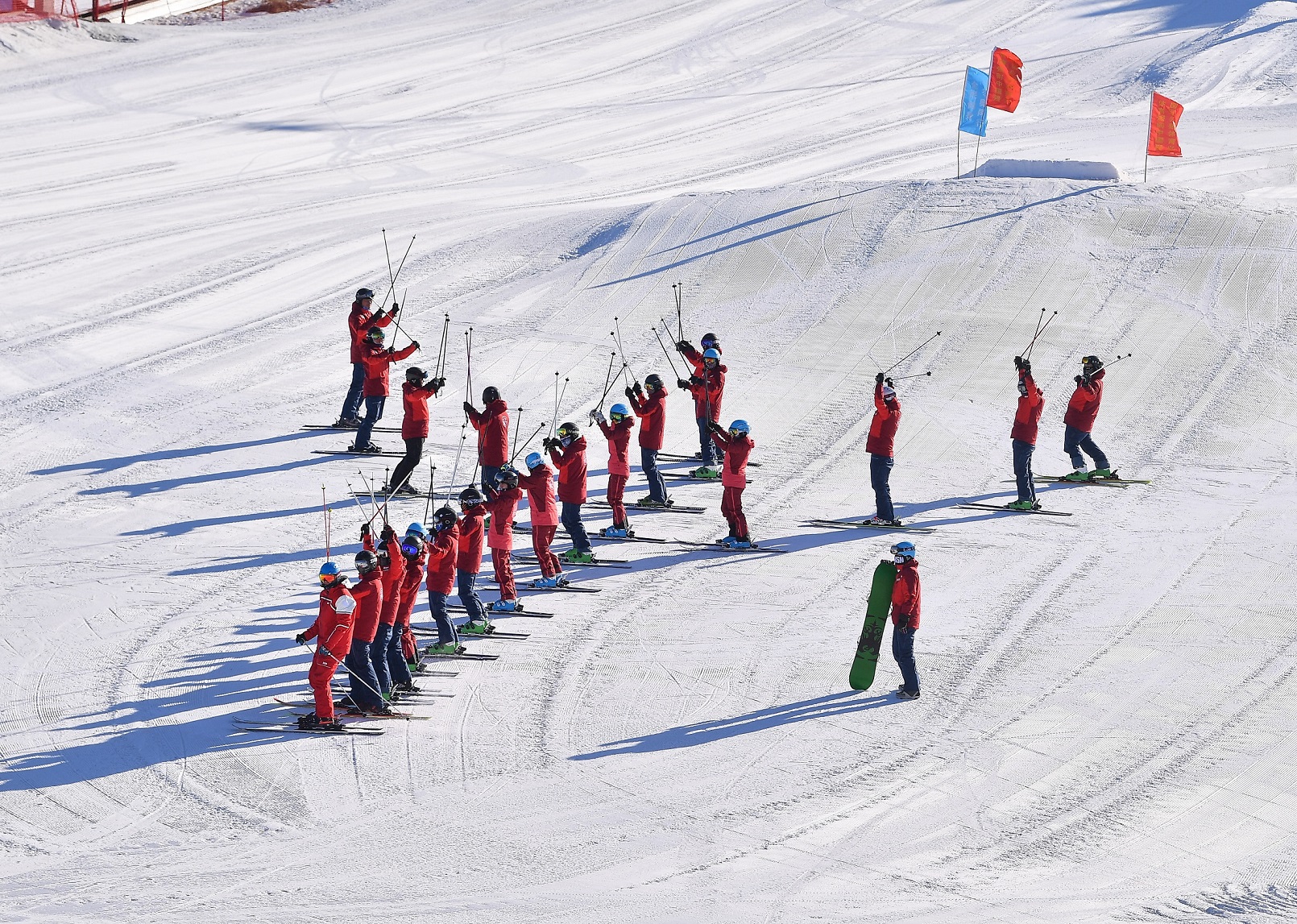 中国奥委会主席刘鹏曾表示,2022年北京冬奥会计划带动中国3亿人口参与冰雪运动。为了实现这一宏伟目标,中国也将大力发展优质的冬季运动设施和更加专业、权威的方法指导。目前中国所有滑雪教练当中,持有GASC认证的教练不足半成,影响人们享受滑雪之乐的三大主要原因在于,滑雪在他们眼中是一项危险的运动、滑雪设施和条件不够便利以及昂贵的费用。事实上,中国20%的滑雪爱好者在初尝滑雪体验之后都会再试身手。为此,Club Med与法国滑雪学校在合作过程中将这些因素纳入考量之中,力图通过更加专业、安全的课程,让初学者能够轻松体验到滑雪乐趣。Club Med滑雪学院的所有滑雪教练均持有GASC认证,将为北京的滑雪爱好者们带来权威、专业、安全的教学指导。
Leading up Beijing's hosting of the 2022 Winter Olympics, Liu Peng, president of the Chinese Olympic Committee has projected that China will have 300 million Winter Sports Enthusiasts by the time of the Olympics. In order to support this government objective, there is a high demand for quality winter sports facilities and instruction in China. Currently, less than half of ski instructors in China have GASC certification. The top reasons in China that deter prospective new skiers are the perception that it's too dangerous and facilities are not convenient enough. In fact, only 20% of first time skiers in China end up trying again. In developing the China Ski Academy Powered by Club Med and Ecole du Ski Francais (ESF), these factors were taken into account to create an exciting and safe experience for new Winter Sports enthusiast. 100% of the ski instructors on site follow a strict training with ESF instructors in season opening, an on-going training during the ski season with a permanent ESF instructor on site, and for the most successful ones, get a "China Ski Academy" certification at the season end, exemplifying the superior quality of ski instruction the new Ski Academy brings to Beijing.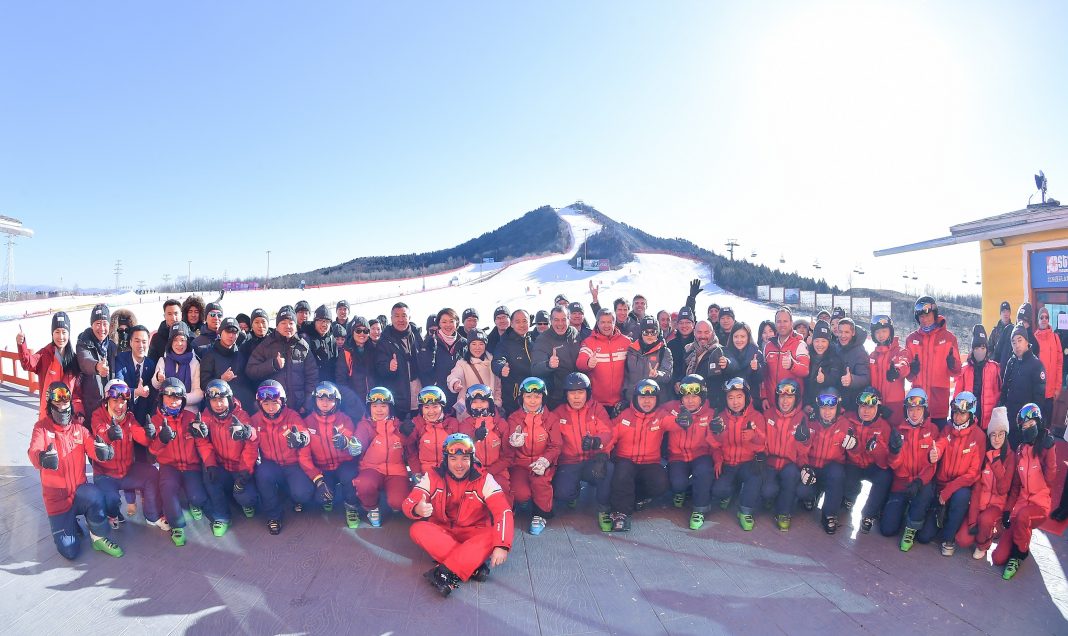 全新滑雪学院的揭幕旨在响应中国游客对优质滑雪体验与日俱增的需求,为不同级别和年龄层的学员提供国际水准的指导和滑雪体验,点燃更多滑雪爱好者对这项运动的热情。作为享誉全球的冬季运动指导机构,ESF凭借长达73年的经验积累,在全法拥有230家滑雪学校。ESF不断完善其先进的教学方法,并根据学员的年龄及能力差异提供相应的系统指导。随着ESF专业指导方法的加盟,合作的滑雪学院的资深教练团队全部经过ESF的系统培训和认证,确保为所有学员提供乐趣十足、效果卓著且安全的滑雪课程。目前,ESF共有17000名认证教练员,每年为250万名滑雪者提供培训。Club Med与ESF在中国市场联手合作的首家滑雪学院率先入驻北京莲花山滑雪场,势将为北京这座冬奥会举办城市带来更高水准的单板滑雪及双板滑雪指导。
The opening of this new Ski Academy in collaboration between Club Med and ESF in China hopes to tap into the evolving demands of Chinese travelers for a high-quality winter sports experience and provide a superior experience for prospective new skiers that will create a love for the sport. As a renowned global leader in Winter Sports tuition, ESF has 73 years of experience across 230 ski schools in France, ESF has developed and perfected its own advanced teaching method with special considerations for young skiers. ESF teaching methods have been adapted to the China market and will be delivered by experienced Chinese instructors who have undergone extensive training with ESF, ensuring fun, productive and safe ski lessons for all participants willing to learn. ESF's 17,000 instructors already train upwards of 2.5 million skiers annually. As the first Ski Academy powered by Club Med and ESF in China, the new venture now promises to take ski and snowboarding instruction in Beijing to a world-class level.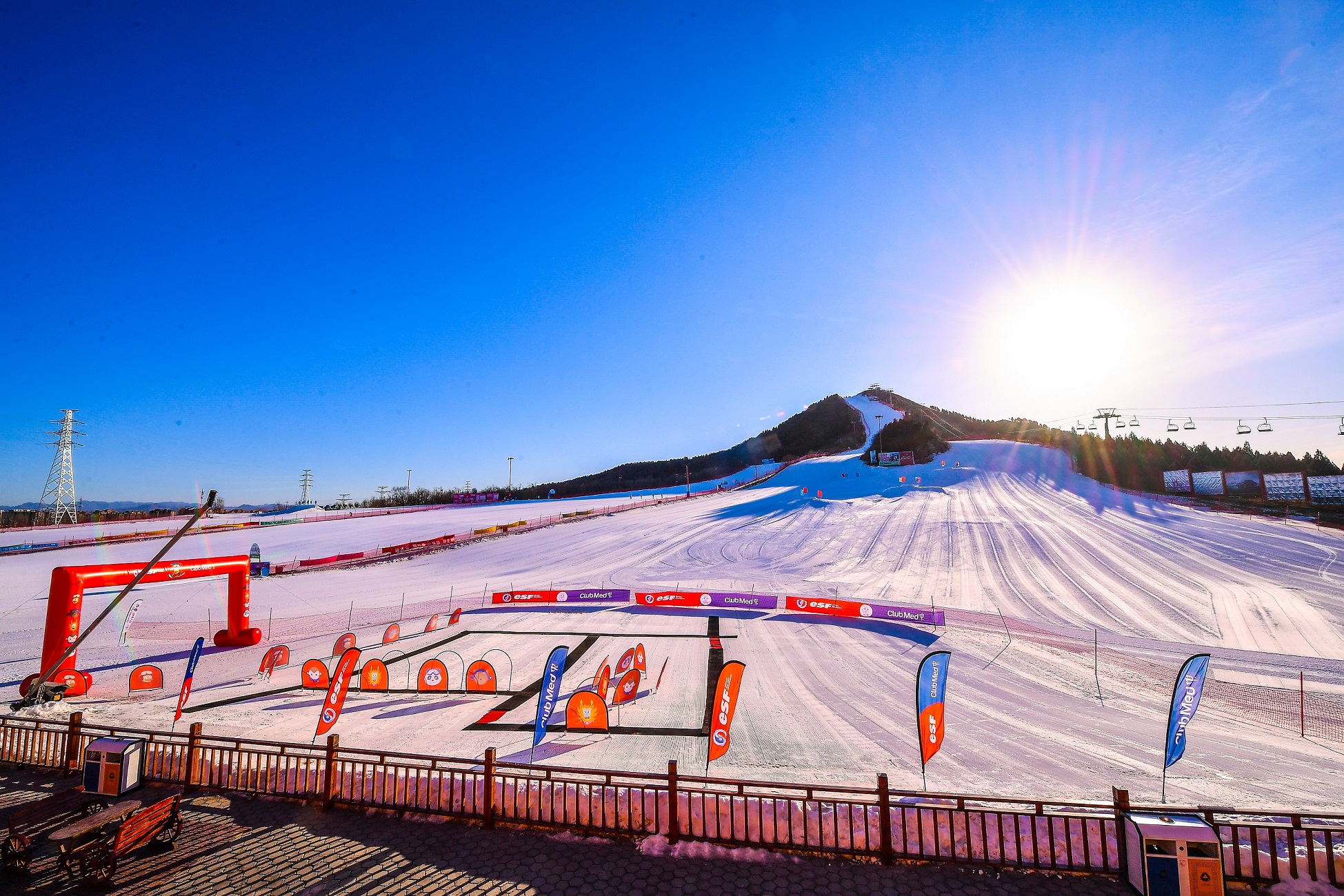 Club Med滑雪学院还旨在满足中国对冬季运动设施的庞大需求。随着2022年北京冬奥会的临近,中国目前已有500多家滑雪度假村。Club Med位于吉林北大壶和黑龙江亚布力的两家滑雪度假村的预订量已翻了一倍以上,从2016年的11000人次增长到2018年的24000人次。
The new opening answers to a high demand in China for Winter Sports facilities. More than 700 ski resorts have opened across the country as Beijing prepares to host the 2022 Winter Olympics. Bookings at Club Med's two ski resorts in Beidahu and Yabuli alone have more than doubled in just two years – from 11,000 in 2016 to 24,000 this year.
Club Med大中华区首席执行官Gino Andreetta先生在开幕仪式上表示:"Club Med与ESF的联手合作将为中国冬季运动市场的发展带来重要契机,凭借ESF领先全球的教学方法,越来越多阅历丰富的中国年轻一代游客将选择Club Med,寻求备受认可的专业教练及先进的设施。"
"Club Med's partnership with ESF marks a pivotal moment in the development of China's winter sports market", said Club Med Greater China CEO Gino Andreetta on the occasion of the event. "ESF's advanced training will attract more and more of China's sophisticated young travellers to Club Med in China to seek out very best instructors and facilities."
除了位于北京莲花山滑雪场的滑雪学院外,Club Med与ESF还将在重庆南天湖滑雪场开设滑雪学院,为不同年龄层和不同水平的滑雪爱好者提供同样优质、专业、安全的滑雪课程。无论是新手还是专业级玩家,都能在合作滑雪学院畅享单板滑雪或双板滑雪的乐趣。ESF教练将常驻在滑雪场,与滑雪学院总监和专业教练们通力协作。整个滑雪季期间,教练员也将继续加强专业培训,不断发展并完善先进的教学方法。滑雪学院的高端装备由迪卡侬运动品牌提供支持。
The Star Mountain Ski Academy powered by Club Med and ESF along with a sister academy at Daikini ski resort in Chongqing will both offer the high-quality instruction developed by Club Med and ESF to cater to all ages and ability levels; from beginner to expert, in ski or snowboard. The collaboration model has the Ski Academy operated by the Beijing Star Mountain Ski Resort with a Club Med-ESF trainer permanently based on-site to work side-by-side with the Ski Academy Director and professional instructors. The training of instructors continues throughout the winter ski season for continuous improvement. High quality equipment at the Academy is supported by Decathlon.
滑雪学院的指导课程针对不同年龄层,3岁以上的儿童即可开始接受训练。"Club Piou-Piou"儿童专区专门面向3-5岁的儿童,旨在为这些小小滑雪爱好者提供乐趣十足、安全无忧的滑雪体验。"Club Stars"则专门针对6-14岁的青少年而设立,成人课程也分为不同的水平等级以及丰富的场地和方法选择。为了让新手学员充分体验到滑雪之乐,滑雪学院将秉持三大教学原则:安全、卓越、乐趣。
Ski instruction for youth begins as young as three-years old. "Club Piou-Piou" is designed as a fun and protected experience for 3-5 year-olds. "Club Stars" has several levels for 6-14 year olds to develop their skills, and Adult courses are available for all levels and with a multitude of terrain and technique options. To encourage enjoyment among novice Chinese skiers, the academy bases training on three guiding principles: safety, excellence and fun.
北京莲花山滑雪场业主兼总经理韩刚先生表示:"随着冬奥会的临近,滑雪日益成为备受中国人欢迎的一项运动,尤其是那些富有探险精神的千禧一代。人们日益高涨的滑雪热情也带动了他们对顶级教学方法的需求,Club Med与ESF合作的滑雪学院将有助于为中国的滑雪爱好者带来更具国际水准的专业指导,帮助他们培养良好的习惯,以保证更加安全有效的训练。"
"Skiing is becoming more popular in China as the Olympic Games come up, with adventurous young millennials at the forefront," said Star Mountain Ski Resort owner and general manager Mr. Gang Han. "With this surging popularity there is a need for top training and the arrival of ESF at Club Med Ski Academy will significantly raise standards to a more professional and sophisticated level for skiers to acquire good habits that guarantee safer and more responsible skiing."
未来,Club Med和ESF合作的滑雪学院还将扩展至中国其他城市。
Moving forward, Club Med and ESF seek to expand instruction across China.
---
北京莲花山滑雪场滑雪学院
The Star Mountain Ski Academy powered by Club Med and ESF
北京市顺义区张镇良山东路288号
NO.288 Liangshan East Rd., Zhangzhen Town, Shunyi District, Beijing
Tel:+8610-6148 8111
Club Med Website: www.clubmed.com