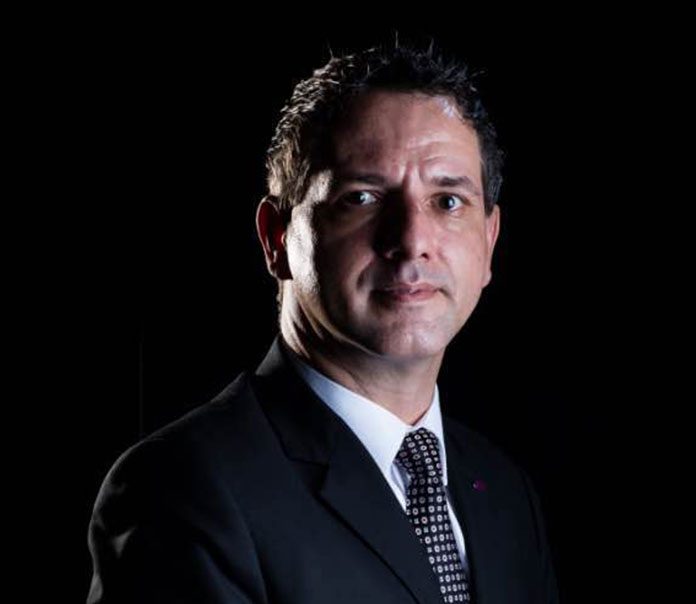 Christian Buggelsheim, 深圳威尼斯睿途酒店总经理 — GM of The Venice Raytour Hotel Shenzhen
近日,华侨城国际酒店管理有限公司任命金沛先生担任深圳威尼斯睿途酒店总经理一职,全面负责酒店的运营管理和战略发展,同时担任华侨城国际酒店管理有限公司副总经理。今天,有幸能够通过金沛先生深入了解酒店的个性化服务,以及对于酒店的未来计划。
OCT International Hotel Management Company has recently announced the appointment of Christian Buggelsheim as General Manager of The Venice Raytour Hotel Shenzhen. He will be responsible for the overall operation management and the strategic development of the hotel, and he will also serve as the Vice President of OCT International Hotel Management Company. Today Christian is giving readers an insight into the personalized service provided for guests in this luxury 5 star hotel and what is included in his plans for the future of The Venice Raytour Hotel Shenzhen.
DB: 您已经在全球各地的豪华酒店里担任过各种职务,请问是什么让中国成为您职业生涯的转折点? You have held various positions within luxury hotels all over the globe, please can you tell us why China has been a turning point in your career?
我周游世界各地大约有三年,曾在在美国、百慕大群岛、科威特、印度尼西亚等地工作过,也曾在巴厘岛工作过一段时间。巴厘岛是一个美丽的天堂,但是地理位置非常偏僻,用一句话形容就是"没有鞋子,没有新闻";所以当有机会可以来到中国,我便毅然接受了。刚开始我以为自己会在中国度过几年,没想到现在已经度过了十二年。我在中国的职业生涯起始于这家酒店,当时它被称为深圳皇冠假日酒店,我在这里工作了六年,然后去到成都开设中国最大的洲际酒店。这是充满挑战的一次经历,但幸运的是,我在深圳遇到了我的妻子。我住在酒店附近,和酒店一起成长着;我也经常到其他地方工作,后来发现自己还是对深圳充满了深厚的感情,所以我抓住这次机会回来这里工作,多年之后回来,这里的一切都让我感到无比的熟悉和亲切。
I have been travelling around the world for about 3 years. After living in various places including America, Bermuda, Kuwait, Indonesia,Bali I moved to work on island which was an exclusive get-away with the slogan 'No Shoes, No news'. Although a small paradise, it was too quiet so when the opportunity arose for a move to China I took it. I thought, maybe I will stay here for a couple of years, but it has been twelve years now and I am still in China! My China career started in this hotel when it was called the Crowne Plaza Shenzhen, I worked here for six years until the contract finished and then moved to open the largest InterContinental Hotel in China in Chengdu which was full of exciting challenges. However, I met my wife in this hotel in Shenzhen and I grew with the hotel, living close by I was often visiting in the years I worked elsewhere and knew that I would like to return to Shenzhen. I have a personal attachment to this hotel so I grabbed this opportunity to come back with both hands and returning feels quite natural all these years later.
DB: 深圳威尼斯睿途酒店是中国第一家具有威尼斯风格的酒店,这是如何吸引到中国游客的? The Venice Raytour Hotel is the first Venetian style hotel in China, how does this invite guests and special interest in China?
深圳威尼斯睿途酒店本身就是一个巨大的亮点,我们可以利用这种独特的优势做许多事情。当您经过舟车劳顿,即将步入深圳威尼斯睿途酒店的大门时,正在驾驶贡多拉的水手会边划船边给您打招呼,欢迎您的莅临;从一进门到整个大堂,都播放着意大利的音乐,还有两位穿着威尼斯传统服饰的大使在大堂里与客人们一起合照。他们看起来很受欢迎,每个人都会和他们挥手、合影。我们的酒店无论从外面看还是里面看都非常漂亮,我们为客人创造了一个非常温馨的空间。
The hotel itself is a huge highlight. There really is nothing like this elegant Italian style here and we can do so many things with this unique advantage. When you walk up to the entrance, there are two gondolas where Mario and Luigi, two charismatic oarsman initiate the aesthetic appeal of the hotel. Italian music plays at the entrance and in the lobby we have a couple dress up in traditional Venetian outfits, who walk around taking pictures with the guests – they look fantastic, everyone waves and takes pictures with them. The hotel is beautiful inside and outside, no other lobby in China has the same atmosphere, when you walk in the light is perfect and the ceiling height is just right – it creates a welcoming space for the guests.
除此之外,我们也会有交班舞表演,以意大利式的风格呈现,给顾客一种威尼斯人在讲故事的感觉。我们还改变了客人到达时的问候语,门口的工作人员现在会在顾客到达时说"Buon giorno!"或者"Buon sera";在他们离开时会说"Arrivederci!",这充分体现了意大利的风情。
We are planning on having a ceremonious spectacle when the staff change shifts, it will be in an Italian style which will give a Venetian storytelling feel. We have also changed the greetings for when guests arrive, door staff now say 'Buon giorno!' or 'Buon sera' and after they leave 'Arrivederci!' which projects the Italian warmth.
DB: 当进入这家酒店时,真的会感受到温馨的氛围。请问您是如何做到这一点的? When you walk into this hotel you really get a feeling for the welcoming atmosphere, how do you achieve this?
"感觉",是一个有魔力的词。当我来到这里时,我告诉我的团队,在酒店行业有三件重要的事情需要考虑。首先是热情,这意味着你需要带着对客人的热情与友善来到酒店;其次是"意义",因为做没有意义的事是无用的;第三点就是"感觉",我们希望客人对场地和工作人员的服都赞不绝口,印象深刻,百分之百的满意。很多客人会给我们的服务写留言或者信函予以反馈,我都会亲自去感谢他们,因为我想做一个好的榜样。我们在每个客人的房间里放一张卡片,上面写着:"你100%满意吗?",并附上我的名片。如果他们想给一些反馈,可以直接联系我。我不是一个总经理,在这个酒店没有这样的等级制度。我不喜欢僵硬的体系,我是老板,也是其中的一份子,我们都是一个团队。我想让在这里工作的人知道,他们是有广阔的发展机会的,所以我也很希望能够创造一个很棒的工作环境,同时也能转变员工在工作时的感觉。我希望我的团队能在中国将真正意义上的热情款待发扬光大,希望我们的员工会对客人说,"非常欢迎您的到来,请问我还有什么需要我们为您服务的?"
That is the magic word – feeling. When I arrived I told my team that there are three important things to consider in the hotel industry. The first is passion, meaning you arrive to the hotel with drive, enthusiasm and kindness towards guests. Secondly, 'meaning' because if you do something without meaning it is useless, and thirdly it is feeling- we want guests to have goose bumps and to check out thoroughly impressed and 100% satisfied with both the venue and the staff service. A lot of guests write comments and letters about our services, and I personally go to the staff members and thank them because I want to make a good example of them. We place a card in each guest's room that says, 'are you 100% satisfied?' It will have my business card attached to it so that they can contact me directly if they would like to give some feedback. My place is not at the top of a hierarchy, there is no such system as that in this hotel. I am the boss but I am in the middle and everyone is around me – we are all one team, I hate stiffness. I want to show our people who work here that they have an opportunity to develop, that is a big focus of mine so we run lots of programs to help them progress. This all creates a great work environment which translates into the feeling of the hotel. I want our team here to bring back the true meaning of hospitality to China – we want our staff members to say that you are most welcome and ask if there is anything more we can do for our guests.
DB: 请问您是如何通过专注于细致的个性化服务来改变深圳威尼斯睿途酒店的整体风貌的? How is your focus on meticulous personalized service changing the face of The Venice Raytour hotel Shenzhen?
酒店的服务正在发生变化,我们真正注重的是员工的培训,使他们的个性在工作中得到发挥。我想让我的员工做最真实的自己,让客人成为他们的朋友。酒店有许多顾客一年内会光顾超过60次,我问我的工作人员:"如果有一个人每年来你们家超过60次,你会认为那个人是你的朋友吗?"他们的回复当然是"是的"。所以对于那些常年光顾或者每年多次关顾我们酒店的客人,他们理应受到我们在大堂喊出名字的热烈欢迎。我们需要重新培训员工做到真正意义上的"好客",这也与中国含蓄的传统文化有关。改变这种固有文化并不容易,但如果他们看到我也这样做,在酒店与客人互相握手、交谈,他们可以从中学习。为了鼓励员工在工作中发挥自己的个性,我举办了一个比赛,要求所有部门根据他们的个性来装饰自己的办公室,评选出其中最创新、最具创意的部门给予奖励。目的是让他们可以享受在这里工作的时光,甚至可以公放音乐;我以前在酒店里这样做过,人们工作得更愉快,更高效。在四个星期内,我们看到了巨大的变化,我们会继续通过培训改进大家的工作。
Our service culture is changing, we are really putting a focus on training our staff to bring their personality to work. We would like them to be themselves, I need the person they are outside of the hotel to come to work so that the customer becomes our friend. I want people to be people. We have so many customers that come upwards of sixty times a year and I have said to the staff, 'if you have somebody came to your home over sixty times a year, would you consider that person your friend?' and of course they replied, 'yes'. Guests that have come to us for many years, multiple times a year, should be welcomed with their name shouted across the lobby with open arms. The reason we need to retrain staff into being hospitable in the true sense of the word has to do with the hierarchy culture in China. It is not easy to change this accepted culture but if they see me do the same, talking and shaking hands with guests throughout the hotel, they can learn from example. To encourage staff to bring their personality to work, there was a competition where I asked all the departments to decorate their offices with their personalities. We picked the best department who were most innovative and creative and gave them a big reward . The point is that they can enjoy spending their time here, they can even put music on, I have done this in hotels before and people work happier and more effectively. In four weeks we have seen quite a change and we will continue working on it through training programs.

DB: 对于酒店的餐厅,您有什么计划吗? What plans do you have to renovate the restaurants in The Venice Raytour Hotel Shenzhen?
在此之前酒店餐厅的发展有点处于停滞状态,但我现在正在计划优先发展餐厅的计划。Blue意大利餐厅曾经在深圳非常有名,所以我们打算聘请一位意大利厨师,相信他能通过新鲜的食材、实惠的价格,让餐厅重现辉煌。餐厅的室内装潢将全部翻新,并将提供一些令人惊喜的新菜肴和饮料;我们会重新定位Blue意大利餐厅,让它成为一个像以前一样时尚的地方;餐厅里应有尽有,大厅里有一个可爱小巧的鸡尾酒区,同时餐厅内能看到很好的风景。Blue意大利餐厅的发展计划正在进行中,在接下来的几个月里,我们希望能让餐厅成为人们真正想要的样子。
They were at a bit of a standstill, but we are working on developing those now with high priority. Blue Italian Restaurant was once very famous in Shenzhen so we are going to bring in an Italian chef in who will completely rejuvenate the menus with a strong focus on quality fresh ingredients but at affordable prices. The decor will be totally refreshed and some amazing new dishes with a great drink selection will be available. We are going to reposition Blue on the market and make it a hip place like it used to be. The restaurant has everything, there is a cute little cocktail area in the lobby and there is a great spot to have dinner. The planning of an update for Blue is well under way and in the next few months we hope to make the restaurant what the people really want.
DB: 请问深圳威尼斯睿途酒店近期计划了哪些项目? What projects do you have planned for the near future for The Venice?
深圳威尼斯睿途酒店自开业以来一直秉承着绿色环保,节能减排的使命,始终坚持环保的理念,如"地球一小时"熄灯仪式活动,虽然这可能会提高民众环保意识,但实际上在这一个小时内消耗了更多的能量:因为灯关了,但你使用了很多蜡烛。所以我请行政部门制定了一个全年环保计划,我想我们每个月都做一些事情,从这个星期五开始。我们可以做的事情,例如清理海滩的垃圾,或者不乘坐汽车或出租车来上班,这对环境保护是非常有意义的——我们正在致力于长期的可持续发展。
We are an environmentally conscious hotel and always have eco- friendly solutions in mind. The problem with current attempts such as Earth Hour is that whilst it may raise awareness, you would actually spend more energy during that hour because when they switch the lights off you buy so many candles. Therefore, I asked my director of administration to create an environmental protection program for the whole year. I want something to be done every month, this friday we start. Ideas such as we clean up the beach or you can't use the car or taxi to come to work makes helping the environment meaningful and worthwhile – we are working on long-term sustainability.
我们愿以这家酒店为例,回馈社会,同时让其他的酒店也参与进来,做我们力所能及的小事情。比如把酒店不再需要的鲜花送给敬老院或医院,这也是非常棒的。我想鼓励这样的行为,因为它们确实能点亮了人们的一天,也不会花费我们任何东西。
We would like to make an example of this hotel in giving back to the community. It would be fantastic to get other hotels involved in the little things we can do to give back, for example giving flowers that hotels no longer need to elderly homes and hospitals. I would like to encourage acts like this because they really brighten people's day and does not cost us anything.
在未来,我们也会计划在深圳进行一些公益慈善项目,目前慈善基金会正处于早期筹备阶段。这个基金会是为了扶持来自中国偏远地区的孩子的教育以及他们毕业后的发展,具体内容是支持他们的学校、计算机、书本、适当的教师和教育费用。然后,我们想邀请他们到酒店,让他们得到一个培训机会,我们希望提供可以改变他们和他们的家庭生活水平的机会,希望我们能激励整个公司都去从事公益。为了筹集资金,我们首先会进行慈善拍卖,鼓励人们捐赠出在他们家一年内都用不上的物品。如果你不需要他们,你可以捐赠和出售这些物品给慈善机构!我们还将邀请其他企业来赞助这个活动。这是一个长期的项目,希望在15年的时间里,能听到有些孩子因受惠于这个计划,开启了成功的人生,并入住我们深圳威尼斯睿途酒店!
We are running lots of projects here in Shenzhen and currently working on the early stages of a charity foundation which supports children from remote places in China through their education and after they have graduated school. The plan is to support their schools, computers, books, proper teachers and education. Then we want to invite them to the hotel and run a program, so that they can train and it will provide opportunities that can change theirs and their families lives. Hopefully we can inspire the whole company from this hotel. To raise money for this foundation we are first having a charity auction that encourages people to give whatever they have in their apartment that has not been touched in a year. You do not need them, you can donate and sell those items for charity! We will also invite suppliers and companies to sponsor the event for the children This is a long term project, I hope that in 15 years we can have some stories of children who have benefitted from the program and gone on to lead successful fulfilling lives in The Venice Raytour Hotel Shenzhen!