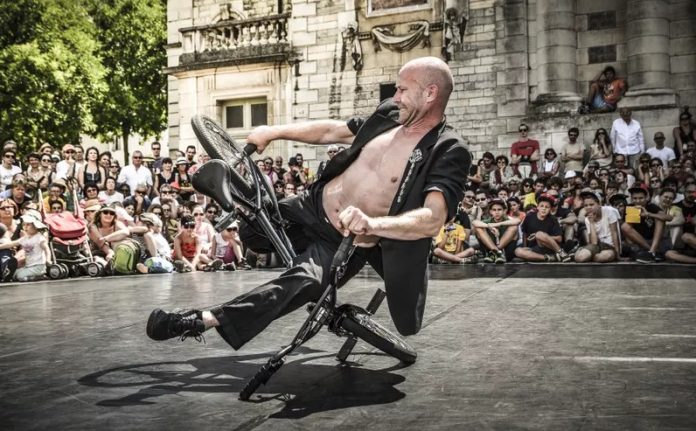 由"3.6/3.4"剧团创作的"小轮车飞人"及"交错地带"完美地融合了体育、音乐、新颖的舞蹈形式、戏剧与杂技语言。在"小轮车飞人"中,表演者文森·瓦林时而完全驾驭着他的小轮车,时而又温柔地爱抚着它,时而呈现出诙谐的情景。
The creation of Cie 3.6 / 3.4, Man V and Écotone/40° are at the crossroads of sport, music and new forms of dance, theatre and circus performance. In Man V , Vincent Warin treats his BMX in ways that are by turns facetious, domineering and adoring.
他把单人表演转换成了性感的双人舞,并充满着张力,一旁的威廉·斯科特用他的大提琴打着节拍。渐渐地,自行车这个物象慢慢淡去,闯入观众眼帘的已然是一个全新的整体:下轮车飞人。"交错地带"中开放的舞蹈折射出它的创作源头。
He transforms what at first looks like a solo into a sensual, high-voltage pas de deux to the sounds of William Schotte's cello. Little by little, the bike disappears, and up springs a new entity: Man V. Écotone/40° flows out of a profound desire to open ourselves up to the world.
文森·瓦林选择了来自三个不同艺术门类(舞蹈,音乐,杂技)的三位艺术家来呈现表演,仿佛在隐喻我们所在的世界和属于大家每一个人的"生态系统"。在推拉之间,他们找寻和分享着我们神秘存在里的交错地带中的融合与碰撞点。
Vincent Warin chose a trio of artists and disciplines (dance, music, circus) as a metaphor both for our world and for these ecosystems that belong to all of us. Fluctuating between attraction and repulsion, and with a deep desire to come together in this game of life, they seek out and share the points of fusion and friction that arise within the ecotone of our mysterious existences
---
深圳设计互联
海上世界文化艺术中心
Design Society
Sea World Culture & Art Centre
11:00 – 15:00
4月27日 / 27th April
深圳市南山区蛇口望海路1187号
NO.1187 Wanghai Road, Shekou, Nanshan District, Shenzhen