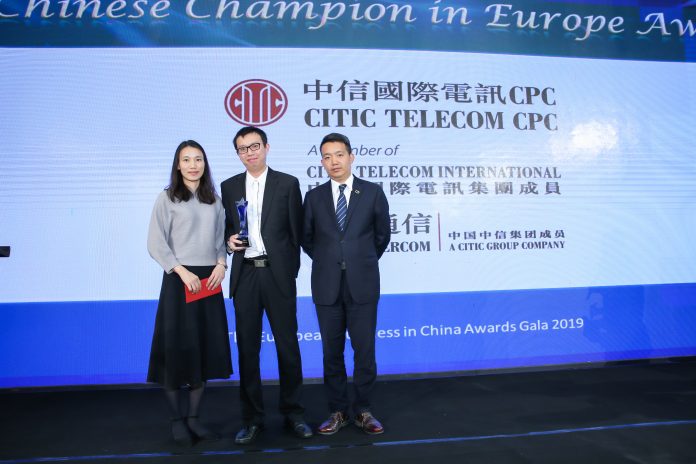 DB: 被评为欧洲地区的中国冠军企业,请问有什么感想想要分享的吗? How do you feel about your company being awarded as Chinese Champion in Europe Award?
我代表我的公司,对能拿到这个奖表示非常的自豪。中信国际电讯拿这个奖是当之无愧的,因为我们在信息通信技术解决领域有非常强的实力和丰富的经验。我们时刻准备着为我们所有的客户拓展他们在中欧的业务。我们非常荣幸能够获得这个奖项。
As a representative of my company, I am very proud of this award. I would say that CITIC Telecom is a worthy winner because we have very a strong ability and great experience in the ICT solution field. We are ready to help our panel of customers to expand to Europe and China. We are very honored to receive this award.
DB: 请问可以分享一下贵公司是如何成功管理在欧洲地区的商务的吗? Would you like to share briefly about how to operate and manage your business in Europe successfully?
想要拓展业务到欧洲,第一个要想到的是条例规则。我们都知道欧盟有《通用数据保护条例》以及相关十分严苛的行业条例。我们必须要认真学习、研究这些条例,保证我们没有违反任何规定。现在,无论我们的客户是中国的还是欧洲的,我们都非常熟悉相对应的条例,时刻为他们服务。
When expanding a business to Europe, the first thing to consider is the regulations. We know that Europe has the GDPR and very specific regulations for the industry. We had to closely study each and make sure that we fully comply. Now, regardless of whether our customer is in China or Europe, we are very familiar with these regulations and are ready to help them.
DB: 请问贵公司在全球化以及大数据快速发展的环境下有什么未来的规划吗? What will be your next step in terms of the globalized world and rapid development of big data?
我们有一个24/7运作的人工智能中心。如果客户受到外来的网络攻击,我们能够随时保护客户(的资料)、及时删除他们相关的信息。我们会继续这样保护我们全球的客户。相信这样能够帮助我们的客户减轻他们的管理负担以及减少他们的投入成本。我们有些客户是在我们帮助他们运营的同时发展他们自身的业务;这对他们来说很有价值的。
We have a 24/7 operation center based on the artificial intelligence engine. We are able to detect and protect our customers from cyberattacks. We will keep doing this for all our customers globally. We believe that we can help customers offload their management burden and save them management costs. We have our customers focusing on business development while we do the operation jobs for them. It is of great value to their business.
更多关于2019欧洲在华企业杰出贡献奖颁奖典礼资讯请戳:More information about the European Business in China Awards Gala 2019 please click: