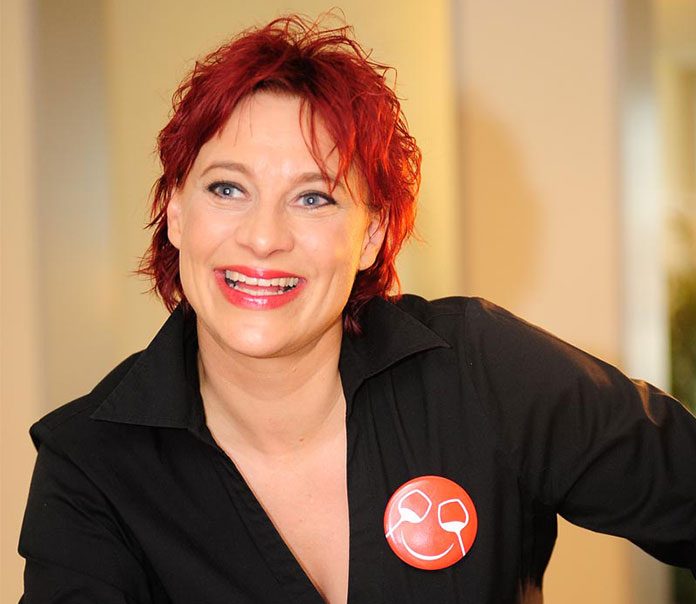 Claudia Masueger, 齐饮进口葡萄酒创始人及首席执行官 – Founder and CEO of CHEERS Wines
DB: CHEERS齐饮销售世界各地的葡萄酒,请问你们有以某个地区或者某个品牌作为你们的主打产品吗? CHEERS Wine sells wines from all over the world. Do you have a focus on which area or which brand you sell as your main product?
齐饮的目标是想让喝红酒变成一件有趣的事情,而且普通人都能消费得起。我们引进世界所有著名酒庄及地区的葡萄酒。因为市场决定一切,中国年轻一代的消费行为变化很快,做好细致的调查是十分重要的。
The aim of CHEERS is making wine drinking fun & affordable. We import wines from all famous wine regions around the world. It's important to do intensive research as the market is the boss and the consuming behavior of the young Chinese generation is changing quickly.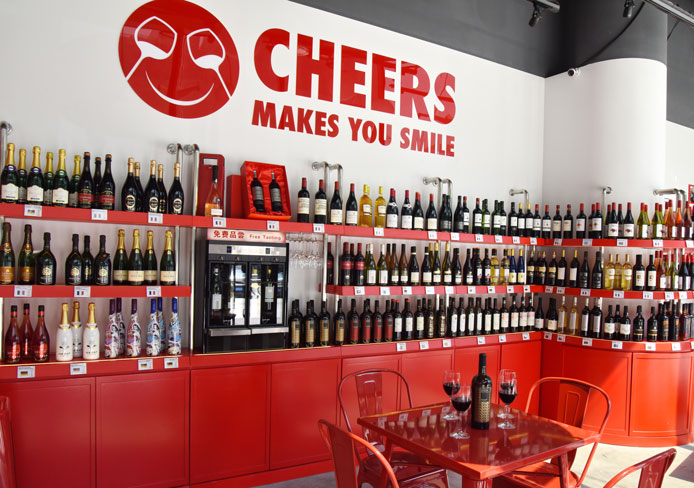 DB: 我们了解到你们的目标客户是新一代红酒消费者,请问你们有怎样的宣传方法保证你们在中国的销量呢? As your targeted customers are a new wine generation, what are your promotion strategies for ensuring your sales in China?
"CHEERS(齐饮)让您微笑"是我们的使命!我们提供优质低价的葡萄酒以及暖心的客户服务。我们所有的门店每天都会提供免费品尝葡萄酒的服务,便于顾客能够在迷人的葡萄酒世界里尽情地品尝。中国的年轻人对葡萄酒充满好奇,我们用教育和有趣的活动来引导他们该如何享受一杯葡萄酒。
CHEERS MAKES YOU SMILE is our mission! We provide honest wines to honest prices with a warm-hearted customer service. We offer daily free tastings in all our stores so that consumers can explore the great variety within the fascinating world of wines. The youngsters in China are curious and we guide them with education and fun events to enjoy a glass of wine.
DB: CHEERS齐饮以优秀的员工而著名;同时,加盟店是齐饮扩展业务的主要方式之一。请问你们是如何保证员工的质量,以此保证CHEERS齐饮正面积极的形象? CHEERS is famous for its people. At the same time, franchise stores are one of the main ways you expand your business. How can you guarantee the quality of your staff so that CHEERS can maintain its positive image for your customers?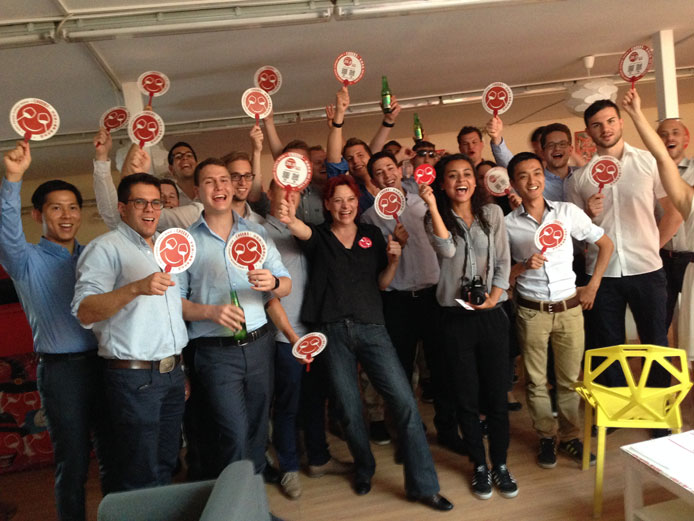 在我们核心价值观的引导下,我们有非常强的内部文化:1、爱微笑,2、学习和成长,3、团队协作,4、开放思维,5、出色并及时地完成任务。在我们齐饮里,我们持续为我们的员工和加盟伙伴提供全面的培训。许多加盟伙伴都会雇佣我们有经验的员工,直到他们能够完全自己管理他们的商店。
We have a strong internal culture which is guided by our Core Values. 1) Love to Smile, 2) Learn and Grow 3) Rock with the team 4) Be open minded 5) Get it done! In our CHEERS University, we offer our staff and Franchise partners on-going holistic trainings. Many Franchise partners are hiring our own experienced staff for a while until they can manage the store all by themselves.
DB: 生在一个1898年就开始经营葡萄酒行业的家庭,请问这对您的影响是什么?有一些有趣的故事可以分享给我们吗? Born in a family running wine business since 1898, how has this influenced you? Do you have any interesting stories you would like to share with us?
我的曾祖母在她104岁的时候去世的。她在世的时候,经常告诉我"每天喝一杯红酒,能让你身体健康强壮,让你心情愉悦。"我小的时候,还能经常和父母一起环游世界,探访各地的酿酒厂。葡萄酒生产商都是脚踏实地、努力工作的人,他们充满热情,对自己的红酒有十足的信心。这些都在无形中影响了我,塑造了现在的我。
My great-grandmother who was 104 years old when she died used to tell me "drink one glass of red wine every day, it makes you strong, healthy and happy". When I was young, I had the great chance to travel with my parents around the world, visiting wineries. Wine producers are very grounded and hardworking people, full of passion and determination to their wines. This has always impressed but also shaped me.
DB: 中国的葡萄酒业在快速地成长。请问在发展过程中有遇到怎样的挑战与困难?你们又是如何解决的? The wine market in China is growing rapidly. Have you encountered any challenges during this development and how did you solve them?
在中国的每一天都充满挑战,我也非常喜欢这样的生活!它让我不断学习、不断成长。保持积极乐观的心态,做实事,开放思维,这是非常重要的。葡萄酒业变化非常迅速,每6个月就重新思考、调整发展战略是至关重要的。
Every day is a challenge in China and I love it very much! It keeps me learning and growing. It's important to keep your mind positive, your hands busy and your heart open. The market is changing fast and it's of importance to re-think and adapt your strategy every 6 months.
DB: 除了要在中国开888家齐饮葡萄酒的终极目标,还有什么目标或者计划是希望CHEERS齐饮在未来能做到的? In addition to establishing 888 stores as the ultimate goal, what achievements or plans do you hope for CHEERS in the future?
CHEERS(齐饮)在逐步成为日需品,我们希望能尽快扩展我们的业务到亚洲其他国家。目标是希望能给更多创业家机会,经营属于他们自己的商店,同时让更多人拥有笑脸!
We plan to expand to other Asian countries soon as requests for CHEERS are coming in daily. The goal is to give lots of young entrepreneurs a chance to open their own store and make many people smile!