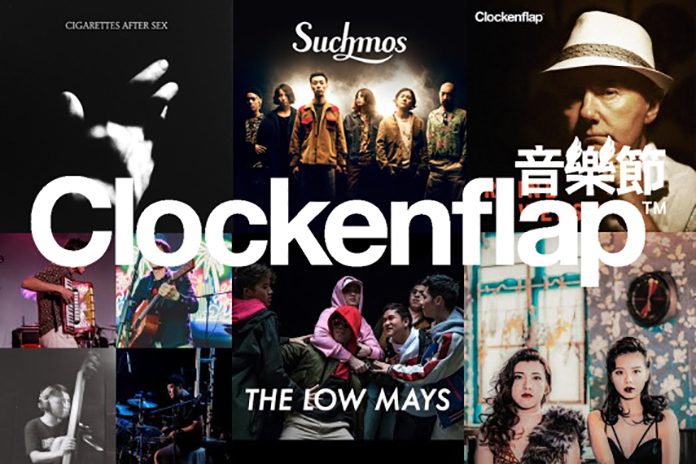 香港最盛大的音乐及艺术节Clockenflap 2018完整音乐阵容及各样精彩节目终面世!这个年度音乐文化盛事將于11月9日(星期五)至11日(星期日)在中环海滨举行。51个新公布的演出单位当中包括 Brit-pop 殿堂乐队 Pulp 的灵魂人物 JARVIS COCKER 震撼加盟。另还有唯美梦幻的 ambient pop 三人组 Cigarettes After Sex、日本乐坛当红 neo city pop 乐团 SUCHMOS 及曾写下传奇 cult 片《猜火车》原著小说、由作家化身 DJ 的 IRVINE WELSH!约100个国际、亚洲及本地顶级音乐单位将横跨6个舞台傾力演出。音乐节內更有众多"打卡"位,一流的大型艺术裝置、精彩奇异的互动体验与适合一家同乐的娱乐设施,让观众渡过全年最精彩难忘的周末。
Clockenflap, Hong Kong's biggest music and arts festival, today revealed the eagerly awaited full lineup and complete list of attractions for this year's event, which takes place from 9th to 11th November at Central Harbourfront. Among the 51 new acts to be announced were British indie legend JARVIS COCKER, ambient pop collective CIGARETTES AFTER SEX, Breakout Japanese stars SUCHMOS and Trainspotting-author-turned DJ IRVINE WELSH. In total around 100 top international, regional and local acts will perform across 6 stages, while the festival will also feature a cornucopia of Instagram-worthy installations, outlandish interactive experiences and lively family-oriented entertainment.
其他新加入的音乐单位还包括 BIG SHAQ、黄玠玮、THE LOW MAYS、INSTINCT OF SIGHT、GTB、五条人等更多精彩名字。
Other new acts just added to the lineup include BIG SHAQ, ZOOEY WONDER, THE LOW MAYS, INSTINCT OF SIGHT, GTB, WU TIAO REN and many more.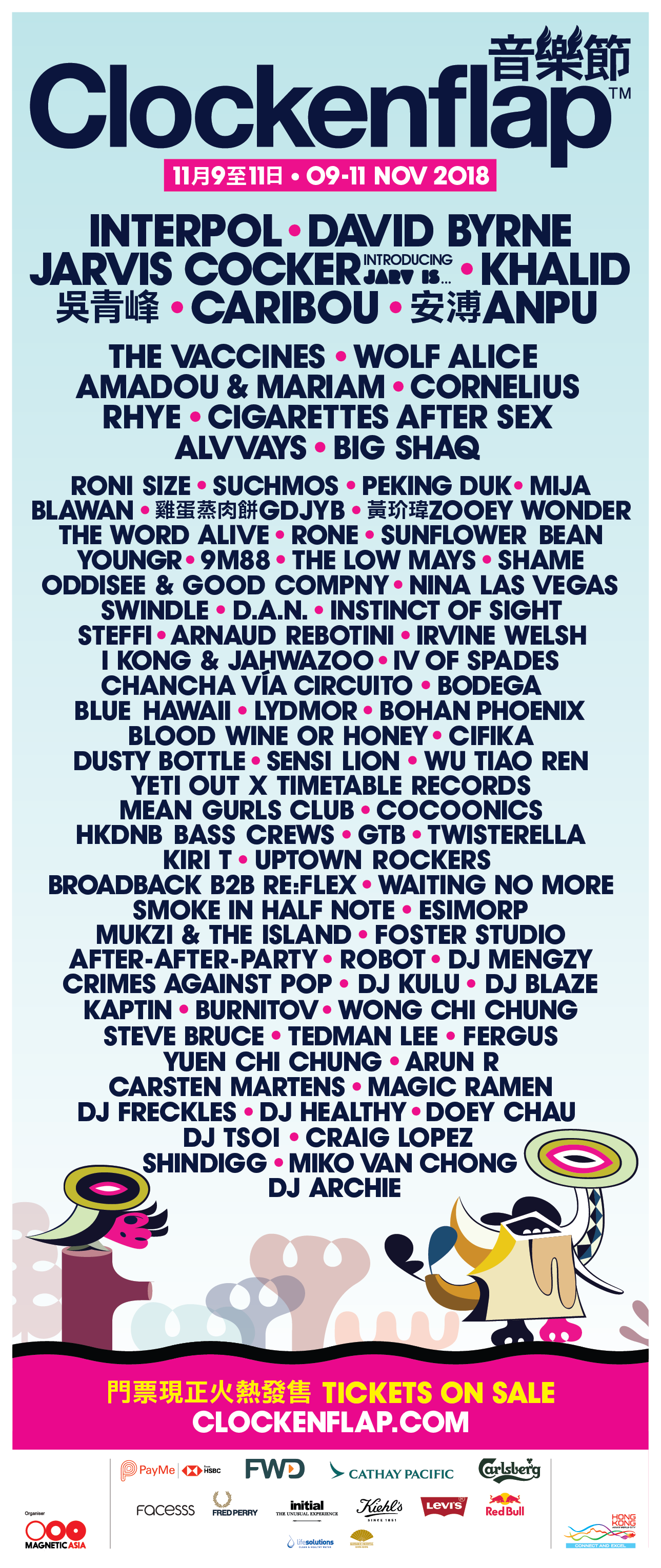 门票信息 | TICKET INFORMATION 
Clockenflap今年新增 Premium Lounge 尊贵体验,以最奢华的方式享受全城最高质的音乐节,Premium Lounge 内提供各种精緻美酒佳餚 ,坐拥全场最佳位置,令全港最精彩的音乐节体验全面升华!
Newly available to buy this year is the Premium Lounge VIP Experience, Clockenflap's most exclusive pass, which includes range of premium drink packages, food and unrivalled views in the Premium Lounge for those who want to make Hong Kong's ultimate festival experience even better.
詳情/For further information:
premiumlounge@clockenflap.com
---
第一阶段门票现正火热发售,优惠期直至2018年10月25日。
Phase 1 tickets are on sale now until 25th October, 2018.
第一阶段票价
三天周末成人票 – 港币1,620元正
星期五成人票 – 港币890元正
星期六及日成人票 – 港币1,080元正
Phase 1 ticket prices
General admission 3-Day weekend tickets are $1,620
General admission Friday tickets are $890
General admission Saturday and Sunday tickets are $1,080
十二岁或以下人仕免费入场
(每名成人门票持有者最多可携带两名十二岁或以下人仕)
Clockenflap offers free entry for children aged 12 and under (maximum two per one paying adult).
---
Clockenflap音乐节
11月9日(星期五)至11日(星期日)
Friday to Sunday
9th to 11th November
香港中环海滨
Central Harbourfront, Hong Kong
www.clockenflap.com