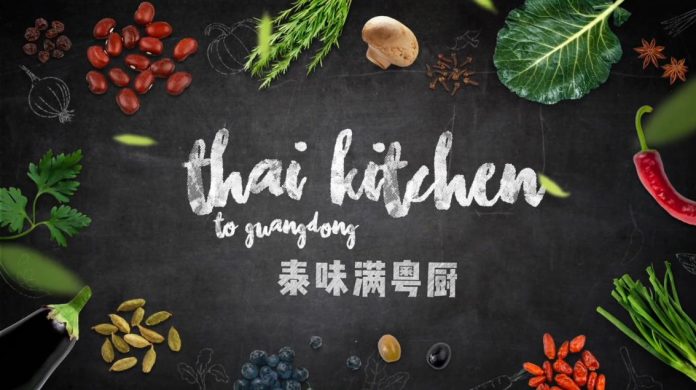 近日,泰王国驻广州总领事馆携"泰味满粤厨"美食秀邀请广东吃货一起在家就能做原汁原味的泰国菜。于4月12日线上首播,该美食制作节目每周持续更新,为美食爱好者带来更多泰式美味。
Cooking show "Thai Kitchen to Guangdong" continues to be available online, by the Royal Thai Consulate in Guangzhou, inviting food lovers to cook authentic Thai Cuisine at home. First kicked off on on April 12, the show contiues to bring more authentic Thai tastes.
第六集"红咖喱烧鸭",泰领馆邀请到广州泰爱里餐厅的大厨与一位来自泰国的餐厅经理兼甜品师傅,和深圳电视台主持人一同展示如何制作一道地道的红咖喱烧鸭。
In Ep.6, two guests, a Thai restaurant manager in Guangzhou and a TV host from Shenzhen guided by Chef Kraiyasit demonstrated how to make a classic Thai Red Curry Duck.
第七集"泰式炸虾饼",广州芒果树餐厅驻店总厨与广东广播电视台主持人展示如何制作一道泰式炸虾饼。
In Ep.7, guided by Chef Surachat, special guest from Guangdong Radio and Television Network demonstrated how to make Thai Style Shrimp Cake.
第八集"芒果糯米饭",广州泰爱里餐厅甜品师傅与一位来自广州的创业者和一位本地旅游博主展示如何制作泰国最标志性的甜品——芒果糯米饭。
In Ep.8, two guests, an entrepreneur and a travel blogger guided by Pastry Chef Panuch demonstrated how to make Thailand's iconic Mango Sticky Rice.
"泰味满粤厨"美食秀将在每周一在泰国驻广州总领事馆的微信公众号、微博和Facebook的官方账号上进行更新。本次美食节目一共10集,分别介绍十种菜式的制作,包括有:(1)柠檬蒸鱼、(2)冬阴功汤、(3)咖喱蟹、(4)绿咖喱鸡、(5)泰式大虾炒粉、(6)红咖喱烧鸭、(7)泰式炸虾饼、(8)芒果糯米饭、(9)柚子沙拉、(10)泰式猪颈肉沙拉。
The "Thai Kitchen to Guangdong" cooking show will update every Monday on the official channels of the Royal Thai Consulate in Guangzhou on WeChat, Weibo and Facebook. A total of 10 episodes will cover 10 classic and traditional Thai dishes: 1) Lemon Steamed Fish, 2) Tom Yum Kung, 3) Thai Curry Crab, 4) Green Curry Chicken, 5) Pad Thai, 6) Thai Red Curry Duck, 7) Thai Style Shrimp Cake, 8) Mango Sticky Rice, 9) Pomelo Salad, 10) Thai Style Pork Salad