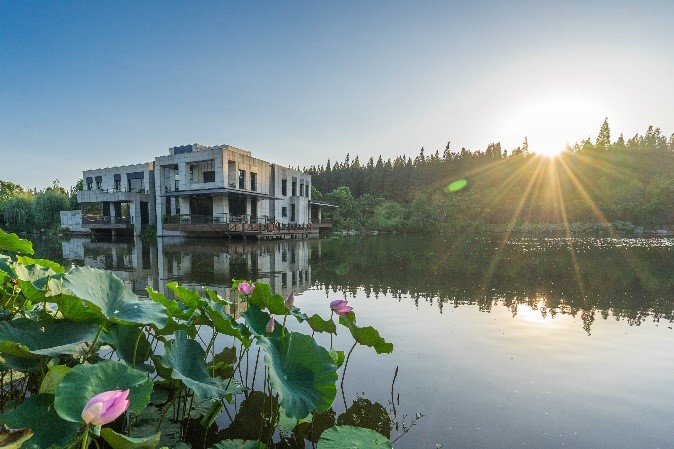 上海怡沁园度假村位于生态崇明岛中心,地处国家4A级风景区东平国家森林公园南侧,环境优美,交通便捷,是感受和回归大自然的理想休闲度假胜地。
Located in the centre of Chongming Island, Shanghai Yiqianyuan Resort is an ideal place to escape away from the city hustle and to refresh yourself in the beautiful nature.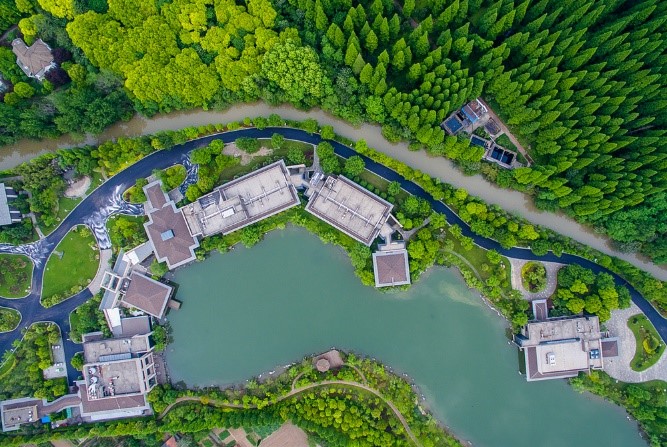 作为一家集餐饮、住宿、休闲、娱乐为一体的园林式度假村,上海怡沁园营造了一片林在湖畔、湖在林中的独特景致。整座园林占地500亩,亲水面积3万平方米,森林覆盖率达76%。森繁林茂,湖水澄碧,百鸟鸣唱,野趣盎然,处处展示着与自然共生的魅力,是远离都市喧嚣、尽享恬静怡悦的理想选择。
As a garden-style resort integrating catering, accommodation, leisure and entertainment, Shanghai Yiqianyuan Resort has created a unique location of a forest on the lake and a lake in the forest. The resort covers an area of 334K square meters with a 76% forest coverage rate and a water-loving area of 30K square meters. The forest is full of green, the lake is clear, the birds are singing, and the wildness is full of fun, the charm of symbiosis with nature is everywhere. It is an ideal choice to enjoy the tranquility and joy away from the hustle and bustle of the city.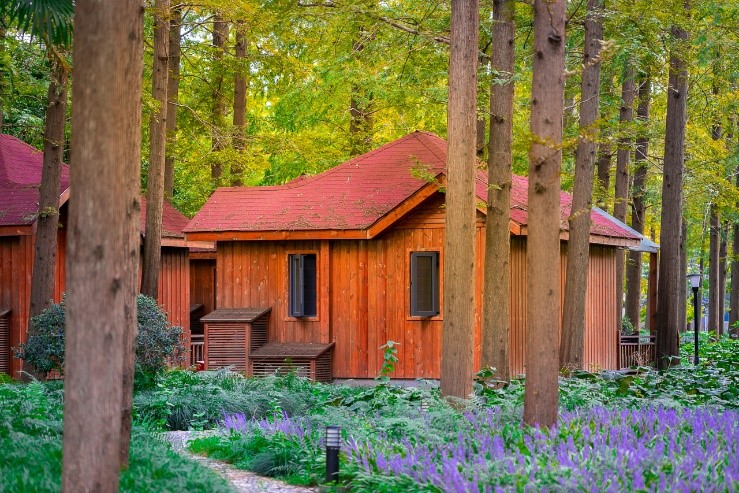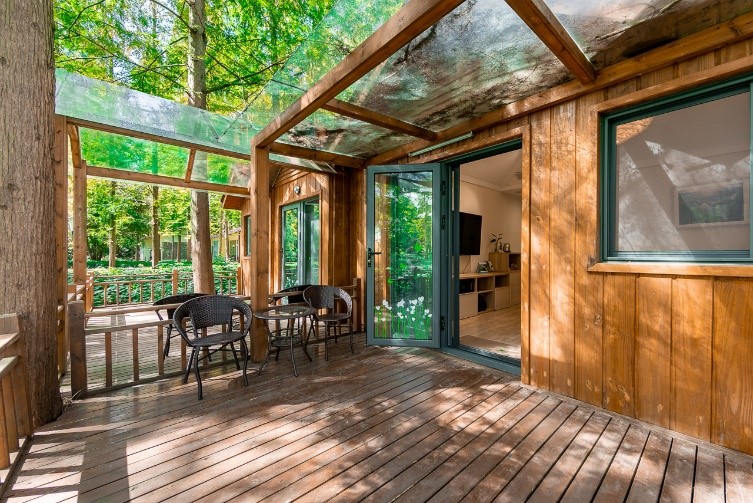 度假村内配套齐全,设有中餐厅、咖啡厅、会议厅,还配有茶室、拉卡OK室、桌球室、乒乓室、室内恒温泳池、儿童乐园、林间步道等休闲设施。150间豪华客房、套房及别墅设施完善,其中更有21栋或藏于森林之中或立于胡泊之畔的森林木屋,带来亲近自然与宁静的极致体验。
Well equipped with Chinese Restaurant, Cafe, Tea Room, Indoor Swimming Pool, Kids Club,Karaoke and other leisure facilities, the resort owns 150 cosy rooms, suites and villas with perfect facilities, among which there are 21 wooden cabins hidden in the forest or standing on the lakeside, bringing an extreme experience close to nature and tranquillity.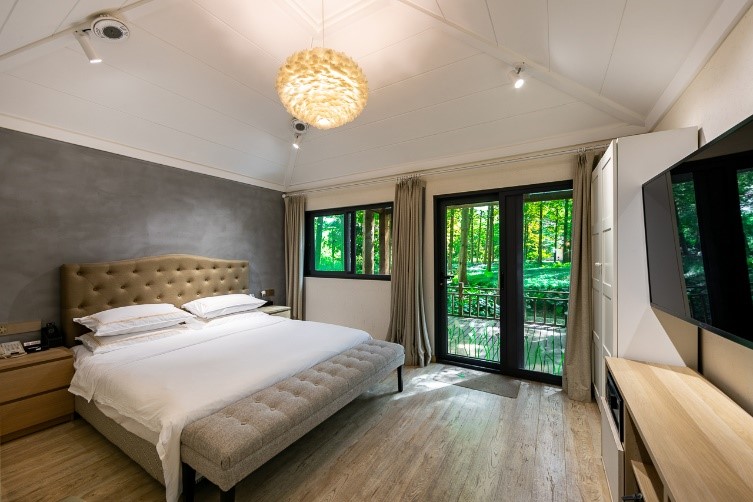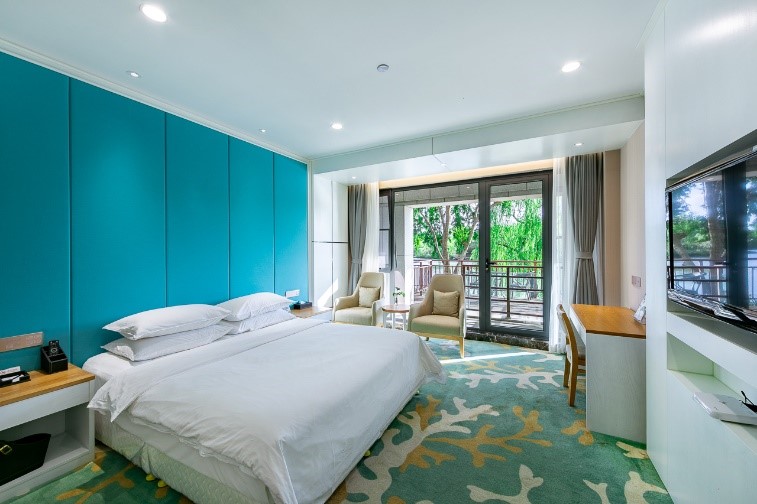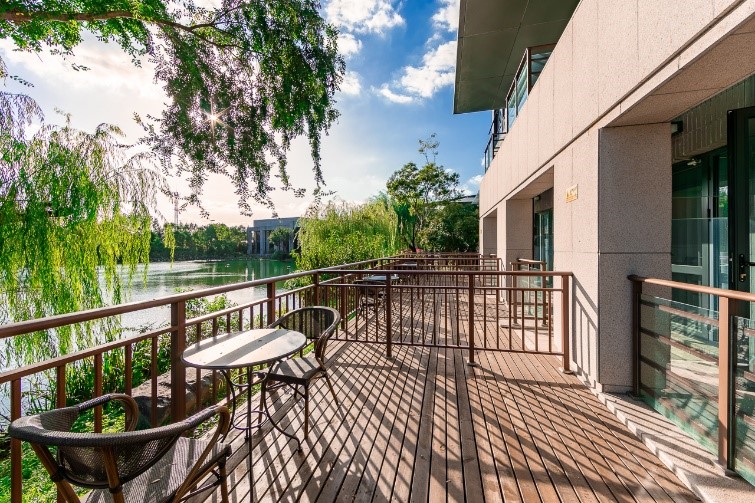 近日起,怡沁园微信商城特别推出"怡沁优享·三天两晚度假套餐",仅1380元即可尽享原价2798元的森林木屋或湖景高级房2晚住宿(一间两晚或两间一晚),含次日两大一小自助湖景早餐、精选双人下午茶一份及80元餐饮零点现金抵用券,更可免费使用室内恒温游泳池及儿童乐园。周末通用,超长有效期至2020年12月31日。
Recently, Shanghai Yiqinyuan Resort brings a special offer of 2-night stay in forest cabin with buffet breakfasts and afternoon tea set, as well as CNY80 food & beverage credits, for only CNY1,380 (original at CNY2,798). Booking is available through Shanghai Yiqinyuan Resort WeChat Mall.
---
上海怡沁园度假村
Shanghai Yiqinyuan Resort
地址:上海崇明北沿公路2089号
Add: 2089 Beiyan Highway, Chongming Island, Shanghai
Tel:+8621-5933 8811