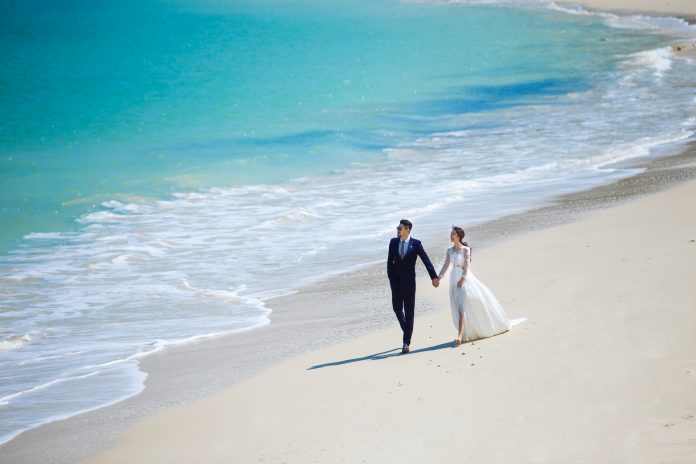 To those who don't want to travel too far from home for a short holiday or weekend getaway, a destination within the Pearl River Delta is more than ideal for it certainly saves your time on the road. Thanks to our mother nature's extraordinary design, the Pearl River Delta region has a long and irregular shaped coastline. Judiaosha Beach is one of these fine beaches hidden among the various coastal landscapes.
 WHAT TO KNOW  about Judiaosha Beach?
Located at the east coast of Dapeng Peninsula in Shenzhen, Judiaosha Beach is surrounded by green hills and is one of the most beautiful beaches in Shenzhen. In a crescent shape, the beach is about 1,000 meters long and 50 meters wide. The sand here is particularly good. The fine and white sand has earned the beach the name of "silver beach" by the locals.
 WHAT TO DO  at Judiaosha Beach?
There are several activities available at Judiaosha Beach apart from walking on the fine and white sand, enjoying the waves washing on your toes and the gentle ocean wind blowing onto your face.
If staying on land doesn't excite you too much, how about some water activities? Right next to Judiaosha Beach is the famous New Sports Ocean Sports Centre. Activities such as youth and adult sailing training, bay cruise on a yacht, kayaking experience, diving experience and water motor racing are among the most popular.
For those who love to get closer to the green nature, hiking at Qiniangshan National Geographic Park next to Judiaosha Beach is your best choice. Closed to the public for nature to rehabitate the area since 2009, the entire Judiaosha beach area is less developed than other places in this region. Surrounded with green and thick woods on three directions, this place is a natural oxygen bar. Hiking to one of the coastal hill and cliff tops, you can easily be taken away by the beautiful view.
Within 10 mins drive, Dapeng Fortress is also one of the must see in the area. In 1394, the fortress was first built to protect the area from pirates. It later developed into a walled village during the Ming and Qing dynasties. Stand on top of the wall, you can see the waterfront very clearly. Today, the village is transformed into a tourist attraction with many boutique stores selling locally made souvenirs and artworks.
 WHERE TO STAY  at Judiaosha Beach?
There are many country houses to rent around the area, but for your perfect holiday and weekend getaway plan, a more classic and comfortable choice is to stay at one of the best beach resort – Lavenna Resort Judiaosha Shenzhen.
Lavenna Resort is nestled by Qiniangshan National Geographic Park, facing Judiaosha Beach. It is a pearl between the green mountain, blue water and sky, a real heaven for vacation in couching distance. The 150-thousand-square-meter South East Asian styles tropical garden enables you a peaceful eco-leisure time.
Staying in one of the ocean view suites and wake up to an amazing view from your balcony is the best way to start a day. The resort has varied dining options from its six restaurants and bars. You can either enjoy traditional and classic Cantonese food at its Yue Jiang Chun Chinese Restaurant, or to have the freshest seafood and the local organic food at its Open Kitchen buffet restaurant, or even to have a romantic night with your love ones by the poolside facing the sea at its Poolside Bar.
There are also various activities designed for kids at the resort. Indoor activities include pudding making, Barbie paradise, DIY class, blocks, rock climbing, fire drill, movies, music hall and video games. Outdoor activities include yacht tour, visiting wetland park, horse riding, fishing and seashell collecting.
 HOW TO GET  to Judiaosha Beach?
Judiaosha Beach is easily accessible from Hong Kong International Airport and a reasonable distance taxi drive from Lohu Shenzhen. By car, Judiaosha Beach is 3 hours away from the city centre of Guangzhou and 1 hour away from the city centre of Shenzhen. From Shenzhen North Railway station, you can take bus E11 to the terminal station (about 1hr30mins) and take a short taxi ride to Judiaosha Beach.
---
Lavenna Resort Judiaosha Shenzhen
28 Xindong Road, Dapeng New District, Shenzhen
Tel: +86755-3293 8888
info.jds@lavennahotels.com