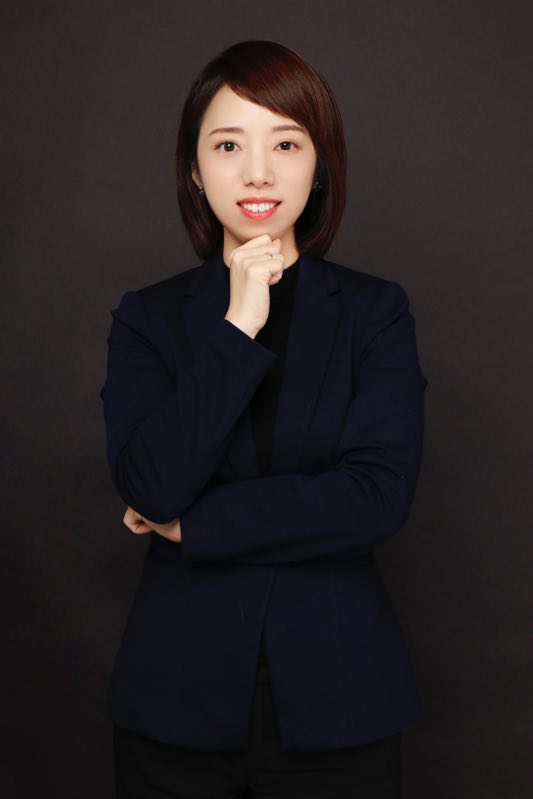 DB: 您是什么时候加入广州国际金融中心雅诗阁服务公寓的?为什么选择这里呢?
When did your journey of Ascott IFC Guangzhou start? Why did you choose here?
我2011年以管培生的身份加入雅诗阁集团,后来被公司派到新加坡总部进行实习培训。我与广州国际金融中心雅诗阁服务公寓的缘分始于2012年8月,当时我从新加坡回国,在这里参与开业筹备,之后在这里待了两年。2014年8月被调职广州开的第一间盛捷服务公寓(广州盛捷滨江东服务公寓),两年时间负责这个项目的运作。2016年之后在盛雅服务公寓服务了两年时间。2018年6月接手天河东路的广州雅诗阁服务公寓,11月成为雅诗阁在广州区的城市副经理。所以在雅诗阁服务的这七年时间中,我一路与雅诗阁品牌的发展共同成长,我非常感慨于这个雅诗阁发展的速度,也非常感谢雅诗阁给予的快速成长空间。
I joined Ascott as a management trainee in 2011 and then I was sent to the headquarters in Singapore for training. My journey with Ascott IFC Guangzhou formally began in August 2012, when I came back to China from Singapore. I was part of its opening preparation team and spent two years here after. In August 2014, I was transferred to Somerset Riviera Guangzhou, where I was responsible for its operation. Later, I spent two years in Springdale Serviced Residence Guangzhou and have been serving at Ascott IFC Guangzhou since June 2018. In November, I was appointed as Residence Manager of Ascott IFC Guangzhou. During the past seven years at Ascott, I have grown alongside Ascott. I am very impressed by the fast development of Ascott and am very grateful for the opportunities that Ascott has given to me.
DB: 可以跟我们简单介绍一下广州国际金融中心雅诗阁服务公寓吗?比如公寓类型、设施等。
Could you please introduce us to Ascott IFC and tell us a bit about the room types and facilities?
广州国际金融中心雅诗阁服务公寓为全球商旅人士提供314套格调雅致的奢华公寓。从一房式到三房式,每间公寓均拥有独立的客厅及用餐区,并配备设施齐全的厨房、高品质家庭影院系统,让住客无论是长期居住还是休闲度假均能在此享受到惬意舒适的生活。24小时的保安巡视及闭路电视监控系统,更能保障居住安全无忧。
凭借高速宽带上网和商务支持服务,住客可在公寓内轻松高效地从事商务活动。繁忙的工作后,还可以到健身房里尽情挥洒汗水,也可在室内恒温泳池中尽情畅游、彻底放松身心。
同时我们也推出了雅诗阁生活方式项目,寻找优质的商户,为我们的住客争取到最大权益的雅诗阁住户专享优惠。我们寻找的商家覆盖了衣食住行几个方面,希望住客入住雅诗阁的时候不仅仅能够体验到优质的硬件设施,也能够享受到雅诗阁所带来的不一样的生活体验。
在服务的细节方面,公寓的雅诗阁大使们从客人入住前期我们的而服务就已经开始,帮助远在他国的客人们解决他们入住前所担心的各种问题,全方位的了解客人需求,在客人入住前为他们准备好他们的"家外之家"。
Ascott IFC offers both business and leisure travelers a total of 314 elegant and luxurious apartments. From one-bedroom units to three-bedroom suites, each apartment is equipped with a spacious living-dining area, a fully-equipped kitchen and quality home theater system. This provides a pleasant and comfortable living environment for both short-term and long-term guests. 24-hour security inspections and a closed-circuit television system ensures the safety of guests.
With the accessibility of high-speed broadband and business support services, guests can conduct their business activities efficiently in their rooms. After work, guests are welcome to relax in our fitness center and indoor heated swimming pool.
Now, we have launched Ascott Lifestyle Program, in which we source the best merchants who can provide great privileges for our guests. The merchants include: clothing, food, shelter and transportation and other basic necessities of life, in the hope that guests can not only enjoy the high-quality facilities, but also experience a different lifestyle in Ascott.
As for service details, apartment ambassadors provide services for clients before they arrive at Ascott. We help guests from other countries deal with all kinds of problems they are worried about. We get to know their needs comprehensively in order to prepare their "home" aboard.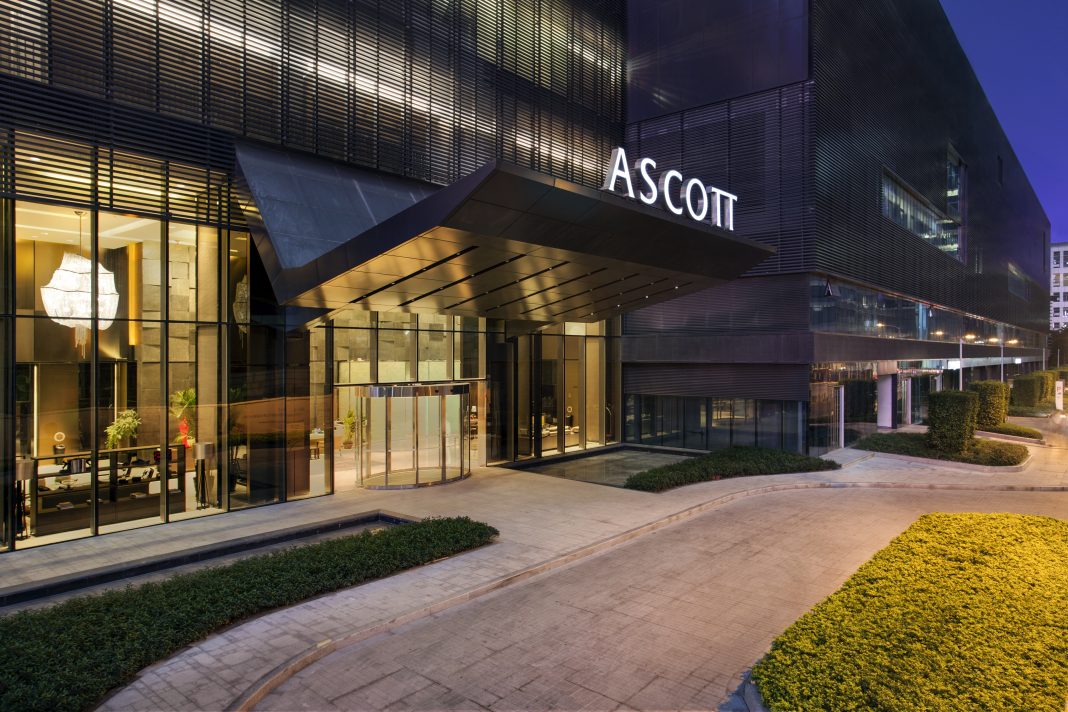 DB: 您觉得在雅诗阁品牌工作的这些年,您所看到的服务式公寓最大的变化是什么?
What has been the biggest change of service apartment since you worked for Ascott?
现阶段,广州共有五家雅诗阁品牌的物业,分别是广州雅诗阁服务公寓,广州国际金融中心雅诗阁服务公寓,广州盛雅服务公寓,广州盛捷滨江东服务公寓以及广州馨乐庭荔枝湾服务公寓。在2019年,我们也即将迎来一位新成员——广州馨乐庭番禺悦界服务公寓。
但在2011年初加入雅诗阁的时候,感觉大众市场对服务公寓这个概念还不太熟悉,不清楚服务公寓的到底是什么,与酒店又有怎样的区别。雅诗阁品牌进入中国以来在中国取得了一些快速发展的成就,从全国十几个项目到现在在全国33个城市管理120多家物业,超过22,000套公寓单元及酒店客房。大众对这个品牌的认知度越来越高,也对服务公寓越来越熟悉。雅诗阁进入广州已经有超过十年的时间,我们可以看到我们的住客人群从早期以外籍住客为主,到现在欧美、日韩以及中国市场的平衡,充分说明了市场对与雅诗阁的认可与信任。
At present, there are five brands of Ascott in Guangzhou, including Ascott Guangzhou, Ascott IFC Guangzhou, Springdale Serviced Residence Guangzhou, Somerset Riviera Guangzhou and Citadines LiZhiWan Guangzhou. We are also welcoming another member of us in 2019, Citadines Panyu Guangzhou.
When I joined Ascott in 2011, it seemed like that the public were not familiar with the concept of service apartments. They did not know the purpose of a service apartment nor did they know the differences between a service apartment and hotel. The brand awareness of Ascott has grown rapidly and Ascott has made some achievements since it comes to China. We have expanded from over a dozen projects across the country to more than 120 properties in 33 cities, with more than 22,000 apartments and hotel rooms. The public has greater awareness of Ascott and have become more familiar with the service apartment. Over ten years of Ascott in Guangzhou, we have observed that our guests were mainly foreigners at the early stage and have now reached the balance among European, Japanese, Korean and Chinese markets. This fully illustrates the market's recognition and trust towards Ascott.

DB: 您认为广州国际金融中心雅诗阁服务公寓的优势在哪里?
What do you think are the advantages of Ascott IFC Guangzhou?
与雅诗阁一同成长期间,感谢集团给予的机会,让我经历了不同的品牌。广州国际金融中心雅诗阁服务公寓的优势主要有以下几点:
1.品牌的支持。随着雅诗阁业务的不断扩大,市场对于雅诗阁品牌的认知度也越来越高,我们不但拥有忠实的老住客,也在借助品牌的力量不断开发新的客户。
2. 都市中的一点"绿"。在繁华的CBD,到处都是高楼林立,但是我们的六楼会所拥有一个户外花园,是在这都市丛林中难得的"天然氧吧",商务客人下班之后可以在这里短暂的休憩,小朋友们也在这里度过快乐的时光,这在CBD中是非常难得一种体验。
3. 丰富的住客活动。我们每个月至少会有一次的住客活动,根据时节与住客的需求来开展不同的活动。例如说新年前后我们会有传统中国风的文化活动展示,暑假期间会有针对小朋友们的户外观展活动……我们的客人也会自发的组织活动,每次活动大家的参与度都很高,感觉每次活动更像一个大家庭聚会一样其乐融融。
During my time at Ascott, thanks to the opportunities given by group, I have experienced many different brands. There are several advantages of Ascott IFC Guangzhou:
1. Supports from the brand of Ascott. With the growing business of Ascott, the brand recognition in the market is higher and higher. We not only have loyal guests, but also attract new customers continuously with the power of our brand.
2. "Green" in the urban. Within the prosperous CBD which is filled with high-rise buildings, the outdoor garden in our sixth floor has become a rare natural oxygen bar. Businessmen as our guests can take a rest here while children can enjoy themselves as well. It is a precious experience in CBD.
3.Plentiful activities. We hold activities for guests at least once a month, which are based on the seasons and the needs of our guests. For example, we have traditional Chinese cultural activities around Spring Festival. During summer vacation, we host outdoor exhibitions aimed at children. Our guests can also host activities by themselves. Each activity has high participation and guests can enjoy feeling part of a big family.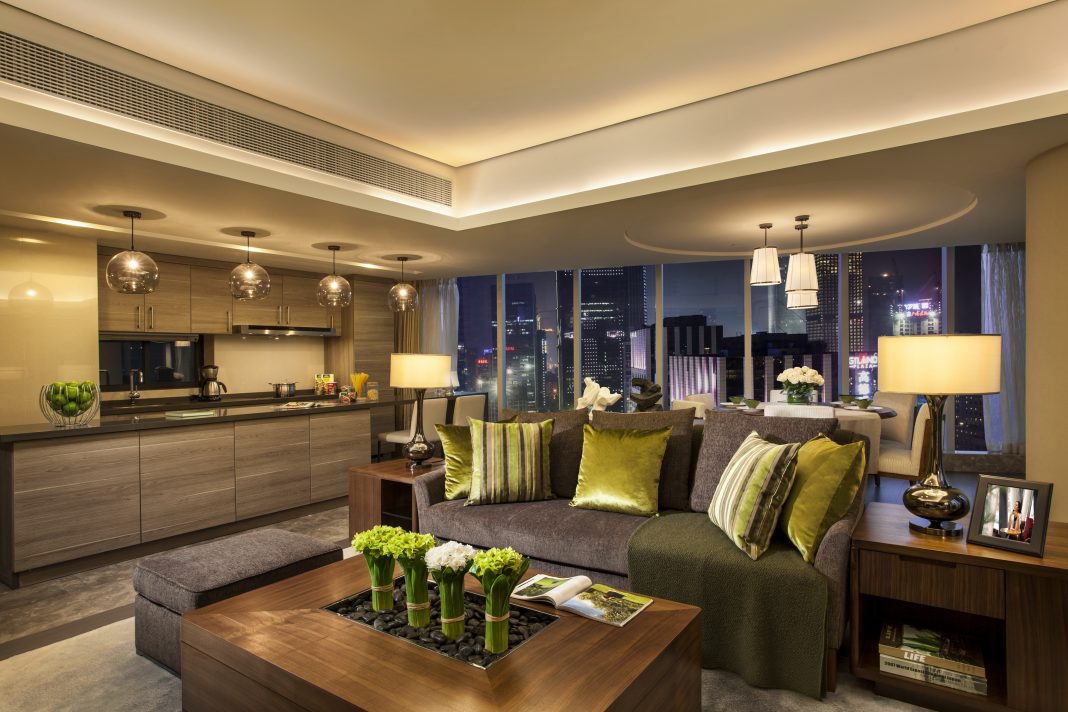 DB: 您认为服务公寓管理的关键是什么?您是如何将您酒店管理的概念融入到您对广州国际金融中心雅诗阁服务公寓实际的管理当中的?比如对酒店员工管理培训等等。
What do you think is the key to service apartment management? How do you apply your understanding of hotel management to the actual practice in Ascott IFC?
首先管理者要了解团队,就广州国际金融中心雅诗阁服务公寓而言,这是个很有默契,并且有很多想法的团队。通过彼此的了解我们才可以找到大家互相合作的要诀。
其次就是要对工作有热忱,我之前看过一句话:你喜欢一件事情,你可以做得完整;而你热爱一件事情,就会把事情做得很好",从自身开始,一个管理者的热忱会感染到团队,从而营造更好的工作环境。
另外就是我很看重学习和培训,重视不断地进行知识和技能的更新迭代。可能是因为我本人是管培生出身,所以会觉得完整的学习和培训以及自我提升的机制非常重要。
最后就是和各职能部门要联系紧密。我会去了解市场动态并且把集团精神传达给我们的团队,培养团队对公司的荣誉感,让员工觉得他们是在一个集团工作,需要有一个更长远的眼光来规划自己的职业发展方向。
First of all, a manager should be familiar with his or her team. As for the team working for Ascott IFC Guangzhou, it is a creative team in which team members have tacit understanding of one another. We can discover the key for smooth cooperation through mutual understanding.
Secondly, passion matters. I once read a sentence that said: "If you like something, you can finish it completely; if you are passionate about it, you can finish it fabulously well." Starting with me, I hope my passion as a manager can spread to my teammates so that we can create a better working environment for each other.
Additionally, I attach importance to learning and training, which can update our knowledge and skills continuously. This is probably because I started my career as a management trainee, so I think it is of great significance to have a comprehensive study and training system which allows employees to self-improve.
Lastly, close relationship with each department is required. I will keep up with market trends, pass on our group's philosophy to my teammates, cultivate their collective pride for the company and make them feel united. Hopefully, they can have a long-term plan for their future career.
(那对于工作人员与住客的服务关系上,您是否对团队有相应的要求?)
(In terms of the relationships between the guests and staff, do you have any requirements?)
服务公寓与酒店不太一样,我觉得我们这里更像是一个社区,员工与住客更像是家人或是朋友的关系,一同来营造家一样温馨的居住环境,这是我们一直致力于打造的,也是我们的优势。客人与员工的平等关系,也使得我们的员工能够更好的从住客的角度出发,为他们提供更加专业与贴心的服务。
Unlike hotels, service apartments are more like a community, where staff and guests can be friends and family members who create a family-like living environment together. This is what we are trying to cultivate all the time and it is to our advantage. The equal relationships between guests and staff can undoubtedly help us provide more professional and considerate services from the customer's perspective.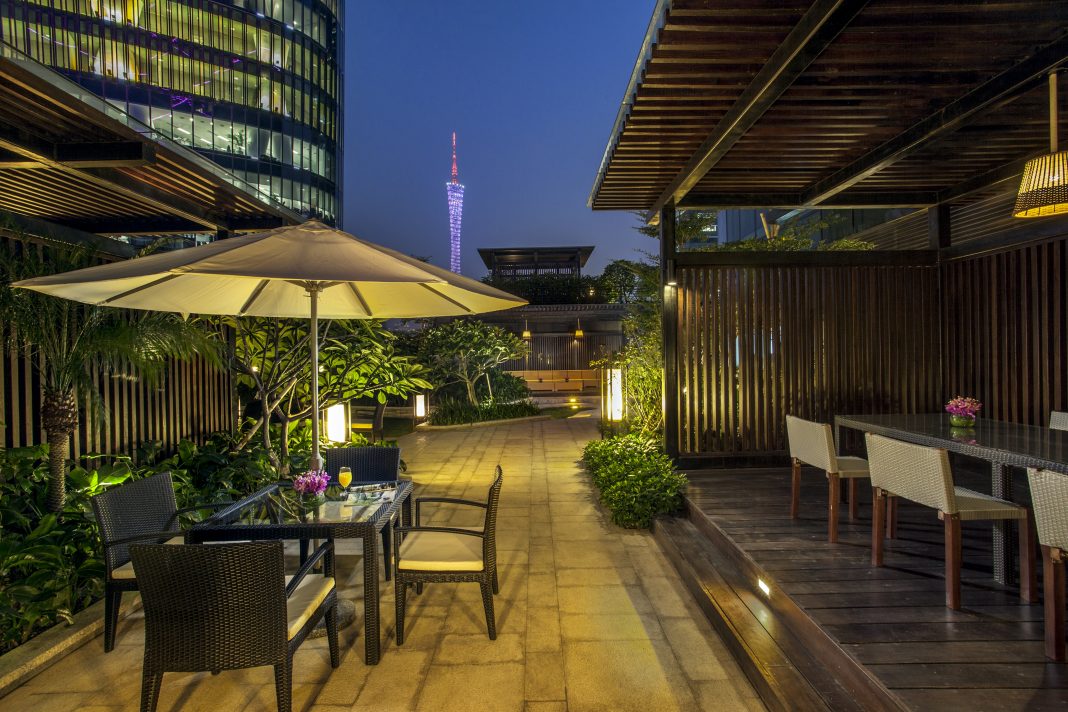 DB: 能否跟我们分享您在广州国际金融中心雅诗阁服务公寓任职期间一些趣事?
Could you please share with us about something interesting during your time at Ascott IFC?
在这里,每天都有很多有趣的事情发生。整支团队很年轻也很有活力,工作人员经验很丰富,在他们自己所负责的相关领域有充足的专业技能,也有很多创意的想法,他们在一起会产生有趣的思想碰撞,而我与团队也有很好的化学反应。而且我们公寓现在有两个特别可爱的机器人员工叫"小雅"跟"小二",住客们都很喜欢它俩,许多住客也会分享与机器人员工的趣事给我们听,也为我们带来了很多乐趣。
A lot of interesting stories happen here every day. The whole team is young and energetic, with experienced members who are responsible for the areas in which they have expertise and creative ideas. We have a collision of ideas when we are together and there is fantastic chemistry between us. What's more, currently we have two particularly adorable robots as staff named "Xiao Ya" and "Xiao Er" in our apartment, who gain lots of favors from our guests. Our guests share their funny stories with the robots, which also brings much joy to us.