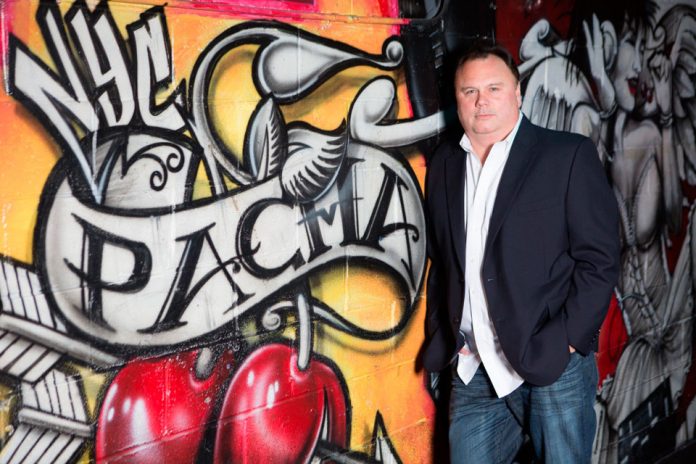 Eddie Dean-澳门派驰的常务董事-Managing Director, Pacha Macau.
Pacha is a leader in the nightlife, with venues in major cities across the globe, including Ibiza, New York, Dubai, Buenos Aires and Sydney. Starting in Spain 1967, Pacha brings great vision and something unique to all areas it touches, but there is a new challenge and Pacha hopes to bring its night-life culture to the small peninsula and Pearl River Delta city of Macau. Exclusively presented by Studio City, Pacha Macau will bring Ibiza-style nightlife to Greater China for the very first time, electrifying the island's transcending club scene. Pacha's new opportunity of spreading its wing to the Southern Chinese shore is being spearheaded by Pacha New York boss and club legend, Eddie Dean. Mr. Dean is the Managing Director for Pacha Macau and Delta Bridges caught up with him and spoke about the venue, which is set to officially open in Macau on Friday 15th January 2016.
DB: Can you tell us why you chose Macau?
Eddie Dean: Well, Macau chose us and that's the short answer. Mr. Lawrence Ho (Co-Chairman and Chief Executive Officer of Melco Crown Entertainment) is a true visionary and has been very determined to bring a renowned international name here. I myself have 25 years as a night-life and club veteran and working alongside someone as driven as Mr. Ho has created a tremendous recipe for success, especially in a city such as Macau. Although there have been difficulties with the customs and lifestyle differences in China, we are learning every day and have been patient, but these things take time and it is important to get it right and not rush. We have arguably come a long way in such a short space of time. Over a year ago, Pacha Macau was at its secondary development stage and here we are now on the verge of officially opening one of the most beautiful venues I have ever seen, which is incredibly exciting.
What we are also trying to do here is share our wealth of experience, knowledge, and enthusiasm. We want to do something in Macau that has never been done before and that is one of the main reasons that attracted me to this project in Macau because everything here is new and it really is fantastic and a step into the unknown. Compared to New York and Detroit, there is not really a deep-seated night-life culture here and it is a chance to start fresh with some of our brands.
For me personally, I am now at a stage of my career where I can choose my projects which must be meaningful to me because if it is meaningful, that provides motivation in itself. However, it is a challenge because I have to commute here once a month and with having a family, who have been incredibly supportive by the way, it can still get really tough.
DB: The opening of Pacha Macau coincides with the closing of Pacha NYC. Do you see that as a sign of the times, meaning that the happening is now in the East rather than in the West?
ED: Of course! But first off, it was completely coincident that the New York venue is closing and we are opening Pacha Macau. Usually, clubs in New York City do not last 10 years like Pacha did. Clubs there usually have a '18 month shelf-life'. Also, in New York, the music industry is going through a transitional period and it is an incredibly competitive place. We knew our time was up with Pacha New York and we felt it was the right time to bow out. We cannot wait to get started at Pacha Macau though. The bartenders, barmaids, and security are of both international and local origin and have had two grueling months of training. It's funny, because some of which had never even worked in a bar before, but we are all ready for the challenge ahead.
DB: You have successfully operated the Pacha NYC for 10 years. Could you please tell us some of the highlights you are implementing in Pacha Macau?
ED: The last year was a bit of a struggle for us at Pacha New York because everything is always changing, but I am so proud of our 10 year lifespan, which well exceeded my expectations and hopefully we will bring that success to Macau. As I said earlier, we are learning and we need to test the water with different styled DJs and music types such as Hip-Hop, Trance, Commercial, and EDM, but I am confident we can succeed.
DB: Where do you expect the guests mainly come from? Macau? Hong Kong? China?
ED: Well, we worked it out and Macau probably only has between 1,000 to 1,500 clubbers within the area, so naturally we feel we are probably going to be dependent on visitors to the area as our venue is built to hold way more than that. So logically, our targeted market is Hong Kong as currently, they are the nearest population that is most familiar with Pacha. We also feel that mainland China is also critical to our success and the only way that population can be attracted to Pacha is to show what the brand is about. So the next stage is to bust our tails to become something special here by using Western-style comprehensive marketing and advertising techniques to help mainland China discover Pacha with its wonderfully positioned location.
DB: Finally, any near future plans for Pacha in Mainland China?
ED: Recently there has been the talk of a Pacha venue in Shanghai in the foreseeable future, but I am not affiliated with any such plans as of yet. I have only been asked to concentrate all my efforts on the Macau venue and help promotion after the infrastructure here is complete, but you never know we'll have to see how it works out here and then we can talk about expansion in China.