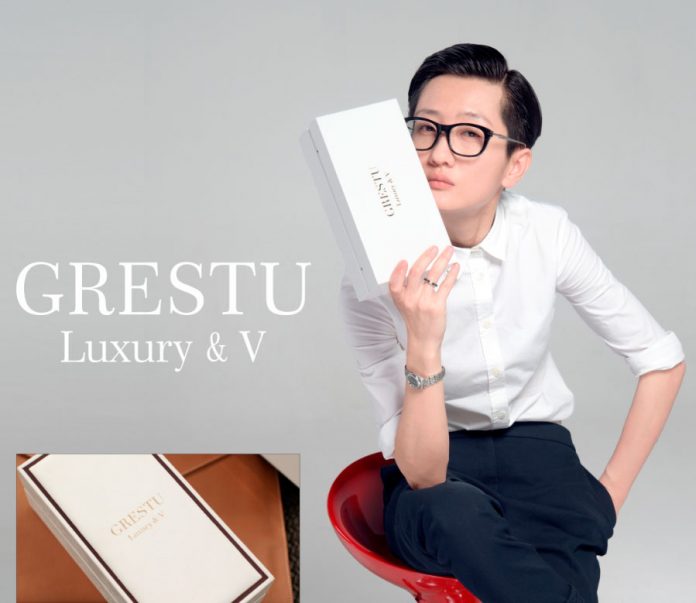 陈美佐,广州缇轩化妆品有限公司董事长 – Ellen Chan, CEO, GRESTU, Guangzhou.
GRESTU中文格林思图,是由品牌创始人Ellen Chan于2012年8月3日在中国成立的高级定制护肤品牌。
DB: Tailor made skin care is quite a new idea, what made you want to invest in this idea and set up a business dedicated to the idea of personalised skincare when so many other skincare brands have strong loyalty in the market?
In the skincare market, most Chinese customers tend to choose brands from France, Switzerland, Korea or Japan as their main skincare products. These people still remain skeptical about Chinese skincare products in terms of quality and after-effects. So we hope to change people's negative impressions on Chinese skincare products as we establish our brand GRESTU. We innovate our products and carry out one-to-one tailor-made services in order to bring the best experience to our customers in skin care. We believe in the importance of tailor-made products to one's health of skin and one's mood and lifestyle can also have varied effects on skin maintenance.
DB: A lot of research must have gone into identifying different formulations, what is the most interesting thing you have found in those years of research about the Chinese market and its skincare trends?
During the years of experiment and exploration, we found identifying and innovating formulations very challenging. In the first two years, we had difficulty in defining the concept of tailor-made skincare with our partners during the phase of researching and developing. The top biotech company set quite a lot of questions and limitations on the budget we had with our skincare-product developers, reminding us that this concept has never been achieved in most previous skin care companies because it would spend much more time, energy and money on the project than we could ever imagine. Big name companies only adventure on a narrow spectrum of this tailor-made service, but what we wanted to do is provide formulations that can tailor make each customer's need, so before getting a fruitful result we underwent quantities of experiments in testing the safety and stability of different formulations, which is a long-term investment without any profits coming in. We still stick to the magic of tailor-made formulations, we continue to research and develop and reorganise our abundant resources to make it work, delivering the best skin-care experience to our customers. With time passing by we are glad to find that the tailor-made skincare service is gaining more recognition and popularity, and more consumers at the end have a better understanding of skincare and they get to know the significance of choosing the products that meet your need instead of where they come from.
DB: China excels in business but is still mainly male dominated, how difficult has it been being a woman working in this industry to get your company as far as it has?
I have to say it is not easy but on the other hand, I am lucky during the course of building my brand. My persistence towards my career has attracted a lot of partners and they never set up barriers to hinder me, but instead they offer me valuable advice and assistance to help me flourish. We are together doing great tailor-made services and this strengthens my will and belief in the quality and philosophy of GRESTU. With the continuous development of society, the independence and confidence of women is playing an increasingly important role against male business leadership. The common success of leadership in this industry is that we can accept good things that really stand out and observe their true potential, therefore, we should not have the division of the leadership of male and female but instead, focus on the value of things around us that can be turned into good business.
DB: GRESTU is heavily involved in the premium market offering other VIP services and working with other luxury brands. Why were you keen to expand in this particular sector of the market as I'm sure it carries its own risks?
When I started in this particular sector of the market, I held no doubt. I always believe that a person will glow through their skin, and how we live and who we choose to be will eventually be presented via your skin. We cooperate with many luxury brands and the reason why we chose to work with them is that not only luxury or top brands can generate the best experience to our customer, but that we invite the best brands with their best quality and experience to serve our customers, and they can enjoy the best service and products. The brands we select include not only world-famous brands but also some characteristic Chinese brands. They are luxury not only in the meaning of the price, but in the meaning of the time and pleasure. I think it is not a risk but an opportunity.
DB: Skincare being a global industry at its peak right now, GRESTU has the vigour to go global across the far corners of the world. Where do you see the company in 5 years?
I believe that in the next five years GRESTU will be gaining more familiarisation and recognition, and we will continue to focus on our development of our tailor-made products and bring unexpected surprises for our customers. As time changes we will bring forth the new through the old in order to meet customers' needs. We hope one day that we can leap into the top list of skincare brands as we keep developing and bettering our brand.
DB: At DCIC you won in the Fashion and Retail category, how did it feel to get that recognition, and what do you think about the DCIC bringing all these companies together in the Pearl River Delta to work together?
We were very excited to be the winner in the Fashion and Retail category, it fueled us up with purpose and a sense of mission. We hope that we can do a lot better in bringing the best experience to all customers with our service and products, and we are more than happy to dedicate more surprises to them. We are very thankful for Sanjiaoling to organise such a fantastic event for us. It is truly an international platform that all great companies can learn and exchange from each other in the area of innovation and creativity.