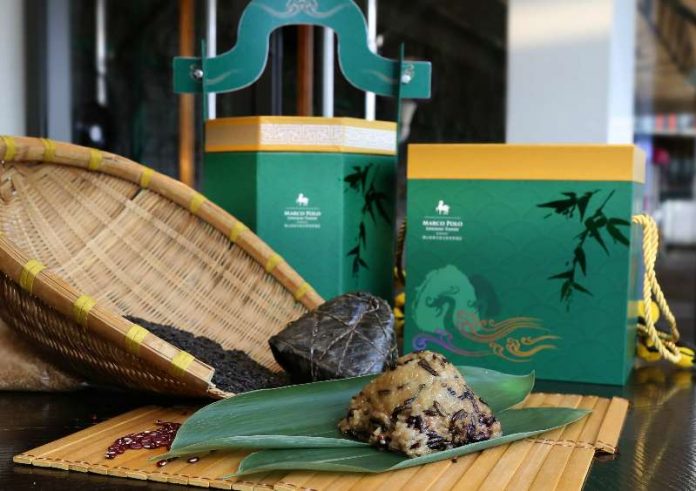 端午佳节,粽叶清香,糯米粘韧。佛山岭南天地马哥孛罗酒店推出两款粽子礼盒,搭配精选口味,满足您的"粽粽"需求。
During the Dragon Boat Festival, with fragrant leaves and glutinous rice, Marco Polo Lingnan Tiandi Foshan introduces two rice dumpling gift boxes of selected tastes to meet your different needs.
传统咸香口味咸肉粽带来无限追忆,黑糯米裹蒸粽珍贵养生;杏鲍菇香辣粽,口味独特激起层层味蕾滋味。瑶柱虾仁香肉粽,海陆组合,鲜香回甘。枧水粽略带诱人金黄色泽,爽滑甘脆可口,清新而至。
Traditional salty meat rice dumplings will bring you endless memories while black glutinous rice dumplings are good to your health. Spicy abalone mushroom rice dumplings will stimulate your taste buds with unique taste while scallop, shrimp and meat rice dumplings, with sea-land combination, are fresh, sweet and fragrant. At last, alkaline rice dumplings, with attractive golden color, taste smooth, crispy and delicate.
美味好粽,配上具有岭南特色包装,实乃佳节赠礼的不二之选。
Delicious rice dumplings, with Lingnan style packaging, are the best choice for festival gifts.
注:两款礼盒价格——粽香岭南¥218元/盒,马哥精选¥148元/盒。
Notes: Prices for two kinds of gift boxes— Lingnan Hamper CNY 218/box, Marco's Selection CNY 148/ box.
售卖日期:2019年4月15日至6月7日。预订热线0757-82501888。
Sales Date: Now till June 7, 2019. Reservation hotline: 0757-82501888.