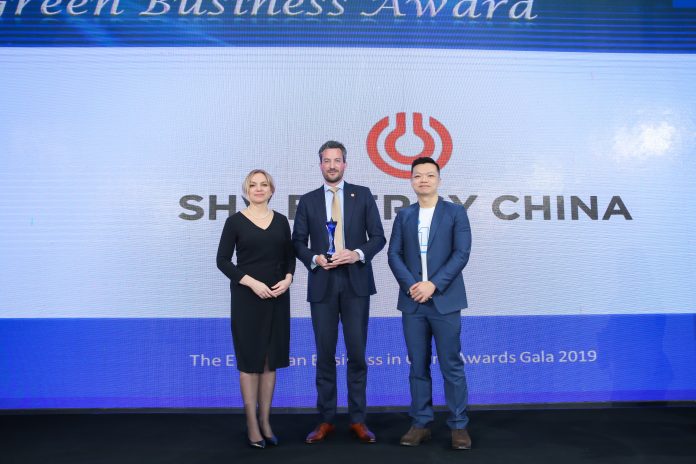 DB: 被评为卓越绿色企业,请问有什么感想要分享吗? How do you feel about your company being awarded as Green Business Award?
我感觉非常好!能获得绿色企业奖是个很令人振奋的经历,这是大家对我们每天所做的事情的一个肯定。我们一直致力于让我们的企业做得更好。当在大屏幕上看到我们公司的名字的时候,你会发现这是一个很少会听说的企业。在中国我们仅有5000名员工;能获得这么一个认可对于每天辛勤工作的我们是一个很大的鼓励。
I think it's fantastic! It's a humbling experience for a green award. It's a fantastic recognition for the efforts that we do each day. We strive to make our business a force for good and if you look at the big names up on the screen, you'll see that we are quite a low-profile company. There are only 5,000 of us in China and to get a recognition for the hard work we do each day is a great encouragement for the future.
DB: 越来越多的企业与组织都在关注绿色能源与可持续发展的议题。请问您认为贵公司能与之竞争的优势在哪里? An increasing number of companies and organizations have paid attention to green energy and sustainability, what would be your companies' strengths to compete with them?
首先,我很开心有很多企业都选择绿色的发展方向,因为我也坚信着,为社会带来良好的影响,这是企业的责任。我们每天都做的,也是我们由始自终坚信着的,就是每天都比前一天做得更好一些。尽管喜威中国是个能源企业,我们做的是让我们的用户每天少用一些能源。也许你会认为短期来说,这对我们意味着利润减少,但同时,我们建立了可持续发展的企业。我们持续关注着公司的运营与发展,即使暂时没有回报,我坚信这是我们应该做的正确的事情。我们努力每天做得更好一点,我很开心我们这点得到了大家的认可,但我不认为我们已经做到最好了;我们会继续努力的。
First off, I'm very happy that there are more and more companies going green as I do believe that it is our responsibility as a business to have a good impact. It's the only way to grow your business and make sure you have a positive impact. The things we do, we just try to do it a little bit better each day because we genuinely believe in this purpose. Although we are an energy company, we try to help our customers use less energy. If you think in the short term, this means we have less profits but at the same time, we create a sustainable company. We continue to look at our own operations and even when there's no payback, I believe it's the right thing to do. We try to be better each day and I'm very happy we get recognition for that, but I don't think we can ever do enough. We will keep on moving.
DB: 请问未来贵公司还会与中国欧盟商会有怎样的合作,以便于更好地服务社会? How will you continually cooperate with EU Chamber to contribute in Chinese society?
到目前为止,我们已经和中国欧盟商会有大概两年成功的合作经历了。我们在各种平台上都变得更加活跃,也希望还能更进一步。作为一个企业,我们很乐意在能源群体中更积极地参与活动;同时我们也希望能够与广州市政府讨论关于创新与合作方面的政策。我相信我们公司是华南地区最大的荷兰企业。荷兰作为一个创新的城市,我们有责任也把创新带到这里。我们公司是一个负责任的企业,我们愿意为社会付出更多的努力。
We've had quite a successful cooperation with the European Chamber for about two years now. We have become more active in different platforms and we would like to extend that. As a company, we would like to become more active in the energy work group but also, we'd like to talk to the Guangdong government about policies, about innovations and about cooperation. I think we are the largest Dutch company in the South of China and as the Netherlands is a country of innovation, we have a role to play. We are a company that takes responsibility, so we are looking to increase our efforts.
更多关于2019欧洲在华企业杰出贡献奖颁奖典礼资讯请戳:More information about the European Business in China Awards Gala 2019 please click: