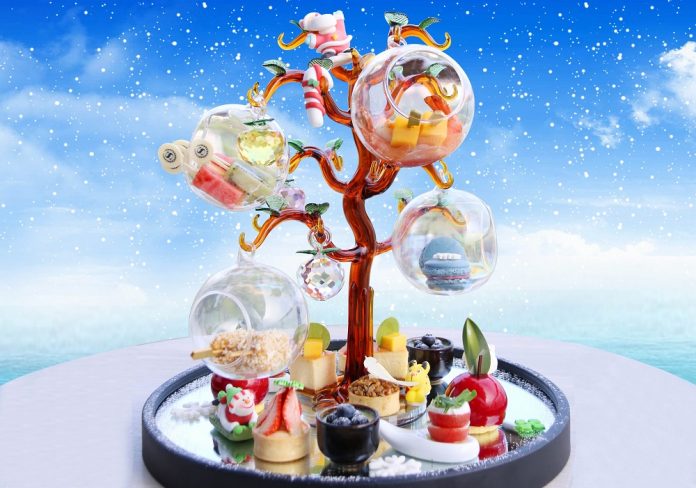 圣诞新年将至,深圳大梅沙京基喜来登酒店倾情推出"冰雪奇缘"主题圣诞狂欢季,营造童话般的海滨圣诞氛围,让宾客感受缤纷浪漫的圣诞节。提前预订,更可抢购海景套房尊享5折等多重优惠。
Christmas is drawing near. It comes to the most wonderful time in year for you to celebrate with your family and loved one by the sea. Our chef has well prepared the special dinner feast for you, and excellent performance and lucky draw prizes are waiting for you. Have an enchanting Christmas with us! Book in advance, you will also get 50% discount on the ocean suite.

"冰雪奇缘"主题圣诞季
Frozen-themd Christmas
12月24-25日,宾客可以伴着天使唱诗班的献唱和各种精彩表演,与亲朋好友大快朵颐,共享圣诞海鲜烧烤饕餮盛宴,圣诞特色烤火鸡、切整条金枪鱼、冰镇龙虾、法国生蚝、户外烧烤等。晚餐期间,圣诞老人派发神秘圣诞小礼物,尽享欢乐气氛。更有幸运大抽奖,奖品包括酒店餐饮券、水疗券、健身中心会籍、红酒等,平安夜当晚还有iPhone8及万豪国际集团旗下酒店房券。
From December 24 to 25, come with family or loved one and enjoy the sumptuous buffet dinner with roasted turkey, tuna, iced lobster, French oyster and poolside BBQ, etc…During dinner, you will enjoy choir songs, kinds of performance and gift from Santa Clause. Do not forget the lucky draw prizes including F&B voucher, spa voucher, fitness center membership and wine. Moreover, iPhone8 and Marriott International hotel vouchers await you on December 24th.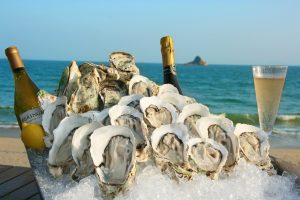 卡普里意大利餐厅浪漫双人套餐
Christmas Eve Set Dinner
让大海奏响天然的华丽乐章,品味海天一色的极致浪漫。卡普里意大利餐厅为圣诞浪漫开放,推出平安夜双人套餐,宾客可于壮阔海景中畅享澳洲牛柳配鹅肝、烤鳕鱼配火鸡卷等可口美食。
With the blue above, and the blue below, savor extreme romance between the two of you.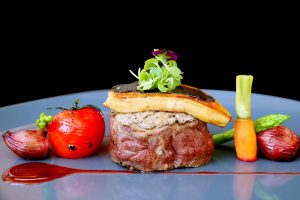 圣诞下午茶
Christmas Afternoon Tea
与俏皮可爱的圣诞老人一起俯瞰海湾美景,品尝精致美味的下午茶套餐,在节日的气氛里独享一份惬意悠哉。
Come and join a fantastic sea voyage with Santa Clause.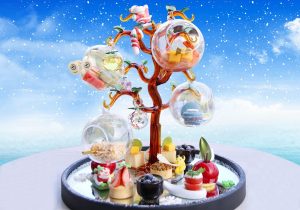 新年狂欢夜
New Year Celebration
回味幸福2017,迎接多彩2018!缤纷海鲜烧烤自助晚餐,现场乐队等表演澎湃降临,带着海洋的热情,道来新年的祝贺。
Ring out the Old Year and ring in the New Year. Well-wishing rises above the sea, with exquisite seafood bbq buffet dinner awaiting you!
大梅沙京基喜来登酒店
大梅沙京基喜来登酒店位于深圳东部幼沙碧水,海天一色的大梅沙海滨。酒店三面被梧桐山脉所环抱,另一面则面朝南中国海,"山•海"资源丰富。酒店被茂盛翠绿的亚热带植物和3700平方米的室外超大湖型游泳池所围绕,极具设计美感,与山海美景完美融为一体。酒店拥有386间全海景客房,每间客房都配有宽敞阳台。在房间阳台上闲坐饮茶,聆听海浪拍岸,赏日出日落;或凭栏远望,海风轻轻拂面,饱览无敌海景,面朝大海,春暖花开。从酒店负一层更可直接步入两公里长的金色海滩,体验都市外的温馨与浪漫。电话:0755-88886688。
Sheraton Dameisha Resort
Nestled on the breathtaking Dameisha seashore of Eastern Shenzhen, Sheraton Dameisha Resort is surrounded by Wutong Mountain with picturesque view of the South China. Fusing nature and the beauty of the mountains, the resort is embraced by flourishing subtropical plant and a huge lake-like outdoor swimming pool of around 3,700 square meters. The harmony between the architecture and the surrounding nature defines expressive design aesthetics. All 386 guest rooms each feature a large balcony with sea view, where you can sit around, drink tea, free your mind, as well as enjoy spectacular sunrise, sunset and aquamarine sea landscape. The two-kilometer golden beach, where you can step straightly from the base floor, paints a warm and romantic vision outside the city.