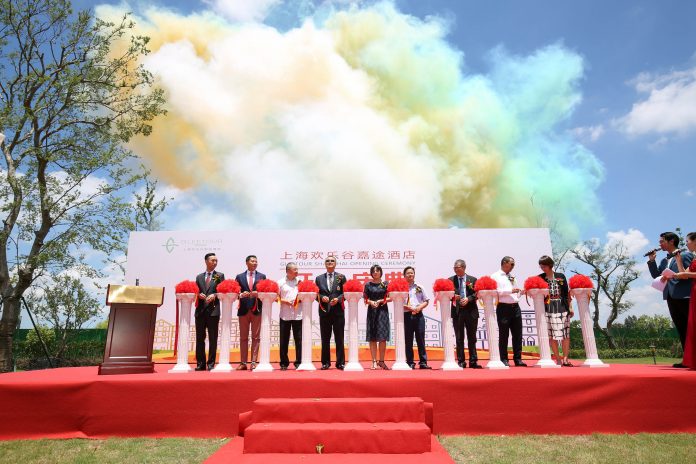 7月18日,由华侨城国际酒店管理公司输出管理的第三家"嘉途"品牌酒店——上海欢乐谷嘉途酒店于沪上盛夏开幕。
on 18th July, OCT Hotels announced the opening of its third Gleetour hotel – Gleetour Shanghai this summer, aiming at providing guests with joyful and wonderful experience in Shanghai.
酒店位于松江区佘山旅游度假区,距上海虹桥国际机场及上海虹桥火车站15公里,与上海欢乐谷隔河相望,同时毗邻上海玛雅海滩水公园、上海辰山植物园、月湖雕塑公园等著名景点。
Gleetour Shanghai Hotel locates in Shanghai Sheshan National Tourist Resort, which is about 15 kilometers away from Shanghai Hongqiao International Airport and Shanghai Hongqiao Railway Station. Gleetour Shanghai Hotel, which is on the opposite side of the river to Shanghai Happy Valley and surrounded by popular man-made wonders, such as Playa Maya Water Park, Chenshan Botanical Garden and Moon Lake Sculpture Park, enjoys a good location for guests playing around the tourist resort.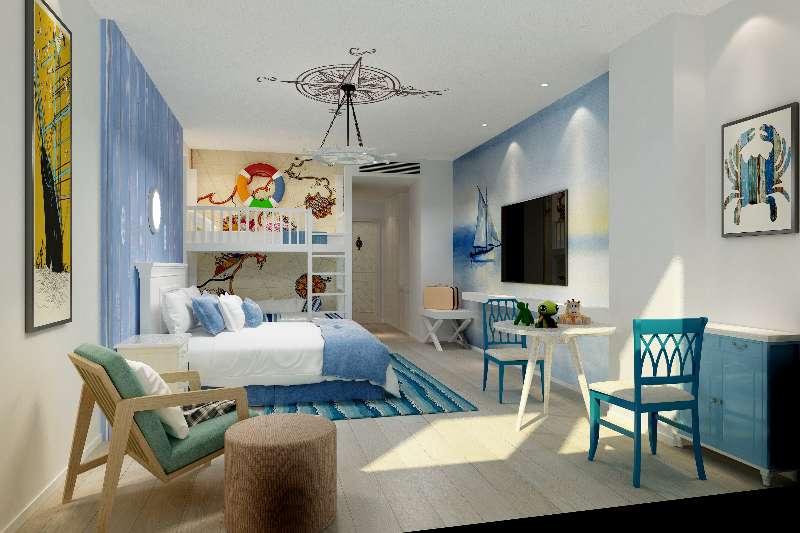 酒店的整体设计以西班牙文化为主题,以安达卢西亚、太阳宫、瓦伦西亚、拉曼恰、加泰罗尼亚等五个特色区域作为配套花园。西班牙建筑瑰宝"巴特罗之家"细腻华丽风格与"奎尔公园"部分建筑的粗狂艺术,在酒店得以实地重现,漫步其中,感受瑰丽建筑带来的反差碰撞,如置身千里之外的异域小镇。
This hotel is designed in Spanish history and culture concept, ensuring the comfort of every stay, while creating rich culture experience for guests. Based on the features of cultures of Spain, the hotel garden is divided by different styles of design into 5 parts – Andalusia, Sun Palace, Valencia, La Mancha and Catalonia, showcasing the splendid culture of Spain. The world-famous Casa Batllo and Park Guell designed by wizard architect Gaudii are also reproduced in the hotel for guests' experience.
酒店共有293间客房及套房,分别展示西班牙艺术时期、安达卢西亚山地时期、阿拉伯时期、大航海时代四种不同的主题。由燕子、麋鹿和树枝图案点缀的墙面,绘有整个航海地图的走廊地毯,画框里身穿艳丽红裙的西班牙女郎,客房里超现实主义的挂画和复古吊灯等等,在满足宾客旅居的同时,沉浸于西班牙贵族的情调和民族风情。
Gleetour Shanghai features 293 guest rooms and suites designed in 4 different Spanish culture themes, including the Age of Art, the Period of Arab Islamic, the Period of Andalusia Mountain and the Age of Sail. With lovely swallows and elks icons on walls, nautical charts printed in carpets in corridors, pictures of Spanish girl in red dress in public areas, the combinations of surrealism paintings and classic chandeliers in guest rooms, the hotel brings guests to a world of fantasy.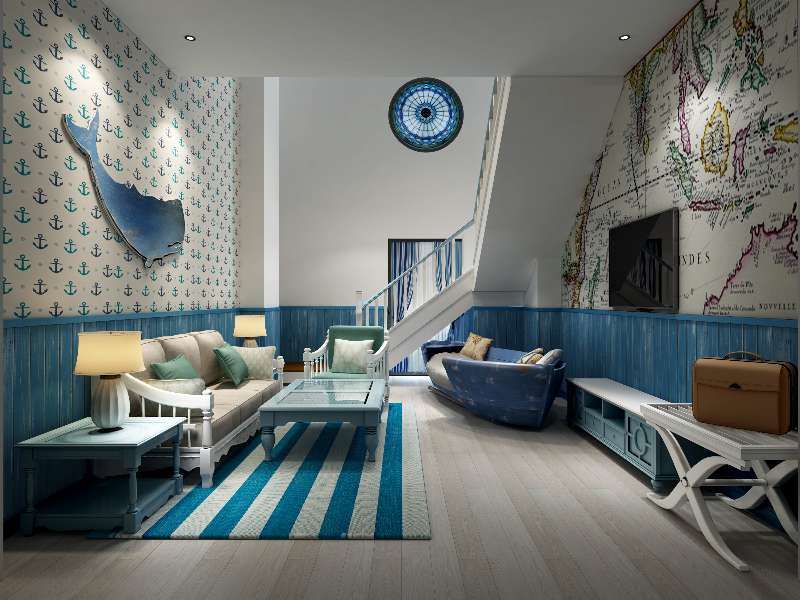 酒店拥有以西班牙元素为主题的努曼西亚餐厅,菜品融入东南亚风味及西班牙特色菜肴,包括火热全球的3D餐厅,炫酷的裸眼3D效果,让食客在就餐过程中不再无聊,感受视觉与味觉带来的饕餮之旅。
The elements of Spain are also applied to the food and beverages of the hotel. The featured dishes and desserts of Spain can be found in the Numancia Restaurant. Additionally, popular Southeast Asian dishes are prepared for guests' enjoyment in this restaurant. A 3D restaurant can be found in the hotel as well.
酒店不仅具备独特的西班牙主题风格,而且将亲子旅行体验作为个性特色体现在酒店服务中。结合欢乐谷中备受小朋友们欢迎的饼干警长、欢欢、乐乐、小谷等卡通人物形象,打造亲子主题房。酒店宽阔的草坪和儿童游乐设备,定期提供家庭足球赛、文化学习日、亲子陶艺等互动体验课程,激发小朋友探索未知的浓厚兴趣。从设施到服务,酒店为亲子旅行制造无限惊喜。
Besides the Spanish culture themes, family travel experience is a great focus of Gleetour Shanghai Hotel. The hotel offers guests with fabulous family vacations, in terms of facilities and services. Featuring popular Happy Valley cartoon icons, such as Biscuit Sergeant, Huanhuan, Lele and Xiaogu, the family rooms and suites are full of fun for children. Family activities and interactions are also held regularly in the spacious lawn and children's playground, including family football games, culture learning classes, pottery making classes, etc, stimulating the eager of learning of children at different ages.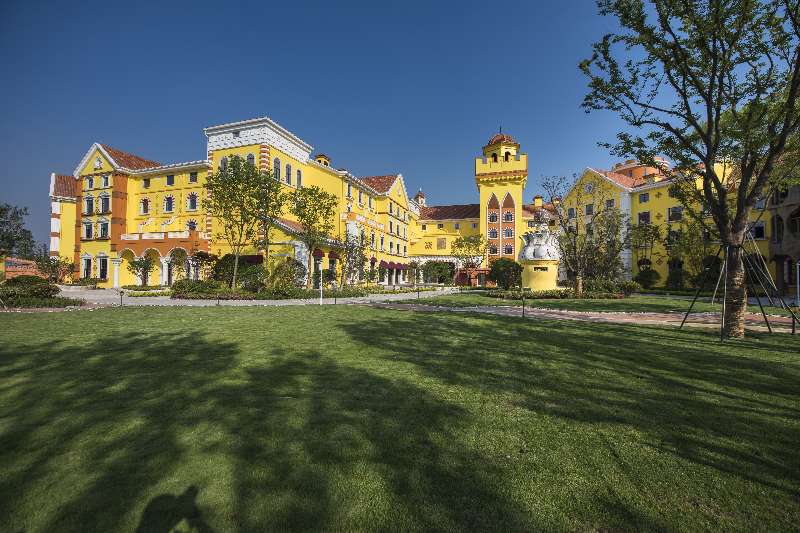 华侨城始终坚持"文化+旅游+城镇化"发展模式,在主题文化领域里拓宽视野,将非同寻常的旅途乐趣带给世界,以"工匠精神"和"创想精神",引领中国文化主题酒店开拓前行。上海欢乐谷嘉途酒店仅仅是计划中以"欧洲梦幻小镇"为主题的度假酒店群的启动之作,酒店群建成后总客房数将达1000间,以具有文化风情的环境和优质的服务打造佘山国家旅游度假区的旅游度假中心。
OCT always persists the development pattern of "culture + travel + urbanization" , as well as widens the horizon in the culture industry, in order to explore the world's fun for every one on their journeys. With the spirit of the craftsman, OCT Hotels think differently, aiming at becoming the leader in the area of cultural themed hotels. Gleetour Shanghai Hotel is just the first hotel of the hotel collections in the plan of "European Fantasy Town". All these hotels will provide 1000 guest rooms for visitors to Shanghai. With different kinds of culture elements and outstanding services, the "European Fantasy Town" targets to become the central area of Shanghai Sheshan National Tourist Resort.
作为上海华侨城的成员酒店之一,上海欢乐谷嘉途酒店为住客提供欢乐谷、水公园水陆两园VIP通道以及二次入园等多重贵宾礼遇。
As a member of Shanghai OCT, Gleetour Shanghai Hotel provides special offers to its guests to fulfill their vacations. Guests who stay with Gleetour Shanghai are entitled to access to the Happy Valley and Playa Maya Water Park through VIP entry; additionally, re-entry to these 2 parks is allowed in two days.
预订或了解更多上海欢乐谷嘉途酒店资讯,请致电酒店总机:(86 21)3766 1888;嘉途全国服务中心400 830 9996;全国呼叫中心:400 830 9996;或登录官方网站octhotels.cn。
For inquiries or reservations, please contact Gleetour Shanghai Hotel at (86 21) 3766 1888. You may also contact Gleetour National Service Center by calling 400 830 9996 or visit the OCT Hotels official website octhotels.com for more information.