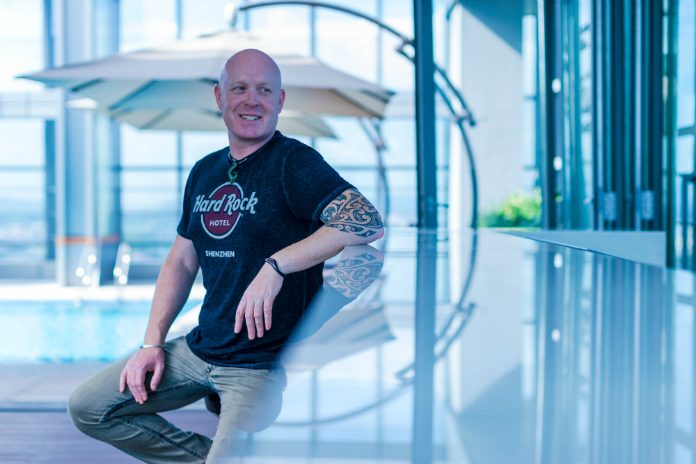 Hard Rock is a brand that is instantly recognisable anywhere in the world. Simply spotting the familiar guitar logo or the eponymous T-Shirt is enough to conjure up the sound of your favourite band playing live, and make your mouth water as it almost tastes a burger. Now with the opening of the Hard Rock Hotel and Cafe in Shenzhen, mainland China is finally breaking onto the scene.
DB spoke to New Zealander Glenn Peat, the new general manager of the Hard Rock Hotel in Shenzhen. With a career in hospitality that has spanned New Zealand, India, and Australia, he is certainly up to the task. Glenn talks about the Hard Rock story, the new hotel, how they plan to promote live music culture, and finally, how a "Kiwi attitude" helps him in China.
Mr. Peat started off at the beginning, with the story of how the first Hard Rock Cafe was opened in 1971, by two American men in London.
Isaac Tigrett and Peter Morton were residing in London, England and struggled to find a decent place to enjoy a burger. The original idea was that Hard Rock Café was to be a burger restaurant with live entertainment. However due to its popularity it quickly added a third element to its identity. Eric Clapton a famous musician was a frequent patron to the café and decided to donate a Fender guitar to the restaurant requesting for the guitar to be hung above his favourite spot. This quickly followed on with Pete Townsend from a band called The Who. Pete donated a guitar to Hard Rock Café as well, and so the memorabilia legacy began.
"Right back in 1971, it was never planned to have a massive memorabilia collection, but now we have over 80,000 items worldwide in our cafés, hotels and casinos. Memorabilia has now become a strategy, and it is a unique selling point of what differentiates us from our competitors."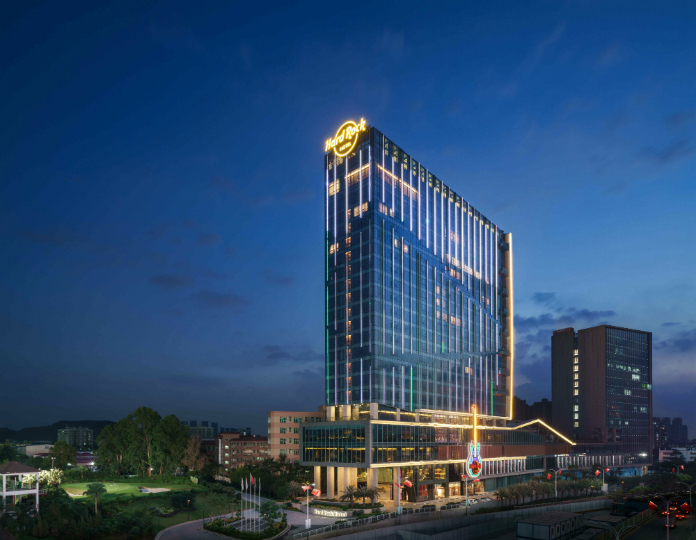 The cafe and hotel in Shenzhen have their own burgeoning collection of memorabilia – including items belonging to a number of Chinese artists. These include Sa Dingding, G.E.M., Second Hand Rose, and Mayday.
"It's important that our memorabilia in each location integrates with the local culture too. For example in Nashville Tennessee, the home of country music, we don't have Hip Hop everywhere. We have a lot of country music centric memorabilia items," Glenn says.
His favourites, however, can be broken down into two areas: favourite looking piece, and favourite artist.
"My favourite piece is Boy George's guitar. I'm not a huge Boy George fan, however I like the guitar. If you go and have a look at it closely it's got watches and it's made out of scrap metal."
"In terms of artists that I like the most – out of the collection we have in our hotel it's probably Elton John. We have his jacket on display in Hard Rock Cafe that we have on display and I like him as an artist. I also like the Sa Dingding dress upstairs as well. Her memorabilia items are pretty funky and cool."
As far as his ability musically, Glenn describes himself as, "quite musically inept".
"My passion comes as a fan, and as an audience member. I am passionate about music, I listen to it all the time whether it's in the car, on my phone, or in my office. I wanted to be associated with the brand because I think it fits with my personality and the type of person that I am, and it's also what I'm passionate about. I like music a lot, it has a big part to play in my life socially – not because I'm playing it but because I'm listening to it."
In the true spirit of Hard Rock, Peat listens to a wide variety of music genres.
"I like all music types, however there are certain music genres I like less than others. If you look at the type of music I tend to listen to – Guns N Roses is a big one. My favourite album of all time is Throwing Copper, by a band called Live. That's rock music, but I also listen to a lot of hip hop. I also listen to a lot of reggae music. One of my favourite genres is Reggaeton – originating in Puerto Rico it is a cross between hip hop/R&B and reggae. The genre is influenced by Latin American, Hip Hop and Caribbean music and is typically either sung or rapped in Spanish."
He says one of their challenges is making people understand Hard Rock is not just about rock music.
"It's important to realise we don't just support rock music. It's all genres. The Hard Rock name can be misleading, and that's something we need to communicate to the public – however all hotel brands have their challenges."
Hard Rock Shenzhen has been involved in a number of music festivals from EDM to hip hop, in an effort to promote live music culture in the city. These include Strawberry Festival, Midi Festival, Storm Festival, Jungle Festival, and Hip Hop Allstars.
"Our goal is to be the premier live music venue in Shenzhen. What we are also trying to do is support local artists."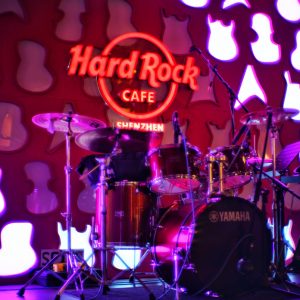 One of the hotel's more ambitious projects this year is another first in mainland China – a Hard Rock Rising Battle of the Bands competition. It will be a national competition based in four different regions – North, based in Beijing, South, based in Shenzhen, West, based in Chengdu, and East, based in Shanghai. Competitors will make submissions of one original and one cover song, and the top 25 will compete in regional semi-finals. The winners will be invited to compete in the grand final in Shenzhen later in 2018.
Market feedback for the hotel has been positive so far according to Peat, but as the first Hard Rock Hotel on the mainland, finding ways to promote the hotel in this location are important.
"Our hotel is unique as we are seen as a leisure hotel as well as a corporate hotel. Because of our location in relation to factories and the manufacturing industries we generate corporate business demand. The leisure market demand is in relation to golf, tennis, shopping, ice skating – because of the facilities and services that are in the Mission Hills complex which is where we are located. We have different strategies for different target markets. One strategy is exposure and awareness – "We're here, we're open, we're Hard Rock, and this what we're about." The second thing is targeting our different market segments in a strategic way to get them to come and stay with us."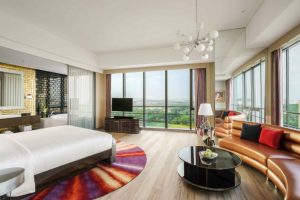 "Our room product is fantastic. The type of room that we have can lend itself to many different guests. It can be for the business traveller, it can be for the leisure guest, it can be for kids, it can be for weddings. So really, we're trying to cater for everybody. We cater for everybody from eight to eighty. You can be below eight, you can be above eighty, but we have something here for everyone."
Glenn says that his background as a New Zealander – the "kiwi attitude" – can be very beneficial to business in China.
"As a culture we're very action-oriented people. We have a very "can do" attitude. We're very positive and we have a lot of "kiwi ingenuity." Using your initiative and being smart about what you do. Kiwi ingenuity basically means that if you have a challenge or problem, you'll find a unique way to solve it."
But how does that translate into the business world?
"I think my personality and New Zealand culture fits quite well with Hard Rock. We try to do things differently and we are unique, and also we're known for quality in New Zealand. Hard Rock is trying to promote that as well. Our hotel is a quality product, we're also promoting that we have quality music. We don't want to be doing what everybody else is, we want to differentiate ourselves. Those types of things are what translate well."