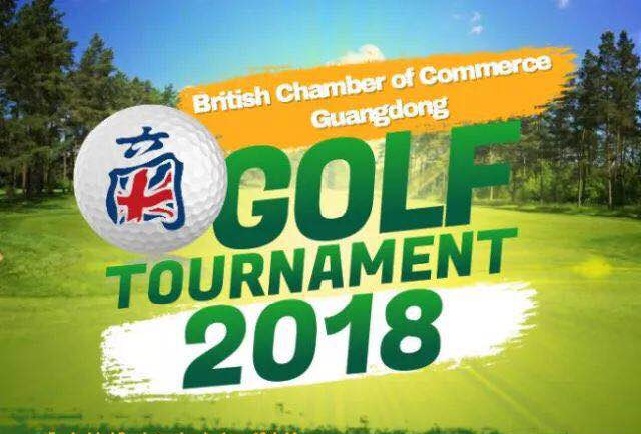 2018年广东英国商会高尔夫球赛现已公开报名!球赛将于6月8日观澜湖开球,加入我们, 与过百名来自香港及华南地区的精英球手们同场竞技。
We are delighted to announce that the 2018 BritCham Golf Tournament will be held at Mission Hills on Friday 8th June, and registration is now open! Sign up and join the Chamber's flagship sporting event of the year, and compete with approximately 100 golfers from across South China and Hong Kong.
活动当天可以体验纯正英式高尔夫球赛和趣味的赛事活动,并有机会赢取丰富的奖品。球赛颁奖典礼将在深圳硬石酒店举行,届时嘉宾们可随意享用酒店的餐饮和娱乐。
The day will feature a high-quality golf tournament, featuring special prizes on many holes. Afterwards, we will head to The Hard Rock Hotel for our awards ceremony, whilst enjoying good food, drinks and entertainment.
广东英国商会高尔夫球赛为您提供极好的休闲娱乐和社交机会,快来加入我们,一起期待这场年度运动盛宴吧!
The BritCham Golf Tournament is a great day out, and a fantastic way to relax, play some golf and meet with high-profile business professionals from across the region.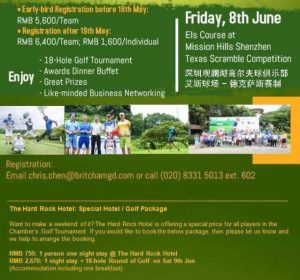 活动内容 Event Details
■ Time: 12:30 – 20:30
■ Date: Friday 8th June 2018
■ Event Venue: Mission Hills
■ Dinner: Shenzhen Hard Rock Hotel, No.9 Golf Avenue, Mission Hills, Longhua District, Shenzhen
■ Agenda:
• 12:30-13:00 Registration
• 13:00-13:30 Opening speech & photo
• 13:30 Shot gun start
• 13:30-18:00 Go golf!
• 18:00-19:00 Shower, change and transport to dinner
• 19:00-20:30 Award ceremony (Buffet and drink included)
■ Ticket Prices:
• Individual price: 1600 RMB
• Group 4 regular: 6400 RMB

酒店优惠 Special Hotel & Golf Package
Want to make a weekend of it? The Hard Rock Hotel is offering a special price for all players in the Chamber's Golf Tournament. If you would like to book the below package, then please let us know and we help to arrange the booking.
RMB 750: 1 night stay
RMB 2670: 1 night stay + 18-hole Golf Game on Sat 9th Jun
(Accommodation including breakfast)

活动精彩回顾 Event Review

报名Registration
请联系Chris Chen 购票报名
Please contact Chris Chen to book tickets
chris.chen@britchamgd.com or call (020) 8331 5013

赞助及品牌曝光机会 Sponsorship Opportunities

Please contact us if you are interestd in sponsoring or participating in this exciting event.
     Jiaying Li (Marketing and Communications Manager)
jiaying.li@britchamgd.com or call 020-8331 5013-606
Barry Kirkwood (Executive Manager)
barry.kirkwood@britchamgd.com
Thanks for the support from our sponsors!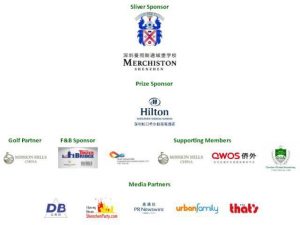 Extract QR Code to Follow BritCham
长按二维码,关注广东英国商会