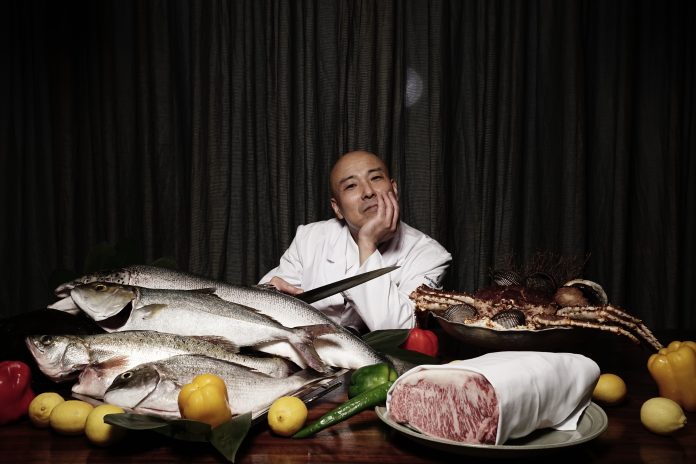 夏日尝鲜,鲜鱼鲜食。2019年7月20日至27日,广州四季酒店云居将推出大目吞拿鱼鲜食菜单。餐厅将于推广首晚举行由来自日本东京的保科昌信主厨亲自操刀的精彩开鱼秀,并现场炮制数道以大目吞拿鱼入料的甄味佳肴,为本地饕客缔造一场视觉和味觉双重满足的和风盛宴。
From July 20 to July 27, Kumoi will launch a grand gourmet carnival of Big Eye Tuna. On the debut night, an authentic Japanese style feast will be presented from vision to taste with a wonderful Fish Carving Show by Chef Masanobu Hoshina and a series of premium tuna cuisines.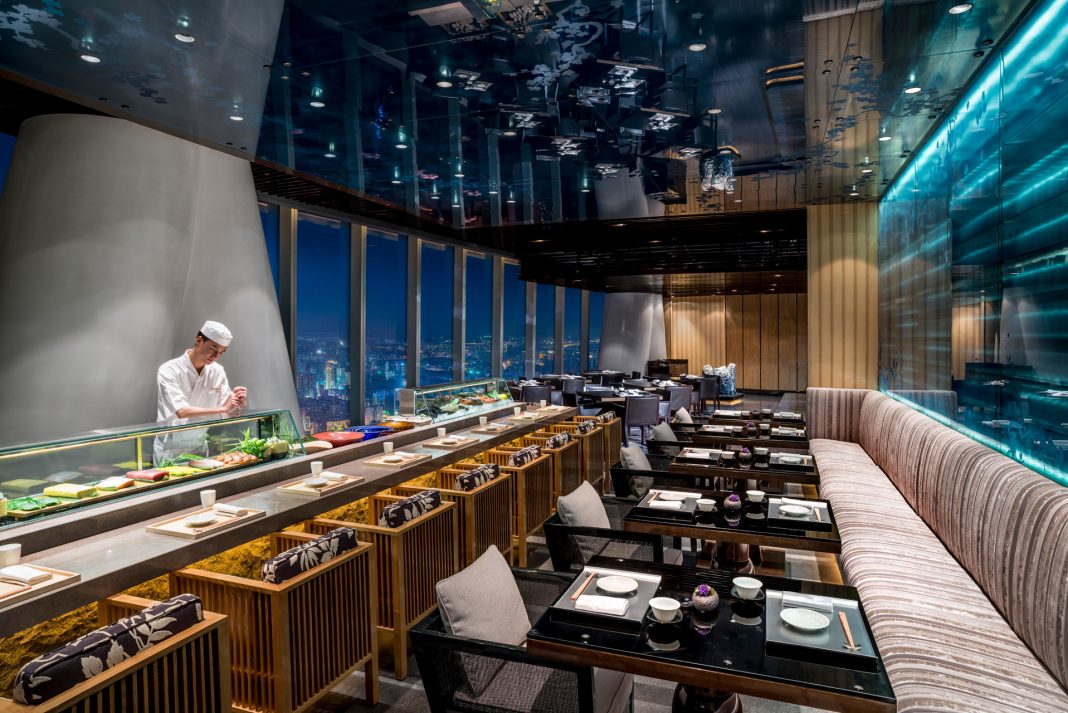 本次精选空运到粤的是来自日本的大目吞拿鱼,在渔场经专业人员精心饲养成长,保证其卓越的质量。保科主厨将根据其大腹,中腹等不同的食用部位,精心设计出多道让人垂涎欲滴的精致日式佳肴。其中刺身拼盘使用的是大腹和中腹部位,肥美不腻,口感极其细滑。另外用于铁板烧则是采用红肉部位,日本人称之为"Aka-mi",厚实的肉质经过铁板烧高温烧制,外焦内嫩,紧紧锁住鱼肉的鲜味。
Imported from Japan to Guangzhou, this Big Eye Tuna was farm-raised by professional specialists to ensure the best quality. A couple of mouthwatering tuna cuisines will be elaborately designed by Chef Masa according to different parts of the fish. For the sashimi platter, he will pick the belly part, which is fat but not greasy and tastes lovely. On the other side, the red meat part, also called Aka-mi in Japanese, is extremely perfect for teppanyaki. Grilling both sides to little burnt outside but fresh inside can lock the freshness of the tuna.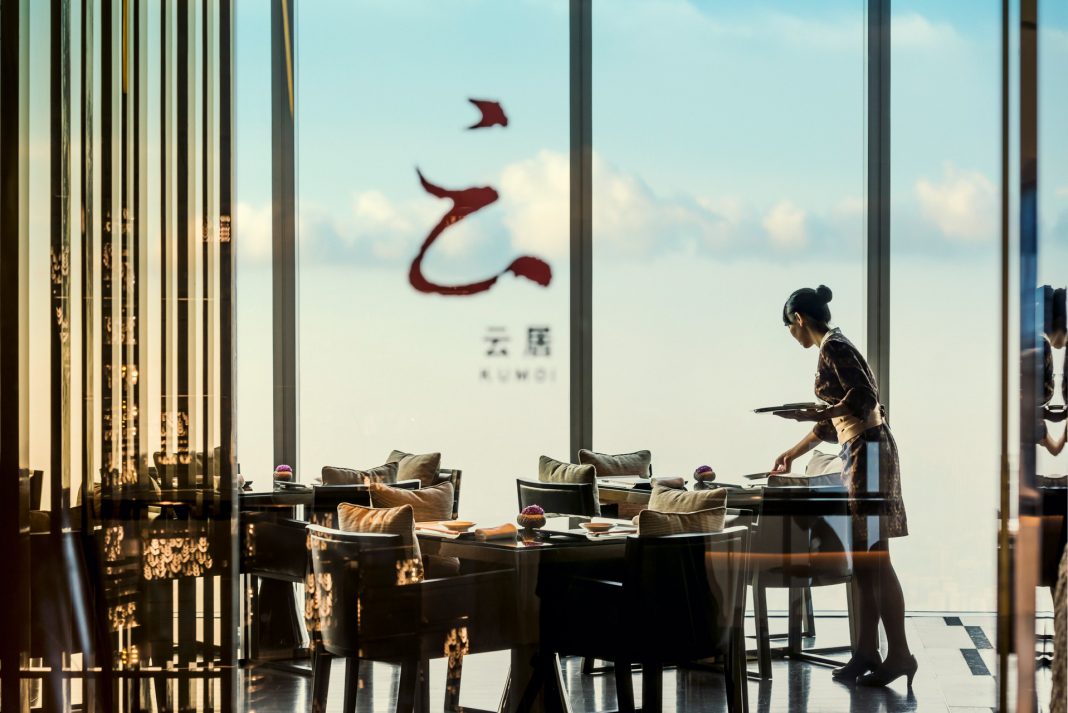 "开鱼祭",在日本是备受欢迎的精彩美食表演,它不仅需要厨师有深厚的鱼类知识,还要掌握到出色的开鱼技术,也能让观看表演的人体会到这个在日本传统带有吉祥寓意的料理习俗。本次由具有二十余年烹饪经验且工作游历过欧洲,亚洲等地的日本主厨保科昌信亲自操刀,将其多年的经验发挥淋漓尽致,务求为饕客展现一场别开生面的云端开鱼秀。
"Fish Carving Show" is one of the top hit performances in Japan. More than just a show, it is an auspicious culinary custom and requires not only the profound knowledge of fish, but also getting the hang of the excellent skill of cutting fish in a proper way. Having worked around Europe and Asia for over two decades, Chef Masa dedicates to delight the gourmands with a marvellous fish carving show up in the clouds.
套餐菜单:
Menu:
松茸蒸蛋
刺身寿司拼盘
吞拿鱼文蛤味噌汤
串烧和牛西冷(M4)
铁板吞拿鱼和大明虾
香蕉天妇罗配椰奶布丁
Steamed egg custard, crab, mastutake mushroom
Sashimi tuna, salmon, yellow tail, sweet shrimp, foie gras, chi-yu toro, spicy tuna roll
Tuna flake, clam shell miso soup, maitake mushroom, quail egg, radish
Australian Wagyu beef sirloin (M-4) skewer, leek, garlic chip
Teppan-yaki tuna, king tiger prawn, asparagus, shiitake mushroom
Banana tempura with coconut pudding
大目吞拿鱼季推广期间更有现场日本浴衣试穿区域,让宾客可沉浸在东瀛夏日祭的愉悦氛围之中品尝和风美味佳肴。开鱼祭当晚的最佳观赏表演的餐位,首次仅在广州四季酒店微信商城内出售,数量有限,预订从速。大目吞拿鱼六道式和风套餐每位人民币888*元,另更有吞拿鱼菜式可供单点。(*价格需加收15%服务费及相关税) 预订请致电云居:86 (20) 8883-3372。
During the Big Eye Tuna Grand Carnival, a Japanese traditional Kimono fitting area will be set up at the entrance of Kumoi to immerse guests into the pleasant atmosphere. The best seats for watching fish carving show will be reserved only on WeChat Shop only for the first time. The 6 courses set is at CNY 888* per person. And a la carte tuna menu is also available. (*Subject to 15% service charge inclusive of government taxes) For reservations, please call 86 (20) 8883-3372.