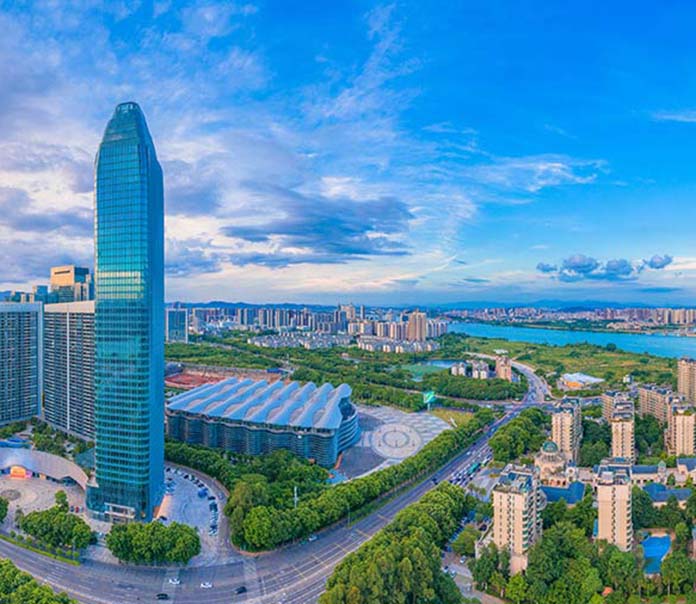 Guilherme Campos discusses the Guangdong government's key development plans and infrastructure goals for the next five years so the province leads all other regions in China on economic, technological, connectivity, cultural, environmental, and sustainability parameters. Some major objectives include developing the cooperation zones of Hengqin and Qianhai and the Greater Bay Area as well as building soft and hard connectivity infrastructure. Trillion-yuan cities, in terms of GDP, in Guangdong province are Guangzhou, Shenzhen, Foshan, and Dongguan.
On May 22, 2022, Li Xi, the secretary of the Guangdong Provincial Committee of the Communist Party of China (CPC) delivered a report amid the 13th Guangdong Provincial Congress of the CPC.
Similar to the national one, the provincial CPC congress is an event that is held every five years, the purpose of which is to set the tone for the development of the party itself, as well as the region over the following years. Other purposes include making a periodical assessment of the development of the region (in this case Guangdong).
Guangdong's achievements in the past five years
According to the report, Li said that the province of Guangdong has made significant progress and achievements in various aspects over the past five years.
Among others, Guangdong managed to grow its economy continuously. In 2021, the GDP of the region reached RMB 12.44 trillion (approx. US$1.92 trillion), ranking first in China for 33 consecutive years. Following Guangzhou and Shenzhen, Foshan and Dongguan have joined the "trillion-club" with a GDP over RMB 1 trillion (approx. US$0.16 trillion) thanks to innovation-driven and intensive manufacturing. There are more than 15 million market entities in the province, forming seven trillion-yuan industrial clusters. Moreover, Guangdong's regional innovation capacity has ranked first in China for five consecutive years.
The report also emphasized Guangdong's achievement on opening up and reform. As of May 2022, the two cooperation zones of Hengqin and Qianhai are being developed, the first batch of 40 items authorized to facilitate pilot reform of building Shenzhen into a demonstration area of socialism with Chinese characteristics has been implemented, the Shenzhen Stock Exchange has been reformed and piloted the registration system, the Guangzhou Futures Exchange has been established, and the Hong Kong-Zhuhai-Macao Bridge and the Guangzhou-Shenzhen-Hong Kong High-speed Railway have been completed and opened to traffic.
Guangdong Pilot Free Trade Zone is the first of its kind in China to carry out 36 reforms, with the total import and export volume exceeding RMB 8 trillion (US$1.2 trillion) in 2021 and the actual utilization of foreign investment exceeding RMB 780 billion (US$117.2 billion) in the past five years. Basf Zhanjiang, ExxonMobil Huizhou, and other foreign investment projects worth US$10 billion have been started. Guangzhou is still a favorable destination among global traders and investors.
Guangdong's nine key tasks in the next five years
In the report, Li also outlined key goals for Guangdong in the next five years to stay ahead as the leading economic and technological province in China and one of the leading ones in the world.
The nine key tasks set for Guangdong are:
Deepen the development of the two areas and two cooperation zones. The two areas are the Guangdong-Hong Kong-Macao Greater Bay Area (GBA) and the Demonstration Area of Socialism with Chinese characteristics of Shenzhen. The two cooperation zones refer to the Shenzhen-Hong Kong Modern Service Industry Economic Cooperation Zone in Qianhai and the Guangdong-Macao In-depth Cooperation Zone in Hengqin. In the next five years, Guangdong aims to enhance both "hard connectivity" of infrastructure and "soft connectivity" of rules and standards within the GBA, so as to build a world-class bay area and city clusters.
Achieve high quality development amid China's dual circulation strategy. The region will develop a more internationally competitive modern industrial system, expand domestic demand while increasing and hopefully stabilizing foreign demand to create a strong market advantage. The report also sets ambitious goals for further building and enhancing the modern infrastructure of Guangzhou province. In addition to high-speed rail, intercity rail, urban rail and freight rail, smart grids, and the water resources allocation project, Guangdong will also advance the layout of new infrastructure, such as 5G networks.
Promote Guangdong's technological and industrial innovation advantages to a new height. Guangdong will explore the "Guangdong" path in tackling the key and core technological bottlenecks to be self-reliant on these areas. It will also improve intellectual property protection, financial measures, and talent attraction to facilitate the development of the key and core technologies.
Comprehensively promote rural vitalization and accelerate the modernization of agriculture and rural areas. Guangdong will target to ensure the bottom line of food security and the effective supply of important agricultural products.
Achieve coordinated regional development at a higher level and of higher quality. It will improve the level of city planning, construction, and management – to build livable, innovative, smart, green, cultural, and resilient cities and enhance the functions of modern finance, international commerce, information hub, education, and medical care that serve the whole province.
As for coordinated regional development, the province will enhance the core area of the Pearl River Delta as the main engine of reform and development. It will build the coastal economic belt region of the province into a place with better capacity for industrial development. It will build the area in northern Guangdong into a benchmark of sustainable development.
Promote high-quality cultural development and create cultural advantages commensurate with economic strength. Among others, Guangdong will promote the integration of regional and urban public cultural services, make the Baietan Greater Bay Area Arts Center, Guangzhou National Edition Museum, Guangdong Art Academy, Cantonese Opera Cultural Center, People's Art Center, and Shenzhen Opera House new cultural landmarks, improve the network of public cultural facilities, and improve the quality of public cultural services. It will also promote the development of a modern cultural industry system, foster new types of cultural businesses, cultural enterprises, and patterns of cultural consumption, develop digital culture, and integrate culture and tourism. Guangdong will strengthen institutional innovation in the cultural field, establish a policy system to promote high-quality cultural development, and create high-level performing arts clusters.
Promote all-round green transformation and continue to improve the ecological environment. Guangdong will steadily promote the carbon peaking and carbon neutrality goals in the province, especially the accelerated development of new and clean energy and the green and low-carbon technologies. (In 2021, Guangdong approved 78 GW of utility-scale solar power – bringing the total capacity of approved utility-scale solar projects since 2020 to over 100 GW. If completed, these projects could account for nearly one third of the estimated national capacity addition through to 2025).
Ensure and improve people's well-being and made solid progress in achieving common prosperity. Guangdong aims to enhance employment quality, raise people's average income, and continue to build up the education and healthcare systems, as well as social security.
Build Guangdong into one of the best regions in China concerning safety, stability, fairness, and legal environment. It will push forward law-based governance foster a stable and orderly society.
How to understand the key tasks of Guangdong?
All of these goals, as ambitious and exciting as they may be, are still very broad and general and it is expected that in the coming months and years more concrete measures will be announced so that a more realistic assessment of the goals can be made.
Nevertheless, the fact is that Guangdong's 2021 GDP recorded a growth of eight percent to RMB 12.4 trillion (US$1.95 trillion) comparing to the previous year. The province's foreign trade surpassed RMB 8 trillion (US$1.2 trillion) in 2021, up 16.7 percent year on year. It shows that Guangdong has successfully maintained its leading role in China for economic and trade growth.
Based on the key tasks set in Li's report, it can expected that the region will continue to grow economically and that its infrastructures continue to be built, strengthened, and expanded, even amid the recent economic downturn caused by the COVID-19 prevention and control measures.
As for the remaining goals of attracting a good talent pool and further opening to foreign investment, a joint effort from Guangdong province and the central government will be required.
Overall, Guangdong has its own problems to solve but the future outlook for Guangdong is promisin
---
About Us
China Briefing is written and produced by Dezan Shira & Associates. The practice assists foreign investors into China and has done so since 1992 through offices in Beijing, Tianjin, Dalian, Qingdao, Shanghai, Hangzhou, Ningbo, Suzhou, Guangzhou, Dongguan, Zhongshan, Shenzhen, and Hong Kong. Please contact the firm for assistance in China at china@dezshira.com.
Dezan Shira & Associates has offices in Vietnam, Indonesia, Singapore, United States, Germany, Italy, India, and Russia, in addition to our trade research facilities along the Belt & Road Initiative. We also have partner firms assisting foreign investors in The Philippines, Malaysia, Thailand, Bangladesh.