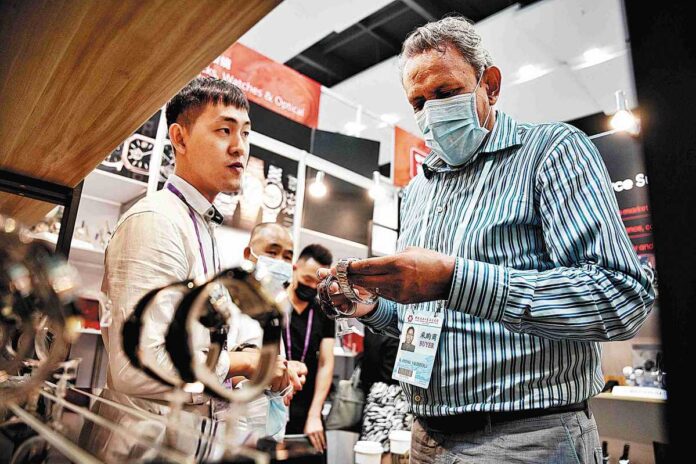 A foreign buyer (right) checks out new timepiece models at the China Import and Export Fair (Canton Fair) in October. (Photo provided to China Daily)
The Regional Comprehensive Economic Partnership agreement that came into force this year will further advance trade cooperation between Guangzhou, capital of Guangdong province, and other RCEP member countries, authorities said.
RCEP members have always been the countries with close economic ties with Guangzhou, and therefore trade between Guangzhou and other RCEP members is expected to see strong growth in the months to come thanks to the agreement, according to local authorities.
Guangzhou's leather and textile industries will particularly benefit from the RCEP agreement-the world's largest free trade agreement covering 15 economies.
According to a statement released by Guangzhou Customs earlier this month, many companies in the city have received tax deductions since the beginning of the year.
Authorities said Guangzhou's exports of leather, textiles and footwear products to Japan may enjoy tariff concessions of about 47 million yuan ($7.41 million) in 2022.
Japan is one of the major export markets for the city's leather products.
Gao Zhiyong, a senior executive at Guangzhou Zhijia Leather Co Ltd, said workers at his company have been working hard since the beginning of the year.
"Orders from foreign countries and regions have been placed for a few months. Although the Spring Festival is approaching, there are still new customers coming to negotiate business agreements through various channels. Therefore, workers have been asked to work hard to meet demand from growing overseas orders," Gao said.
Zhang Yi, manager of Guangzhou Duoweili Leather Co Ltd, said tariff cuts have greatly enhanced the market competitiveness of his company.
"The company's exports to Japan are estimated to be able to save more than 500,000 yuan in tax costs this year, and with the help of the favorable policies and tariff cuts, the company's export volume to Japan is projected to grow year-on-year by about 25 percent in 2022," Zhang said.
Located in Guangzhou's Huadu district-known as the "leather capital of China"-Zhang's company is among the major luggage and bag manufacturers in the region.
Shiling township in Huadu has now registered more than 8,800 luggage, bag and leather goods manufacturers and more than 16,800 supporting service merchants, producing more than 700 million pieces of luggage and bags for customers from around the world each year.
Liu Qing, deputy director of the Foreign Trade Development Division with the Guangzhou Bureau of Commerce, said the RCEP agreement will offer huge opportunities to Guangzhou's foreign trade development and industry in the coming years.
Guangzhou's annual foreign trade volume with other RCEP members represents about 30 percent of the city's total, while the provincial capital's imports from other RCEP members may even account for 45 percent of its total purchases from abroad, Liu said.
Liu estimated Guangzhou's import and export volume will increase by more than 20 billion yuan in the first year of the RCEP agreement implementation and 50 billion yuan annually in the future, as the agreement allows more than 90 percent of goods traded among RCEP members to enjoy zero tariffs after the agreement takes effect.
Liu promised his bureau would organize a series of trade fairs and promotional events to boost the city's trade with other RCEP members later this year.
Meanwhile, Liu urged foreign trade companies in Guangzhou to seize opportunities to strengthen the study, research and use of the rules and regulations of the agreement to further improve the quality and competitiveness of their products and increase their presence in global markets in the years to come.
Wei Min, executive deputy head of Guangzhou's Nansha district, said the district government recently issued a series of pilot measures to further deepen reform and expand opening-up to the outside world, with the RCEP agreement seen as a benchmark.
"Nansha district has very close economic and trade ties with other RCEP member countries, and the industrial and supply chains are closely related," Wei said.
Fu Zhengping, a professor at Guangzhou-based Sun Yat-sen University, said the measures Nansha introduced have been focusing on the "two-wheel drive" of trade and investment facilitation.
"In terms of trade, it is aimed at simplifying Customs procedures by referring to trade regulations, freedom of transit, Customs procedures and other provisions of the RCEP agreement. And in terms of investment, measures are proposed to further improve the commercial system and deepen the reform of the negative list for foreign investment access, which will help Nansha's free trade zone open to a higher level and further promote the district's high-quality development," Fu said.
RCEP member countries set up a total of 248 companies with a contract investment of $6.36 billion in the previous year in Nansha.
By the end of last year, Nansha Port had opened a total of 135 foreign trade routes with the rest of the world, including 125 linking Nansha with other RCEP members.
Qiu Liang, deputy director of duty collection with Guangzhou Customs, said Guangzhou Customs has issued a total of 177 certificates of origin with a product value of 61 million yuan since the beginning of the year.
The certificate of origin is a document provided by an exporter to prove the origin of goods at the request of an importer under the framework of the RCEP agreement. Only when the certificate is obtained can the goods be eligible for tariff exemptions in member countries.