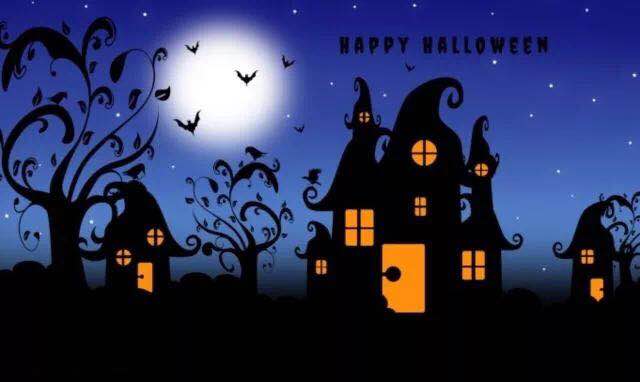 Have you decided where to spend your Halloween yet? Maybe you want to go back to the bar where you enjoyed a wild and colourful party last year? Or you want to try something new such as Halloween theme feast with family and friends. You certainly don't want to spend the night alone at home when all of the fun and actions are happening around you in the city!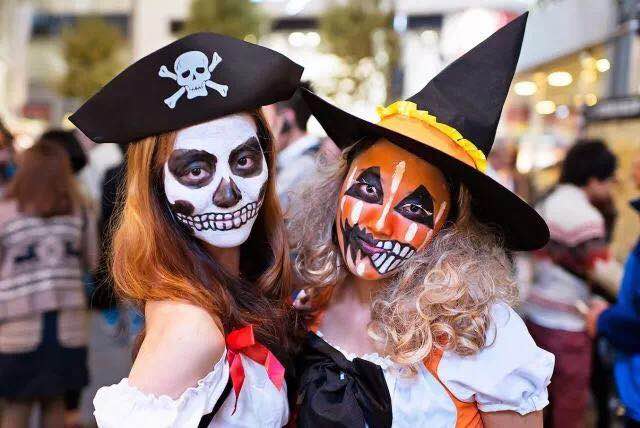 If "Well, I have no idea" ever comes to your mind, let Delta Bridges help you decide! We have selected a few places for you to try out. Go and enjoy! You can tell us how you have enjoyed your Halloween later after.
---
A Simple and Nice Meal @Amaroni's
To some of us, Halloween is a time that you dare to scare your friends or to be scared by them for only pure and harmless fun. But keep that in mind, some of us might be very shy! If you fancy a nice meal with only a bit of kinky things going on around you, Amaroni's at Tai Koo Hui is your place to be. Amaroni's idea is to bring the trendy New York Italian restaurant and cafe culture to the city of Guangzhou. Featuring a special Halloween Menu for this coming weekend, Amaroni's invites you to a less risky and scary night with only fun in food.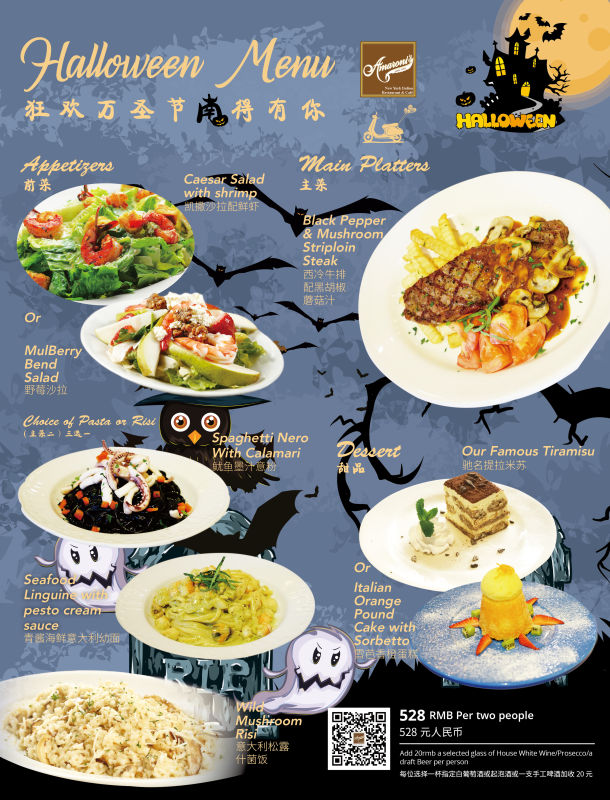 Menu available from now till 31st October
Address: L304, Roof Terrace, 3/F, Tai Koo Hui, Tianhe District.
Tel: +8620-8550 9028
---
Happy Monk Reckons, Alcohol Might be THE Cure of Fears You Need
Halloween is coming! Imagine, the night is here, and the darkness is still unknown. The twinkling light is attracting the souls and the evils' eyes. They're hiding behind the darkness and awaiting to come out. Happy Monk reckons, alcohol might be the right cure of fears for you in this case!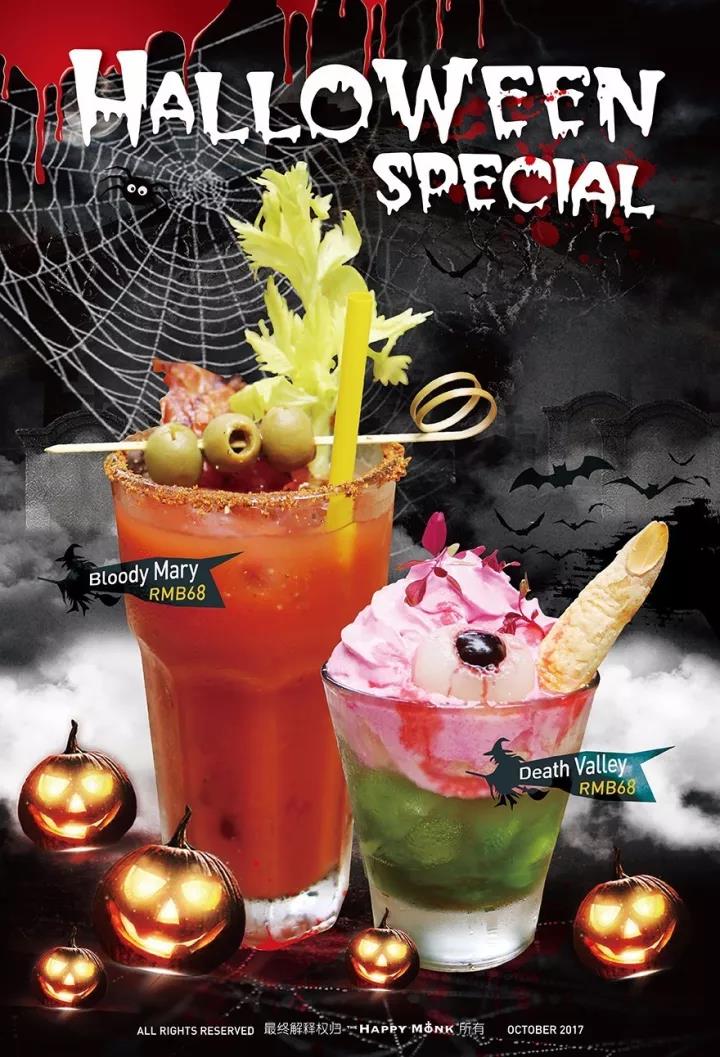 *The Happy Monk (Jianwu 建五店)
Address: Unit 107, G/F, Peace World Apts, 29 Jianshe 5 Rd
Tel: +8620-8376 5597
*The Happy Monk (Xingsheng 兴盛店)
Address: Unit 109, 7 Xingsheng Rd, Zhujiang New Town
Tel: +8620-3877 8679
*The Happy Monk (Happy Valley 太阳店)
Address: Unit 124, G/F, Happy Valley Shopping Mall, 36 Machang Rd, Zhujiang New Town
Tel: +8620-3832 5317
*The Happy Monk (Kingold 侨鑫店)
Adress: Unit 1, G/F, Kingold Century, 62 Jinsui Rd, Zhujiang Newtown
Tel: +8620-3736 2681
---
Amazing Halloween Factory @Sofitel
Halloween is a popular festival in the western countries. Every kid dresses up In their own horrible costumes to celebrate the special feast with their neighborhood fellows. 2 on 988 Café at Sofitel Guangzhou Sunrich presents you with a creative and unforgettable Halloween buffet experience. Distinctive halloween buffet gives you an unforgettable night!
31st October, 2017
18:00 – 22:00
Price:
Best Rate Guaranteed on WeChat
CNY 298 net*/person
CNY 232 net*/child ages 6-12
Free for child below 5yo
---
Welcome to The Vampire Diaries @Lian Sky Lounge!
Come with friends for a happily haunted happening filled with Halloween fun at Lian Sky Lounge at IGC. On 28th this fall, get in the spirit as we turn the lounge into the ultimate frightful night out!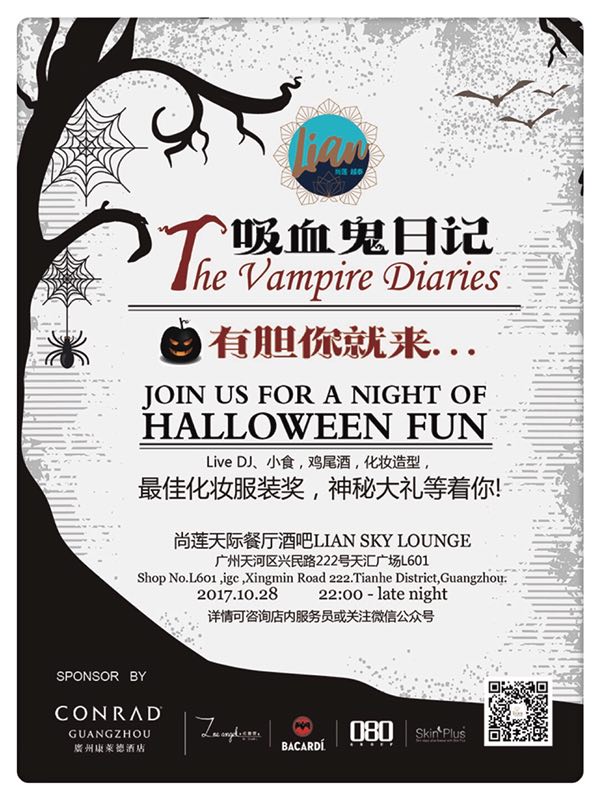 Time: 2017.10.28 10:00pm-late night
Venue: L601, IGC, Xingmin Road 222, Tianhe District
Entrance: 98 RMB, including unlimited drinks and snacks and bloody cocktail, and free make up.
---
Halloween Fun for 5 Nights @SUNS Club
Some of us prefer a long lasting Halloween for either you simply love parties one after another, or you are so busy that you might have to pass Halloween because of work. In either cases, you are definitely covered my friend! 5 different nights of Halloween fun only @SUNS Club
Time: 27th to 31st October
SUNS Club, Pearl River Party Pier