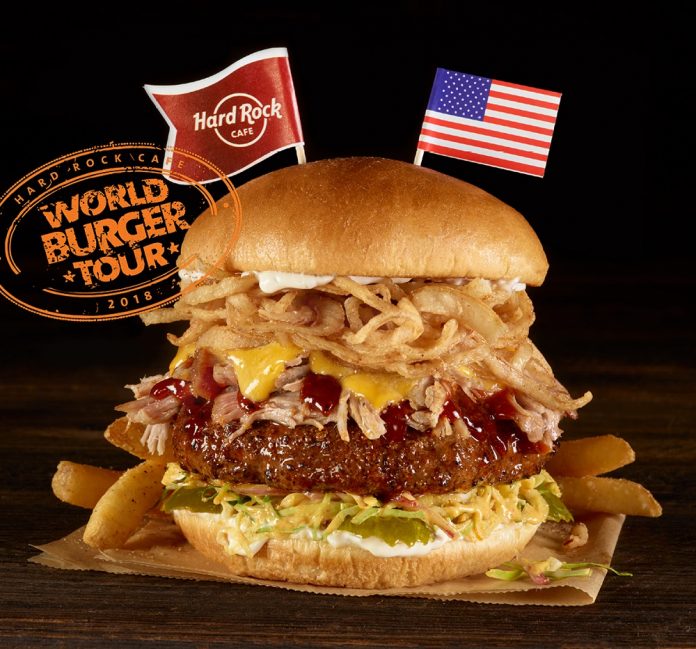 深圳硬石餐厅世界汉堡征途吹响集结号,全新菜单包含全球硬石粉丝的挚爱口味——以全球硬石餐厅的当地特色风味为灵感,将在5月2日起席卷你的餐桌,邀您共度狂欢夏日。
Hard Rock's World Burger Tour is back and ready to take guests' taste buds on an international flavor experience. World Burger Tour, a limited-time offering of Hard Rock Local Legendary© Burgers, inspired by the taste and flavors from cafe locations around the world, hits tables at participating Hard Rock Cafe locations worldwide beginning May 2 and continues through June 29.
"能够跟随全球硬石餐厅的脚步,在今年夏日精选优质食材展示硬石特色传奇汉堡,感觉真的很棒,"深圳硬石酒店总经理贝格伦表示,"在特定时间内,客人可以享受到世界各地热门城市——例如南美的布宜诺斯艾利斯,以及澳洲的悉尼风味汉堡等"。
"It's incredible we're able to showcase Hard Rock's Local Legendary© Burger collection and the authentic ingredients that makeup each burger for the first summer time," said Glenn Peat, General Manager of Hard Rock Hotel Shenzhen. "For a limited time, guests can enjoy the signature flavors from some of the world's most eclectic cities like London and Buenos Aires at their local Hard Rock."
2018年的世界汉堡征途,我们挑选了8款被硬石烹饪团队评估为大众最爱的风味汉堡加入其中。5月起至6月,深圳硬石餐厅的菜单将会添加以下特色汉堡:
澳洲汉堡(悉尼,澳大利亚) – 一个如同悉尼海港大桥一般独一无二的汉堡。特质焦糖洋葱圈、咸香培根与车达芝士完美融合,甜菜根煎蛋、爽口生菜将与风味薯条一同献上;
英式早餐汉堡(伦敦,英国) – 招牌汉堡肉饼配上咸香培根、早餐肠、鲜爽脆蛋、嫩烤蘑菇、新鲜芝麻菜、番茄及炸薯条,与你分享一个清新的英式清晨;
沙嗲汉堡(狮城,新加坡) – 全牛肉肉饼与亚洲花生酱、爽口黄瓜片、是拉差辣椒酱及炸薯条的组合,马上启程去感受正宗南亚风情;
德式炸肉汉堡(科隆,德国) – 德式传奇特色面包搭配道地炸肉排与培根,第戎芥末糊与椒盐脆饼干将带来德国与众不同的美味反响;
酸甜汉堡(香港,中国) – 经典汉堡肉饼搭配烤菠萝、爽脆炸洋葱,灯笼椒与生菜加上硬石特制甜酸酱料与炸薯条,一段港式风味的传承之旅即将启幕;
泥炉碳烤辣鸡肉汉堡(孟买,印度) – 季节特供鸡肉饼与新鲜薄荷蛋黄酱,附以蒙特利胡椒芝士、脆黄瓜片及炸薯条,印度的热情与迷人风味扑面而来;
萨尔萨探戈汉堡(布宜诺斯艾利斯,阿根廷) – 萨尔萨辣味汁、熏猪肉香肠、蒜泥蛋黄酱、蒙特利胡椒芝士、新鲜生菜与煎蛋、现炸薯条… 这个夏天南美的热辣尽在深圳硬石餐厅;
遇见罗马汉堡(罗马,意大利) – 像一位罗马人一样享用意大利烟熏肉、辅以浓香蒜蓉蛋黄酱、爽口生菜吧——当里科塔奶酪遇上香烤面包与牛肉饼,你就会知道罗马假日为何会引人入胜。
Hometown Heroes
This year more than 8 local burgers were evaluated by Hard Rock Cafe Shenzhen's culinary team with crowd favorites added to the 2018 World Burger Tour lineup. Throughout May and June, Hard Rock Cafe Shenzhen menu will feature World Burger Tour offerings such as:
• Aussie Burger (Sydney, Australia) – a burger piled high like the Sydney Harbour bridge, topped with caramelized onions, crispy bacon, cheddar cheese, a fried egg with beetroot, lettuce and tomato served with seasoned fries
• English Breakfast Burger (London, England) – a classic burger patty topped with sliced ham, breakfast sausage, a fresh-cracked egg, grilled Portobello mushroom, fresh arugula and tomato served with seasoned fries
• Satay Burger (Singapore, Singapore) – an all-beef patty on a sweet and crunchy trip, featuring a combination of Asian peanut sauce, cool cucumber planks, arugula and sriracha mayo served with seasoned fries
• Schnitzel Burger (Cologne, Germany) – this German Legendary features breaded schnitzel topped with bacon, lettuce, tomato and sauerkraut with Dijon mustard served on a warm pretzel bun alongside seasoned fires and Dijon mustard sauce for dipping
• Sweet & Sour Burger (Hong Kong, China) – a classic burger patty topped with grilled pineapple, crunchy fried onions, bell peppers and crisp lettuce drizzled with Hard Rock's house-made sweet and sour sauce served alongside seasoned fries
• Tandoori Spiced Chicken Burger (Mumbai, India) – a seasoned chicken patty with fresh mint mayo, Monterey jack cheese and crisp cucumber planks topped with iceberg lettuce served with seasoned fries and mint mayo for dipping
• Tango Salsa Burger (Buenos Aires, Argentina) – shake it up with andouille sausage, salsa criolla, garlic aioli, Monterey jack cheese, fresh arugula and a fried egg to top off the burger served with seasoned fries
• When in Rome Burger (Rome, Italy) – dine as the Romans dine with pancetta, garlic aioli, crisp arugula and ricotta cheese spiked with sun-dried tomatoes atop a beef patty on a toasted bun served with season fries and sriracha mayo for dipping.
如同硬石酒店在世界所展示的音乐珍藏品一样,我们在硬石餐厅所供应的汉堡也都可称为"传奇"——所有精选汉堡都以最为新鲜优质的食材、口味独特的酱汁及闻名世界的奶酪带来丰富惊艳的口感搭配。在世界汉堡征途上,经典美式炸薯条**还会与极具代表性的蘸料共同出场。
Just like the artists whose memorabilia lines the walls at Hard Rock locations worldwide, the burgers served at Hard Rock Cafe are nothing short of "legendary". All Local Legendary Burgers feature the highest quality meats, fresh ingredients, savory sauces and rich melted cheeses paired with the ultimate sidekick – Hard Rock's Savory Artisan French fries. Throughout World Burger Tour, each French fry selection is paired with a complementary signature dipping sauce.
欲了解更多信息或预订深圳硬石酒店及深圳硬石餐厅,请访问http://www.hardrockhotels.cn/shenzhen/。更多关于硬石国际的信息请访问www.hardrockhotels.com。可通过官方话题标签: #2018WorldBurgerTour ,#HardRockCafeShenzhen以及#HardRockHotelShenzhen参与社交平台互动。
For more information on World Burger Tour and to contact your local cafe for menu details, please visit www.HardRock.com. You can also interact with us on social platform through official topic tags: #2018WorldBurgerTour, #HardRockCafeShenzhen and #HardRockHotelShenzhen.