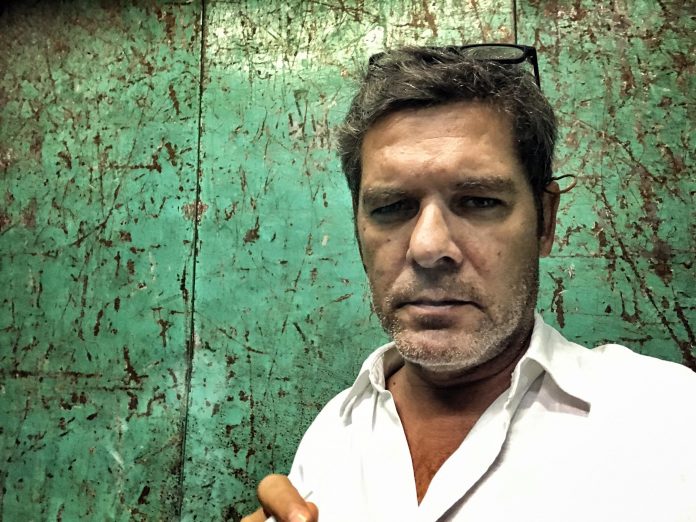 Henrique Silva | Bibito, Macau Jazz • Sunday Sessions的组织者 - 

Organizer, Macau Jazz • Sunday Sessions. 
DB: 您当时怎么提出"澳门爵士俱乐部"的理念?How did you bring up the concept of Macau Jazz?
这个概念早已酝酿心头。Macau Jazz Club 是亚洲最早的爵士乐俱乐部之一(自1985年起),现有乐队(The Bridge)。另外,澳门爵士乐促进会在2000年底诞生,这使爵士成为了澳门的一部分。但问题是,那时没有一个场地定期举办现场音乐的活动,爵士爱好者无法相聚和享受现场表演。当我们听说LMA愿意关闭时,这个机会来了,我们建议在星期日租这个地方,并尝试把现场爵士乐带回城市。
The concept was already here. Macau Jazz Club is one of the oldest Jazz Clubs in the Asia Region (since 1985) with a resident Band (The Bridge). In addition, a new association emerged in late 2000, the Macau Jazz Promotion Association. So, Jazz is part of Macau. The problem was the absence of a venue with regular live music events where jazz lovers could meet and enjoy live performances as well as jam sessions. That opportunity came along when we heard that LMA was willing to close and we proposed to rent the place on Sundays and try to bring back the Live Jazz to the city.
"我们"是三个朋友(Bibito,RuiSimõese Cristina Ferreira),他们是爵士爱好者,当大家知道澳门缺少这样的地方。我们确信这里是有热爱爵士乐的群众基础。另外,我们知道澳门有许多音乐家在各大娱乐场所演出。而在过去的几年里,一些澳门的青年一直在玩爵士乐。我们假设我们的项目也可以为这些爵士青年打开一扇门并改进,他们将有机会与其他资深音乐家一起学习。
"We" are three friends (Bibito, Rui Simões e Cristina Ferreira) who are jazz lovers and knew that Macau was lacking a place like this. We were certain that public that love jazz exists. Also, we knew that Macau has great musicians playing in the many entertainment venues in the city, as well, in the last years, some Macau "kids" have been playing and learning jazz. We assumed that our project could also open a door to that "kids" to improve, have the chance to learn with other senior musicians and play to a more demanding public that like jazz.
这是我们的理念的本质:在此开启MACAU JAZZ•SUNDAY SESSIONS、音乐家、专业人士或业余爱好者将有机会自由地播放他们喜爱的音乐,也是澳门爵士乐迷能享受音乐,并拥有自己的区域风格。
That as the essence of our concept: opening the MACAU JAZZ • SUNDAY SESSIONS here musicians, professionals or amateurs could have the chance to freely play the music they love and a place where Macau jazz fans could enjoy the music and have a place in their own style.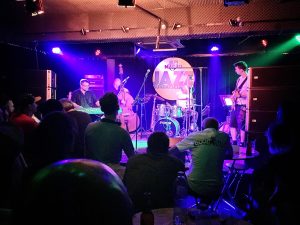 DB: "澳门爵士*周日夜"的地理位置较为隐蔽,当时您为什么会选择这个地方? The location for Macau Jazz Sunday Sessions is quite tucked away, why did you choose it to host Macau Jazz performances?
事实上,我们觉得是这个地方选择了我们。它也许有些隐蔽,但我们相信它创造了一个爵士酒吧该有的完美氛围,不仅舒适,而且很酷,加上如今在澳门租房并不容易。
In fact, we think the place chose us. It may be a bit tucked away, but at the same time, we believe that it creates the perfect atmosphere of a Jazz bar. It is cosy and cool. People feel comfortable and at ease in a friendly ambience. Besides, one must bear in mind that it is not easy or affordable to rent a space in Macau, nowadays.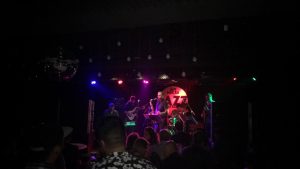 DB:这些爵士乐队来自哪里,有哪些类型的爵士乐队会到现场表演?  Where are those Jazz bands from and what kind of Jazz bands will be invited to the Sunday Sessions?
到目前为止,我们会邀请驻地乐团 – The Bridge及当地的爵士乐队。本地音乐家支持这一活动,并在其中传播这个理念。新乐队可以通过这种方式进行演出。这类活动的精神甚至蔓延至爵士音乐的即席演奏会。其中一个奇妙的事情是我们会邀请到来自香港的音乐家出席演奏。有些音乐家听闻了JAZZ•SUNDAY SESSIONS都会前来这边了解,这说明了我们的影响力正在扩张。
Until now, we host the resident band – The Bridge as well as local jazz bands. Local musicians also support this event and spread the word among them. This makes it possible to have new bands to perform or to be invited. This dynamic has been spreading to the jam sessions as well. One of the fantastic things is that occasionally musicians from Hong Kong show up and play. Musicians that heard about MACAU JAZZ • SUNDAY SESSIONS come to know the place… and some of them have been re-incident ;).
DB: 除了现场的爵士音乐,顾客还能在俱乐部得到什么乐趣?Apart from live-show Jazz music, what other fun can customers enjoy in the club?
其实当我们谈论现场爵士音乐时,它包含了乐者灵魂和音乐家的表演,这些音乐家的想象力和感觉能让听众振奋至飞起。夜夜笙歌、曼妙舞支,我们只能说,听众们十分喜欢手捧红酒,听着音乐,享受着这种氛围。另外,音乐家们也非常友善,而爵士乐的演出亦是缤纷多彩。我们的目标是迎合音乐家和爵士爱好者们的需求。
Well, when we are talking of live jazz music it also encompasses listen to singers and enjoying watching musicians given rise to their imagination and feeling in a way that music makes us fly. We have had nights where attendants sing and dance. What we can say is that the audience most certainly will enjoy a nice glass of wine and good music in a nice atmosphere. Also, the musicians are very friendly and easy going. It is very easy to engage in a nice conversation about all things related to jazz. We will continue to do our part and try to make the MACAU JAZZ • SUNDAY SESSIONS grow in quality in all aspects. Our pledge is to cater to the musicians and jazz lovers' needs.
另一方面,音乐家的作用就像桥梁,创造机会,连接人与人之间的距离,就像我们这个"俱乐部"一样。
Another aspect is that musicians and not only have in there a place to make connections, meet people, and generate opportunities. It's a kinda of a "club" if you know what I mean.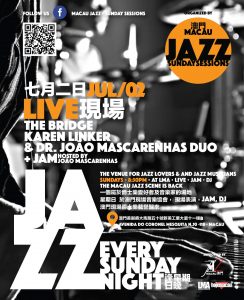 DB: 爵士乐爱好者近期能参加什么活动呢?What are the upcoming events can Jazz-lovers look forward to?
即使是我们,也无法预测到底会有哪些音乐家会到场、他们是否有什么共同点或他们会带给听众什么能量。到目前为止,每周的"神秘嘉宾"早已被"惊喜"精心包装,同时,The Bridge也将永远陪在我们身边,这是唯一的保证:)。
Even for us, it's always a surprise, we can't predict what musicians will come in and what complicities and energy will come from them. Until now he has been blessed by great "surprises" almost every Sunday… and then, The Bridge band will be always there for us, that the only guarantee :).
但是,如果你想关注我们最新的消息,你可以前来我们每周日的会议并询问我们。我们的嘉宾永远是最好的信息来源。
But the best way to keep up to date with the jazz events calendar is to come to our sessions on Sunday and ask around. Our guests are the best source for information.
DB:我们能从什么渠道了解更多'Macau Jazz • Sunday Sessions'?Where can we get more information about Macau Jazz • Sunday Sessions?