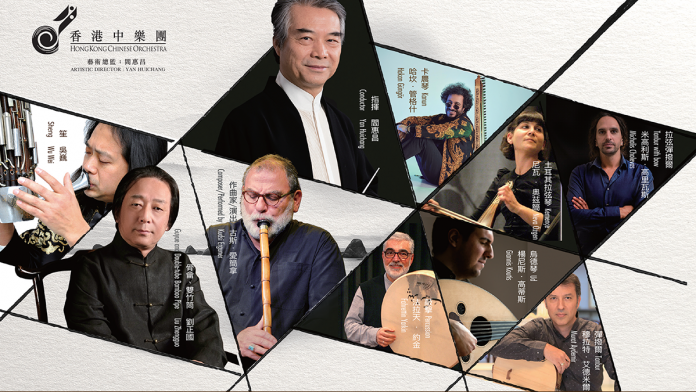 以音乐带路,直达"一带"之上的东西文明窗口土耳其。香港中乐团联同骨龠权威刘正国、土耳其国宝级作曲家古斯·爱简拿及国际著名笙演奏家吴巍,邂逅源远流长的九千年古风。
With music as our guide, we arrive in Turkey, the hub connecting Eastern and Western civilizations. Here, the Hong Kong Chinese Orchestra is joined by the highly esteemed Turkish conductor Kudsi Erguner alongside Liu Zhengguo of ancient guyue (bone pipe) fame and internationally renowned sheng player Wu Wei in traversing nine millennia of music.
土耳其位于欧、亚、北非、中东交界的心脏地带,千年以来均为各地商贸物流的重要枢纽。香港中乐团的"丝路乐行"系列将聚焦此东西文明的窗口,骨龠演奏家、理论家暨国家一级演奏员刘正国,将从中国贾湖新石器遗址带来九千年前出土的骨龠古风。中乐团更邀请了土耳其传统作曲家古斯·爱简拿及其乐团,还有国际乐坛首屈一指的现代派笙演奏家吴巍,共同展现各地民族音乐的魅力。
Turkey's reputation as a vibrant hub for trade and culture across the ages makes it a compelling starting point for our musical journey along the Silk Road. The exhilarating sounds of ancient instruments evoked by the exotic instruments of Kudsi Erguner's Turkish ensemble take us from Turkey to China, conjured through the notes of Wu Wei's timeless sheng and Liu Zhengguo's guyue, the 'bone pipe' of nine millennia ago.
---
节目 | Programme
刘正国编曲 唐朴林配器
《牧归》(七孔骨龠)
湖南民歌 蔺锡鹏编配
《洞庭小调》(二孔骨龠)
钱兆熹
《原始狩猎图》(五孔骨龠)
骨龠:刘正国
唐朴林曲 兰锡鹏整理
《吹律》
双竹筒:刘正国
土耳其传统乐曲
古斯.爱简拿乐团
古斯·爱简拿、周熙杰曲(香港中乐团委作/世界首演)
《中土情缘》
古斯·爱简拿乐团合奏
恩特约·施耐德曲(香港中乐团委作/世界首演)
《丝绸之路—马可波罗旅程交响音画》
笙:吴巍
陈明志曲(香港中乐团委作/世界首演)
《邂逅》
骨龠:刘正国
古斯·爱简拿乐团合奏
Arr. by Liu Zhengguo and instrumentation by Tang Pulin
The Shepherd Returns (Seven-hole guyue)
Folk song of Hunan, arr. and instrumentation by Lin Xipeng
A Dongting Ditty (Two-hole guyue)
Qian Zhaoxi
Primitive Safari (Five-hole guyue)
Guyue: Liu Zhengguo
Tang Pulin, compiled by Lin Xipeng
Playing Wind Instruments
Double-tube Bamboo Pipe: Liu Zhengguo
Turkish Classical and Sufi Music
Kudsi Erguner Ensemble
Kudsi Erguner and Chew Hee Chiat (World premiere commissioned by the HKCO)
Central Plains Connections
With Kudsi Erguner Ensemble
Enjott Schneider (World premiere commissioned by the HKCO)
The Silk Road – Symphonic Pictures of the Travels of Marco Polo
Sheng: Wu Wei
Chan Ming-chi (World premiere commissioned by the HKCO)
Chance Encounter
Guyue: Liu Zhengguo
With Kudsi Erguner Ensemble
---
香港艺术节:音乐会"九千年的邂逅"
Hong Kong Arts Festival: Concert "Meeting Across Nine Millennia of Time"
日期及时间/Date & Time:
8pm, 22nd Feb 2019 (Fri)
2019年2月22日 (五), 晚上 8:00
场地/Venue:
香港大会堂音乐厅
Concert Hall, HK City Hall
票价/Price:
HKD$ 200 – $ 420