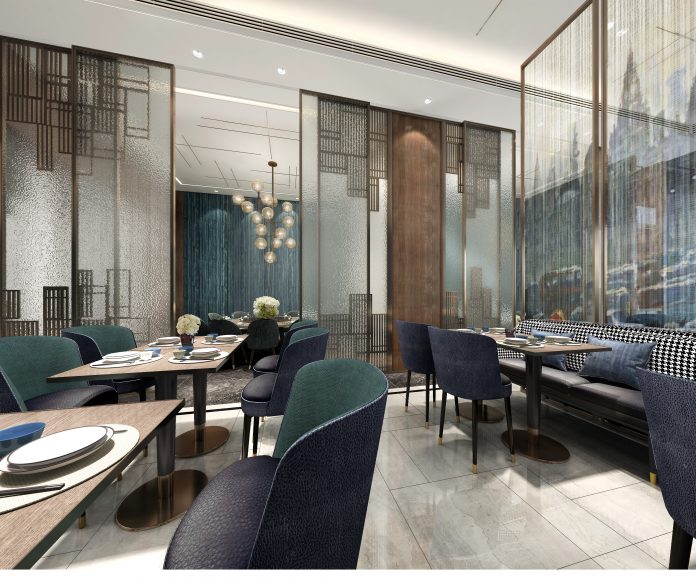 Inspired by the Shikumen, the traditional Shanghai architectural style, the designer created an elegant Huaiyang restaurant – 10 Shanghai with a sense of modernity and refined selection of quality materials where guests can enjoy the distinctive Huaiyang cuisine while indulging in the charm of Shanghai.
Walking through the tile wall entrance and a set of well-arranged translucent wooden grid screen, the scenery of old Shanghai alleys comes into view. At the entrance of the restaurant, a vintage reception counter sits on the right, greeting guests with a sophisticated and elegant atmosphere under a chandelier with minimalistic lines. Behind the walnut wood feature wall is a semi-open kitchen where guests can enjoy the art of cooking Huaiyang cuisine.
The terrazzo tiles along the corridor leads to the open dining area. The unique glass screens partition the dining area and add a stylish ambience to the space. The memory of prosperity in Old Shanghai is elicited by a painting illustrating the Bund in the glass screen. The wise selection of dining tables and chairs inject the environment with a lively blend of trendiness and vintage flair – the green flannel chairs with metal legs and black cushions; the fabric sofas in hound's tooth pattern completing the wooden dining tables with metal base, creating an elegant atmosphere yet with a hint of industrial vibe of the old Shanghai.
At the VIP lounge, a splendid crystal chandelier dangled in the middle catches the eyes like raining jewels while the aqua blue wallpaper sets a good balance for a sense of tranquility and privacy of the space for a classy and exclusive experience for guests.
Designer captured the nostalgic charm of Old Shanghai alleys and expressed it with a sense of contemporary style, recalling the good old days like how Home Shanghai offers an exquisite and impeccable dining experience for the dining guests.
---
10 Shanghai
7/F, K11 Guangzhou
Zhujiang New Town, Tianhe District, Guangzhou
Tel: +8620-88835323