洲际酒店及度假村在华第40家酒店──广州保利洲际酒店
毗邻著名的中国进出口商品交易会展馆,为广州开设的第一家洲际酒店
As the 40th China property for the InterContinental Hotels & Resorts Brand and the 1st in Guangzhou, the upcoming hotel adjacent to famous Canton Fair-Guangzhou International Convention & Exhibition Center sets a new benchmark for the brand.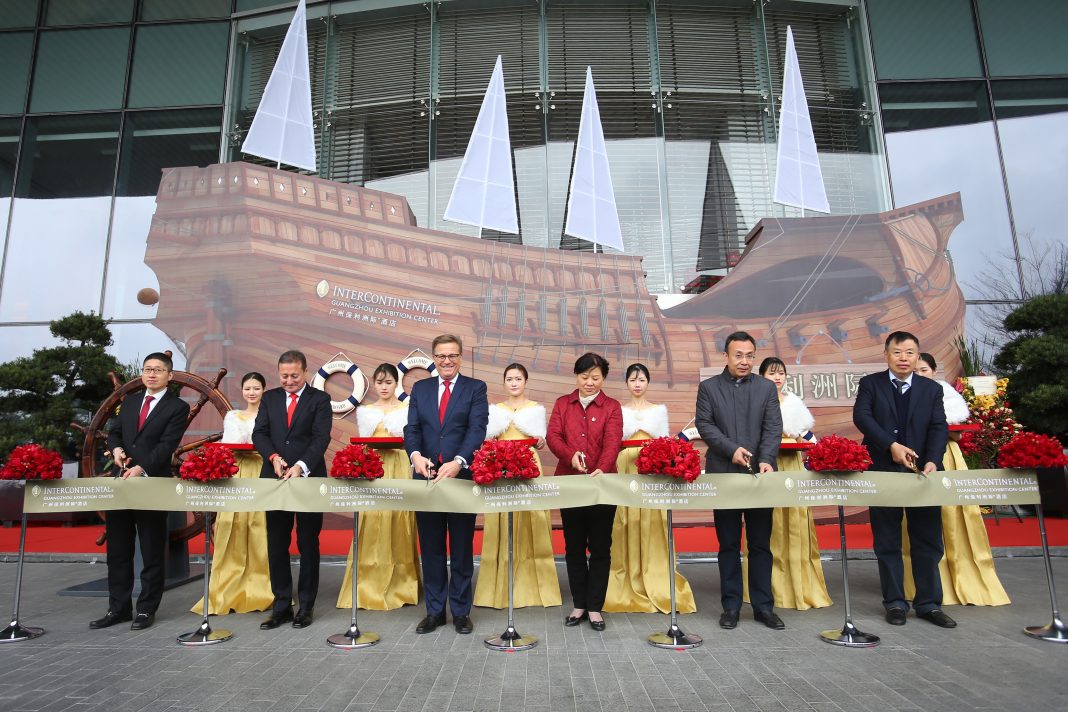 洲际酒店及度假村持续拓展中国业务,在华南经济文化中心──广州打造广州保利洲际酒店。作为品牌在广州的第一家洲际酒店,酒店延续其享负盛名的"洲际人生"品牌承诺,深入洞悉文化精粹,为宾客带来奢华环球旅行体验。
InterContinental Hotels & Resorts continues expanding the world's leading hotel brand in China with the opening of InterContinental Guangzhou Exhibition Center in the economic and cultural hub of South China. InterContinental Guangzhou Exhibition Center is InterContinental's first hotel in Guangzhou, exemplifying the high standards and unique brand features that make InterContinental Hotels & Resorts top class in the hospitality industry.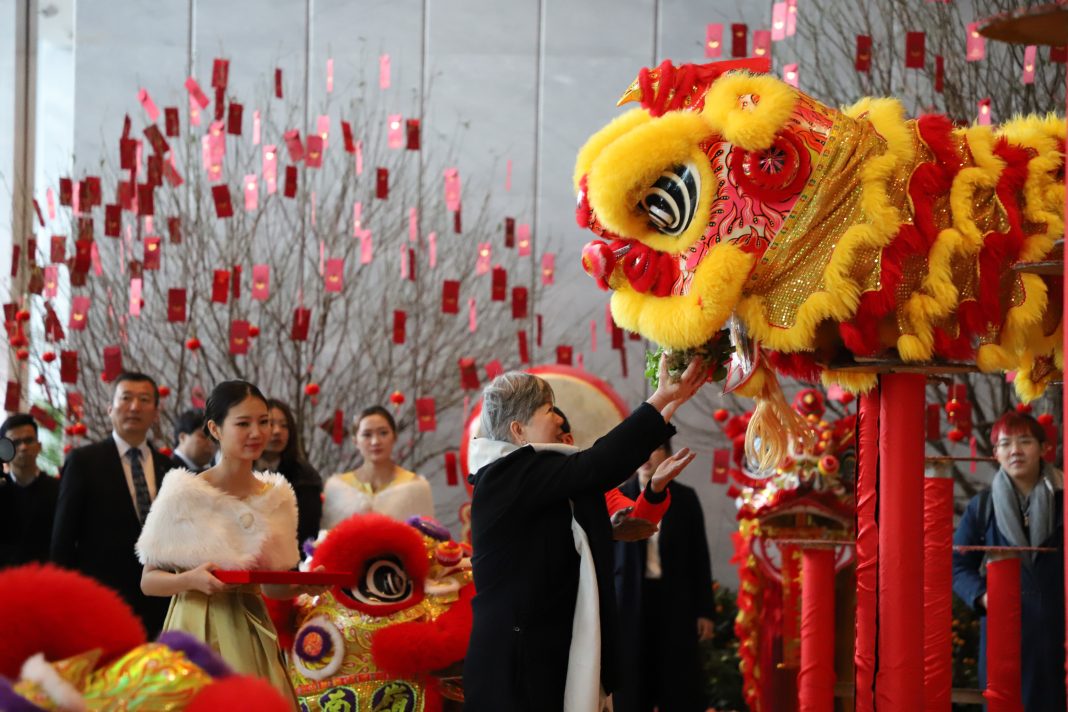 酒店坐落于广州珠江沿岸的保利∙天幕广场,毗邻中国进出口商品交易会展馆,拥有350间舒适客房,于2018年1月29日正式揭幕,成为洲际酒店及度假村在华第40家酒店。
The new 350-room luxury hotel open January 29, 2018 in the landmark Poly Skyline Square complex on the Pearl River in the heart of Guangzhou. The brand's 40th property in China is adjacent to the famous Canton Fair-Guangzhou International Convention & Exhibition Center, one of the world's largest exhibition centers.
广州保利洲际酒店位处商务繁盛的会展地段,临江而立,配备设施先进的活动场地、典雅的景观客房及套房、饱览珠江美景的餐厅和酒吧、豪华水疗中心及专业健身中心。
InterContinental Guangzhou Exhibition Center is positioned as the most prestigious MICE address in the bustling trade fair vicinity of Guangzhou, introducing river-side superb event venues, elegant guestrooms and suites, and vibrant bars and restaurants with amazing Pearl River view, along with state-of-the-art spa and fitness center.
酒店的室内设计以中国海上丝绸之路为灵感,大堂采用海浪色的地面、礁石形状的休闲廊以及线条优美的船身墙面,艺术化地表现海上丝绸之路元素。定制的世界地图象征着广州海上商贸的繁荣格局。从客房抽象画到宴会厅木棉花轮廓水晶灯,设计灵感均汲取自广州历史文化,简洁又优雅地呈现古港口风貌和本地风情。
Inspired by the China Maritime Silk Road, the hotel's interior design features a sea wave-colored floor, reef-shaped lounge chaise features and a graceful hull wall that showcases the elements of the Maritime Silk Road. Customized world map elements symbolizes the prosperity of Guangzhou Maritime Commerce. Abstract paintings in each room tie with the maritime theme. From the guest rooms to the ballroom crystal flower lights adorn the space and design inspiration is drawn from the history and culture of Guangzhou.
酒店备有琳琅满目的本地及国际佳肴,其主理进口牛排和精选葡萄酒的恰餐厅设有开放式厨房, Josper烤箱烹制香气四溢的牛扒,专业侍酒师也会为客人提供配酒建议。经典中餐馆御公馆供应地道粤菜和传统中菜,14间包房以"金木水火土"为主题,可举办公司晚宴及家庭聚餐,一边品茗,一边与壮阔江水比邻而坐。
Among diverse local and international dining experiences, western grill CHAR serves sizzling steaks by Josper oven and grillroom fare from an open kitchen, with a fine wine selection guided by a professional sommelier. Signature Chinese restaurant Canal Luna showcases authentic Cantonese and traditional Chinese cuisine, 14 private dining rooms with interior design concept inspired by the Five Elements of the Chinese Zodiac are perfect for family and business gathering.
全日制餐厅月色西餐以"新鲜出炉"为理念,供应环球自助早餐以及一系列西式、东南亚、日式、印度及中式菜肴,带来多元化的美食体验。位于顶楼的冠顶餐厅线条流畅的时尚设计与城市天际完美结合,现场乐队的音乐与珠江脉搏共舞,不仅有美酒与城景相呼应的精致画面,更有大厨倾心奉上的一段奇妙的美食之旅。优雅奇妙的大堂酒廊以礁岩为设计概念,供应中式或英式茗茶、特调咖啡、啤酒、葡萄酒、鸡尾酒及滋味小食。
All-day international restaurant Café Aqua serves buffet breakfast and an 'east-meets-west' selection of western, Southeast Asian, Japanese, Indian and Chinese favorites. Roof-top hotspot Sky Bar and Restaurant is a trendy sky-high retreat with City's landscape for unwinding, with alluring cocktails and live band show. Beyond the experience of the fine wines and cityscape views, the chefs offer a fantastic gourmet journey. The elegant Lobby Lounge serves Chinese or English tea, specialty coffees, beer, wine, cocktails and tasty snacks, with pockets of privacy amid a "Reef-Rock" design concept.
酒店设有多个会议及活动场地,气派非凡的无柱水晶宴会厅面积达1,800平方米,180度透明玻璃景观宴会长廊将珠江美景尽收眼底,并配有美轮美奂的全息投影设备,适合举办各种中西式婚礼宴会。占地500平方米的无柱翡翠宴会厅及十间68至200平方米不等的多功能会议室则是举行发布会、接待会及董事会议等中小型聚会之理想场所。
Meetings and events venues are headlined by the grand, pillarless 1,800-sqm Crystal Ballroom with a welcoming foyer of 180 degree glass window view overlooking the Pearl River, catering for western-style or traditional Chinese weddings and banquets. The Crystal Ballroom offers amazing holographic projection technology for high-impact events. A more intimate 500 sqm pillarless Jade Ballroom and 10 multi-function rooms from 68 to 200 sqm accommodate receptions, corporate presentations and board meetings.
酒店共设350间宽敞客房、42间套房及一间总统套房,远眺珠江和羊城的醉人景致。所有客房均配备雨林式淋浴设备、互动娱乐影音系统包括LCD电视及B&O音响。舒适的工作空间还提供高速上网,让宾客尽享至臻完善的个性化下榻体验。高踞酒店39楼的洲际俱乐部,提供专属私人空间和管家服务,包括独具特色的早餐、下午茶以及晚间鸡尾酒等一系列贵宾礼遇。
The hotel has a total of 350 spacious rooms, 42 suites and 1 presidential suite, overlooking the stunning scenery of the Pearl River and the city. All guest rooms feature rainforest-showers, interactive entertainment audio and video systems including LCD TVs and B&O speakers. An ergonomic workspace with high-speed internet ensures a range of 'smart' fun at the fingertips. Club InterContinental provides an exclusive executive retreat on the 39th floor serving complimentary all-day refreshments including breakfast, afternoon tea and evening cocktails, with a spacious residential ambience for relaxing or hosting private meetings.
酒店内休闲设施包括呵护身心的洲际水疗中心,设有8个独立理疗室,多种护理产品配合专业疗法,使宾客全身心地放松。配备专业有氧运动器材和室内恒温泳池的健身中心,拥有专业健身器材和教练,带给宾客精力充沛的一天。
I-Spa features 8 private treatment rooms, offering a variety of professional care products and spa therapies from different continents. Worldwide ancient traditions with the refined modern skills create relaxing and rejuvenating experiences for guests. Besides I-Spa, recreational facilities also include wellness treatments, a Fitness Center with state-of-the-art cardio and workout equipment, and an indoor heated swimming pool. Guests will find everything they need for relaxation and recreation including personal fitness training upon request.
广州保利洲际酒店坐拥便捷交通网络,访客可轻松往返广州市中心各区,远至出行香港也便捷无阻。酒店距离广州白云国际机场仅45分钟车程,访客亦可选乘地铁轻松往返机场及市中心各区,而前往珠江新城中央商务区更只需10分钟车程。另酒店提供免费穿梭巴士前往邻近的中国进出口商品交易会展馆,宾客可入场参观全年不断的国际贸易展览、会议及活动。
InterContinental Guangzhou Exhibition Center is 45-minute drive from Guangzhou Baiyun International Airport, with speedy, convenient access to both the airport and city center by metro right below the hotel as well as only 10 minutes to reach Zhujiang New Town CBD. Free shuttle buses run to the neighbouring Guangzhou International Convention & Exhibition Center, with its year-long calendar of international trade exhibitions, conferences and events. The hotel location is ideal for transportation to the downtown of Guangzhou City, even Hong Kong.
---
广州保利洲际酒店开业优惠住房套价:
Intercontinental Guangzhou Exhibition Center Opening Promotion:
定价:人民币1382元(包括16%服务费和税费)
套价详情:
1.豪华房住宿一晚含双人自助早餐
2.人民币500元消费额,可在酒店餐厅、酒吧和水疗中心使用。(不适用于酒精饮品和宴会)
*有效期自2018年2月1日至3月30日
Price: RMB 1382 (including 16% service charge and tax)
Package Details:
1.One Night Deluxe Room Stay with buffet breakfast for 2 guests
2.RMB 500 credit to use in all the restaurants and bars or for SPA. (excluding any consumption of liquor and banquet)
*Valid from 1 February to 30 March 2018
---
广州保利洲际酒店
Intercontinental Guangzhou Exhibition Center
广州市海珠区阅江中路828号
NO.828 Yuejiang Middle Road
Haizhu District, Guangzhou
Tel:+86 20 89228888
Fax:+86 20 89229999
Website: www.intercontinental.com