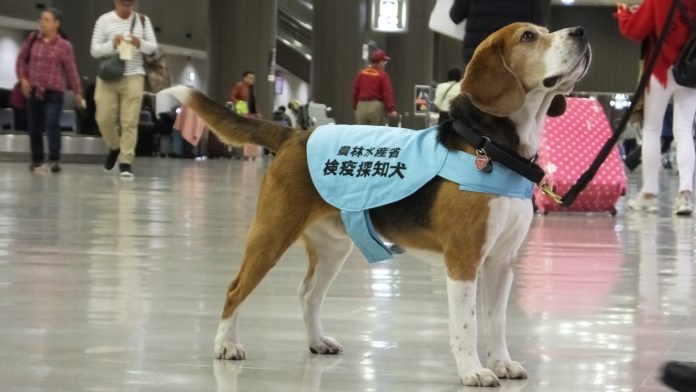 从海外违法携带肉制品入境者将受到处罚
Illegal importation of meat products subject to penalties
日本动物检疫所(神奈川县横滨市)为了保护本国畜牧业安全,防止周边国家发生的非洲猪瘟疫情传入,在各大主要城市机场,以及各县区地方机场,大幅度增设了检疫犬实施预防检疫等措施,以确保全面加强完善预防举报系统。
In order to prevent the introduction of African Swine Fever which has been affecting the neighboring countries, Japan's Animal Quarantine Service (AQS) located in Yokohama, Kanagawa Prefecture, has decided to develop a more comprehensive detection system by introducing substantial number of detector dogs and dispatching them not only to major airports but also to local ones.
非洲猪瘟是一种猪传染疾病。传染性强,病畜死亡率高,一旦发生和流行,将对畜牧业造成严重的威胁。今年3月,曾在亚洲入境旅客所携带的肉制品中检疫发现了具有感染性的非洲猪瘟病毒。
African Swine Fever (ASF) is a contagious disease affecting pigs, and would bring devastating damages to the livestock industry. ASF virus strains were isolated from meat products intercepted from passengers coming from Asia in March 2019.
对此该检疫所重点加强对来自疫情发生地区的亚洲旅客的随身行李检查,并通过加强对违反规定者的处罚,以防止违法携带肉制品入境。
AQS has been strengthening the inspection system of passenger's baggage, especially focusing on the passengers coming from Asian countries affected by ASF. Furthermore, in order to suppress the smuggling of meat, AQS has applied the penalty more stringently than ever before to passengers who bring in illegal animal products into Japan.
特此决定通过大量增加在检测肉制品方面具有超强能力的检疫犬,以加强防范体系的建设。
This time, AQS is determined to largely increase the number of detector dogs that are extremely competent in finding meat products, and further strengthen the animal quarantine system.
违法携带肉制品入境者,可能会被处以"三年以下有期徒刑或100万日元以下罚款"。
If one brings meat products illegally, an imprisonment of up to three years or a fine of up to one million Japanese Yen could be imposed.
日本政府将彻底取缔违法携带行为,违者必究。
Now the Japanese government is serious about the illegal importation of animal products.
---
日本动物检疫所
Japanese Animal Quarantine Service
http://www.maff.go.jp/aqs/languages/bring_meat_cn.html