Jerry-常居中山的澳大利亚人-Australian living in Zhongshan.
DB: 你在中国多长时间了?为什么会选择在中山定居呢?How long have you been in China and why did you choose to settle down in Zhongshan?
我在2004年10月来了中山。当时在博文学校签了8个月的工作,负责儿童英文教学。当我想到这些孩子日后也会结婚生子,我不禁感叹道,希望他们能看到这篇采访,并想起我们曾一同度过的美好时光。
I came to ZS in October 2004 on an 8-month contract to teach a group of kids in Bowen School. It's amazing to think that they will all probably be married and have children of their own now – I hope some of them get to read this and remember the fun times we had.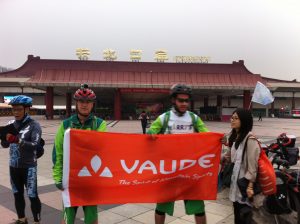 DB: 你和你妻子在中山成立了一个慈善团体,你是从什么时候建立这个团体呢?为什么?We know that you started a charity group with your wife in Zhongshan. When did you begin it and why did you want to do it?
我们并没可以要开始做慈善活动,只是一次偶然的机会下突然想做。我们那时正在和朋友举行圣诞派对。由于规模过大,我们决定要收取入场费,然后如果我们多赚了,我们便把钱捐给慈善组织。我们那时赚了一万元整,并将它直接捐给了中山青年志愿者协会。从那开始我们便和他们组建了联系,并要求我们能否在下一年再举行一次类似的活动。
We didn't plan to start the charity, it came about by accident, we were planning a Christmas party for some friends and it got so big that we decided to hire a venue, charge an entry fee and then if we made a profit we would donate it to a charity. We made over 10,000 RMB profit and donated it to Zhongshan Volunteer Youth Association. That started our connection with the ZSVYA who asked us to do it again the next year.
DB: 你能和我们说说"阳光伴你行"的项目吗?Could you tell us something more about the project "The Sunshine is Beside You"?
我们持续为中山青年志愿者协会捐款5年后,便开始探访一些从这个组织受益的人群。我们发现,这些人中多数都是残疾人或者家里人是残疾的。我当时建议组织一个针对性的项目去帮助这类群体而不是一味地捐钱。
After about 5 years of donating funds to help the ZSVYA, we were visiting some of the people who were getting benefit from their work and I noticed that most of them were disabled or had members of the family who were disabled. I suggested we start a program specifically to help disabled people rather than what I termed "general charity revenue".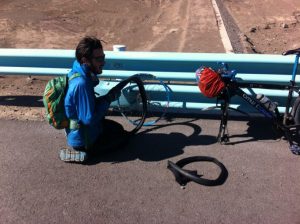 DB: 你已经亲力亲为组织过许多慈善组织,比如"跨市行走"或"跨市骑行"。你是如何想到这些鼓舞人心的想法?You have organised some charity events by "doing it from yourself", such as walking or cycling from one city to another. How did you come up such inspiring ideas?
其实并不是我在行走,而是我的妻子。她从中山走到了北京,这趟旅程持续了四个月,并且十分艰苦。至于从中山至乌鲁木齐"跨市骑行",我们虽然从澳门口岸开始骑行至哈沙克斯坦的边界,但我们仍在中国疆土。我那时最单纯的想法就是我要减肥,然而这十分成功,并让我减了20斤。不过现在这20斤肉应该又反弹了,所以我考虑会再做一次。
It wasn't me who walked, it was my wife, she walked from Zhongshan to Beijing. That walk took over 4 months and was pretty gruelling. As for the ride, it was from Zhongshan to Urumqi. We started the ride at the border with Macau and finished at the border with Kazakhstan, but we didn't actually leave China. I just decided I wanted to do something in order to lose weight, I was getting very fat. That worked and I lost over 20Kg. Sadly, I've put it all back on so I think I might have to go again.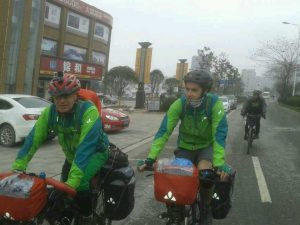 DB: 未来会有其他的慈善活动或计划吗?Do you have any plans for upcoming charity events?
正如我之前说过,我可能考虑再从新组织一次这类活动。我正在酝酿"骑行回家"的计划,我先带上单车一同飞往乌鲁木齐,然后再从那里一直骑回中山。这个计划还会取决于读者们是否能一同合作,如果我认为这能为慈善事业筹集到足够多的资金,那么我还会继续挑战下去。另外,我的妻子在慈善活动方面比我更为活跃。她目前正为残疾人慈善事业组织很多活动。
Well, as I just said, I might have to do it all again. I am thinking about "The Ride Home" where I fly to Urumqi with my bike and cycle home from there. It depends if any of your readers are going to commit to helping me with this and if I think it will raise enough money for charity doing something similar, I think I can call that a challenge for your readers. Apart from that, my wife is much more active than I am in this. She's currently working in the disabled charity field and planning many activities.