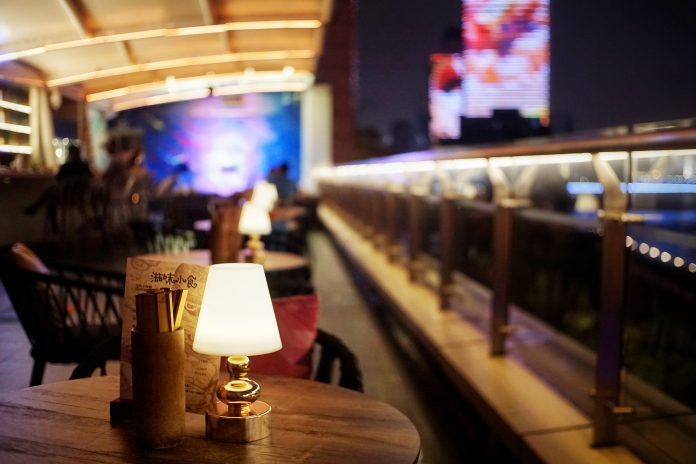 每每谈及广州,我们总会第一时间想起珠江河。珠江这条广东历史长河已在广州城的中心流淌千年、滋养生命,并记录着广州城的日与夜。日间的珠江静谧安详,流水无声,然而每当夜幕低垂,江上的游轮会起锚开航,城市的霓虹灯也点亮天际,又是一番精彩绝艳。
Whenever we speak of Guangzhou, the first name that comes to our mind should be the Pearl River. This river of long history has been flowing gently for thousands of years, nourishing lives and witnessing the days and nights in Guangzhou. During day time, the Pearl River is tranquil and unruffled, rippling soundlessly; yet, when the night falls, loose pullies will weigh anchor and commence to sail. Neon lights will then ignite the skyline, contributing to the splendid night scene.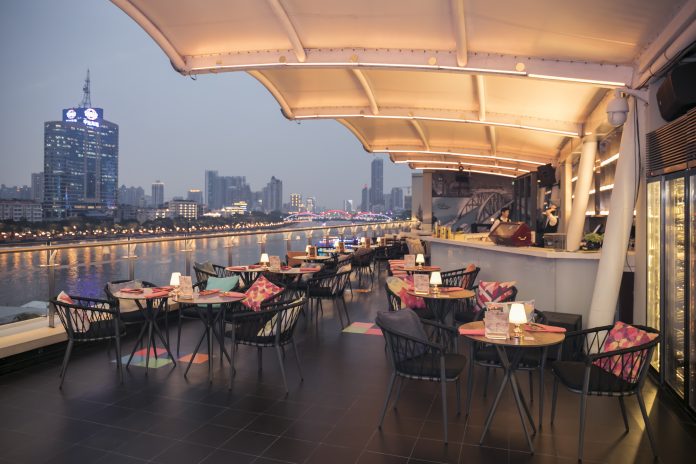 不过,正如东坡词有言:"不识庐山真面目,只缘身在此山中。" 夜赏江景的方式绝对不止身处江上,把角度拉远一点,或许你会发现更多惊喜。若要远距离夜赏江景,珠江河畔旁的岭南五号酒店便是你的不二之选。位于酒店顶楼的户外阅江酒吧,不但坐拥180度珠江美景,连珠江两岸夹缝中的天际线和霓虹交织的灯光都能尽收眼底。
Nevertheless, as the famous Ci Poet Su Dongpo once wrote: "Why can't I tell the true shape of Lu-shan? Because I myself am in the mountain." The ways to enjoy the night view of the Pearl River are never univocal. If you try to zoom out a little bit, you will find something extraordinary: Let's say enjoying the night view at LN Hotel Five's rooftop bar. The bar is located on the 7th floor at LN Hotel Five where you can find a fascinating 180-degree view of the Pearl River and even neon lights from both sides of the river intertwining together.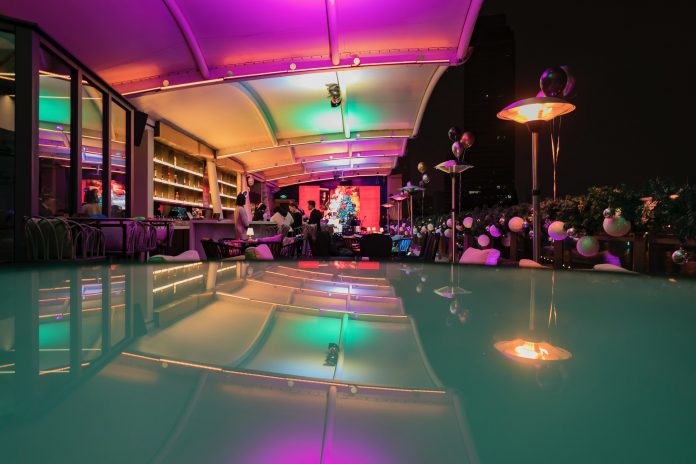 都市人日夜奔波,闲时若能与三五知己相聚于岭南五号的阅江酒吧,欣赏着珠江美景、听着乐队演奏悦耳之音、倚着栏栅一品酒酣之乐,也不妨是一种享受。当然,与好友促膝把酒时最需要品质上乘的服务,岭南五号酒店阅江酒吧的专业调酒师便可按照时令、个人需求制定来为你鸡尾酒。
Urbanites run around night and day, having a restless lifestyle. If we can invite some friends to sit here in leisure when enjoying the view, listening to sweet-sounding music played by the band, leaning on the railing with a drink in our hands, this would be a complete enjoyment in life. Of course, a successful clash of toasts requires quality and exclusive service. LN Hotel Five is here to provide you with sweet and professional service: seasoned bartenders can customize your cocktails with seasonal ingredients and based on personal preferences.
在这偌大的广州城,一切的事物都如浮光掠影,真正懂你的人也许不多,但岭南五号或许能和你心心相印。不过,你敢迈出第一步吗?
In a metropolis like Guangzhou, everything is transient. Perhaps, there are not many people who truly understand you, but maybe LN Hotel Five could be a bailment of telesthesia to you. Do you have the courage to take the first step?
---
五号酒吧
Bar 5 at LN Hotel Five
广州市越秀区沿江路277号
277 Yanjiang Road, Yuexiu District, Guangzhou
Reservations: +8620 – 8931 0505
http://www.lingnanhotelfive.com/