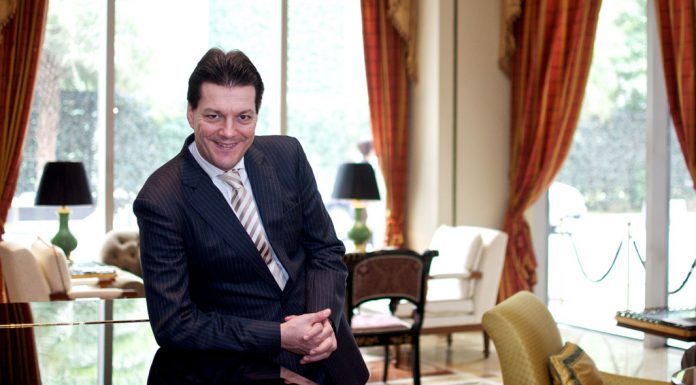 Matthias VOGT-广州丽思卡尔顿酒店的总经理-GM, The Ritz-Carlton, Guangzhou.
Awarded Forbes Travel Guide Five-Star Hotel, The Ritz-Carlton, Guangzhou enjoys a high reputation in quality service in Guangzhou. Recently appointed General Manager of The Ritz-Carlton, Guangzhou, Mr. Matthias Vogt, shares with Delta Bridges his exciting plan to carry on delivering legendary Ritz-Carlton service in the city of Guangzhou.
DB:Looking back over your 16-year experience with The Ritz-Carlton, what were its charms that attracted you in the first place and the secrets that keep your passion rolling on?
Matthias Vogt: I have very significant reasons. At that time when I decided to join the hotel business, The Ritz-Carlton was the first name that came into my mind. The credo of the company had left a very strong impression on me ever since I heard about it. A hotel is like conducting an orchestra as everyone contributes their skills to complete tasks. The Ritz-Carlton empowers employees to make decisions independently in problems resolution and to create unique memories for our guests. That was something I had never heard of. What's more, I find the credo of The Ritz-Carlton impresses me most. Employee satisfaction survey is conducted once a year to make sure our ladies and gentlemen are enjoying their jobs. They can voice out their thoughts where they work. "Happy Hotel – Happy Employees – Happy Guests". Excellent service is delivered as simple as that, and this is the environment where I love working in.
A hotel is like conducting an orchestra as everyone contributes their skills to complete tasks.
DB:Starting your career from Food & Beverage positions, how do you see the importance of Food & Beverage in hotel operations?
MV: It is said that F&B is the heart and soul of a hotel. To deliver an excellent F&B experience, there should be nice hardware along with good software and creative ideas. The Ritz-Carlton believes that a memory – lingering in your mind is like a feeling that resonates to a lasting memory. To achieve this, our ladies and gentlemen would need to always be ready to anticipate guests' needs and wishes, even the unexpressed ones. From the F&B standpoint, 70% of a good dining experience results from good service, while the 30% is more of a technical issue. Finally, excellence would be achieved through the interactions between our guests and ladies and gentlemen. Not only providing the finest food, you would need to provide excellent service creating lasting memories as well.
DB:There are over 600 gentlemen and ladies at The Ritz-Carlton, Guangzhou to offer the best quality service to guests. What do you see as the important qualities of being such a gentleman and lady?
MV: Being such gentlemen and ladies is never an easy job. They have to proactively respond to guests' wishes and needs at all times. The Golden rule of mine is, "Always put yourself in the shoes of the guest." For example, if I am a bellman standing at the bell door and I see an elderly woman coming. I recognize that she is not staying at our hotel and all she wants is the lavatory. What we would do is not only show her the way but also escort her to the entrance of the lavatory. Because we showed her our excellent service and genuine care, she will come back and talk about it, and news will spread in the community. In conclusion, I would always follow the golden rule and run the hotel business in a way that is best for the guests.
DB:Recently rewarded as a Forbes Travel Guide Five-Star Hotel, The Ritz-Carlton, Guangzhou enjoys a high reputation in quality service. How do you plan to further develop the luxury experience it offers?
MV: I encourage my team to observe the details and to be confident when making connections with guests, and based on that, to bring out good ideas to create unique memories. As for me, I pay special attention to guests' comments every day to discover our hotel from guests' angle. Forbes Travel Guide Five-Star Hotel is a very special honor because it signifies our hotel among the finest establishments in the world to deliver guest service and an experience beyond expectations. However, we should never be arrogant of what we have achieved. Instead, we should always be examining and challenging ourselves. It is only through this approach that we can improve on what needs to be improved, and deliver a better experience and inspire life's most meaningful journeys.
DB:Pearl River Delta is a region with over 2,000 years of history and heritage. How do you like Guangzhou?
MV: Guangzhou is the third biggest city in China. I know Beijing very well and lived for some time in Shanghai. Compared to those two cities, Guangzhou is relatively new and has an atmosphere similar to Hong Kong's. For me personally, I love Guangzhou because of the mild climate, its culture, friendly people is another reason and the amazing Cantonese cuisine. I love seafood as I am "seafood crazy", and in Guangzhou, you can enjoy a variety of high-quality seafood at reasonable prices. I also love Cantonese dumplings–wonton. Guangzhou is famous for its various for food choices, which really amazes me.