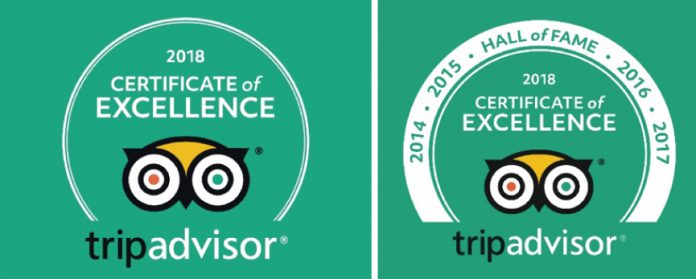 2018年7月–佛山岭南天地马哥孛罗酒店荣获由TripAdvisor(猫途鹰网)颁发的2018年卓越奖。由于连续五年获得旅行者的高度评价,连续五年在佛山市741家酒店中保持排名第一,同时获得了猫途鹰网颁发的名人堂奖。
July, 2018- Marco Polo Lingnan Tiandi Foshan received the Certificate of Excellence of 2018, issued by TripAdvisor, the world's largest travel site. Since the Hotel was highly acclaimed by the travelers and kept ranking No.1 out of 741 hotels in Foshan for five consecutive years, it also won the Award of "Hall of Fame" at the same time.
佛山岭南天地马哥孛罗酒店是一间高端商务酒店,旨在为商务休闲宾客提供高端服务和精致住宿;客房自然光充沛,均配备独立阳台。酒店自2012年开业以来,持续不断地获得优秀口碑,同时获得众多回头客人的青睐。位于优越的禅城区中心,毗邻美丽的佛山岭南天地和祖庙;交通便利,可步行到祖庙地铁站,仅需55分钟的车程即可到达白云国际机场……
Marco Polo Lingnan Tiandi Foshan is a high-end business hotel that provides exclusive service and exquisite accommodations for leisure and business guests. All rooms have private balconies and are with plenty of natural light. Since its opening in 2012, the Hotel kept winning the market recognitions and getting favors from its loyal guests. Marco Polo Lingnan Tiandi Foshan is ideally located in the central Chancheng District at the junction of Zumiao and Renmin Roads. The hotel is adjacent to the Ancestral Temple and the beautiful Foshan Lingnan Tiandi. It is only a short walk to the Zumiao subway station and 55 minutes' drive to the Guangzhou Baiyun International Airport.
"佛山拥有深厚的艺术和文化底蕴,已逐渐发展成为一个较为成熟的旅游目的地。"酒店总经理马塞尔先生表示,"佛山岭南天地马哥孛罗酒店提供丰富多样的住宿、餐饮和会议空间选择,致力于打造酒店行业的新标杆,满足这座城市日益增长的旅游和商业发展需求。为客人提供的卓越服务得到肯定,我们感到无比自豪。"
"Foshan, with profound artistic and cultural background, has gradually developed into a more mature tourist destination," says Mr. Marcel Sawyere, the GM of Marco Polo Lingnan Tiandi Foshan, "our hotel offers a wide range of accommodation, dining places and conference venues, dedicated to building a new benchmark for the Hospitality Industry and meeting the growing demands of tourism and business development of the City. We are also very proud that our excellent services are appreciated by our guests."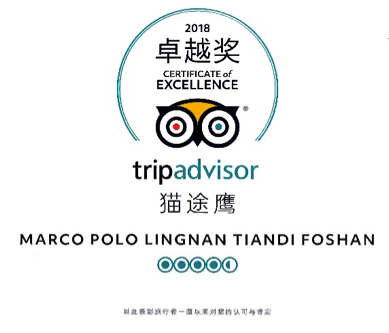 TripAdvisor猫途鹰网是全球最大的旅游网站,每月的浏览量高达28亿,通过其自身平台充分展现及整合旅行者对旅游目的地居住酒店做出的客观评分评价。卓越证书由其颁发,证明了获奖机构拥有杰出的质量、服务、影响力和专业性。
TripAdvisor is the world's largest travel site, with monthly page views up to 2.8 billion. Through its own platform, TripAdvisor fully displays and integrates travelers' objective ratings and evaluations on hotels in their tourist destinations, which indicates that Hotels winning the Certificate of Excellence issued by it are with outstanding quality, services, influence and professionalism.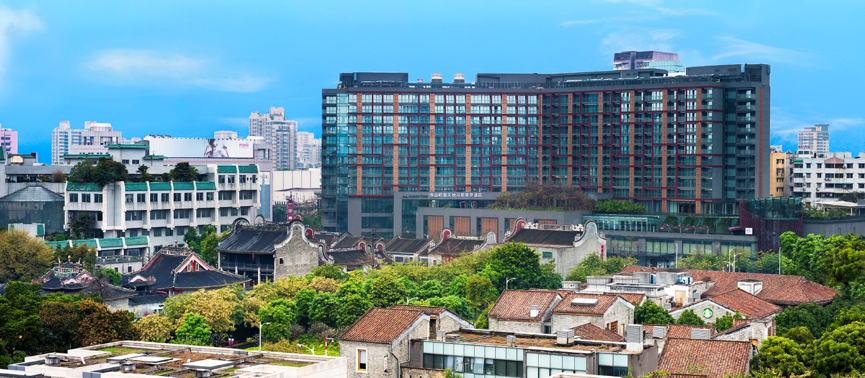 佛山岭南天地马哥孛罗酒店 | Marco Polo Lingnan Tiandi Foshan
佛山岭南天地马哥孛罗酒店,设计揉合现代与东方建筑特色,座落于佛山市中心祖庙路和人民路交界,毗邻祖庙和优美的佛山岭南天地。酒店共有390间客房、套房及一至二房的服务式公寓,所有客房均设私人露台,可眺望岭南天地或市中心。从酒店可步行至邻近的祖庙地铁站,到广州白云国际机场只需55分钟车程。如欲查阅更多资料,请登陆 www.marcopolohotels.com
Located in the central Chancheng District of Foshan at the junction of Zumiao Road and Renmin Road, Marco Polo Lingnan Tiandi Foshan is designed with a modern and oriental touch. It is adjacent to the Ancestral Temple and the beautiful Lingnan Tiandi. It is only a short walk to the Zumiao subway station and 55 minutes' drive to the Guangzhou Baiyun International Airport. The hotel features 390 rooms and suites, including three stylish villas with private gardens and a variety of 1-2 bedroom serviced apartments. All rooms have private balconies, either overseeing the Foshan Lingnan Tiandi or the city center. For more information, visit marcopolohotels.com