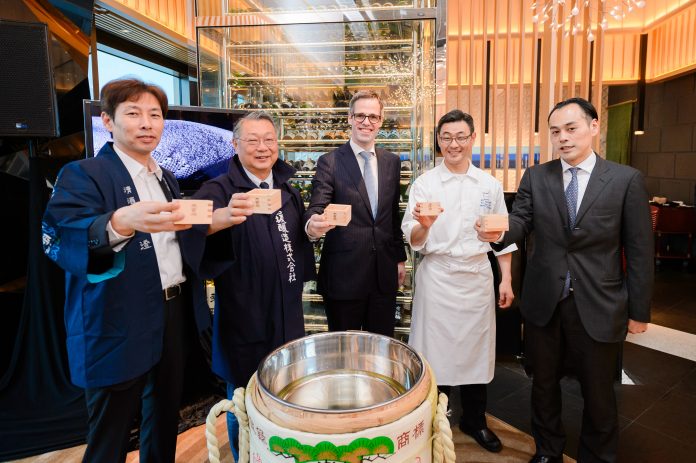 和东有限公司总经理、田村正芳先生,宫坂醸造株式会社社长、宫坂直孝先生,澳门大仓酒店总经理马志力先生,澳门大仓酒店行政总厨林彰先生,澳门大仓酒店餐饮部总监關陽平先生。
6 月21 日,行政总厨林彰先生带领他的烹饪团队在澳门大仓酒店28 楼的「山里」日本餐厅举办了日本餐厅与宫坂酿造株式会社合作。有50 多位嘉宾应邀参加了此次活动,包括香港澳门媒体,以及宫坂酿造株式会社的代表。
宫坂醸造株式会社社长、宫坂直孝先生对嘉宾们表示:"宮坂虽然不是一家大酒厂,而是具有创新和迎接挑战的全面历史。 我的爷爷和父亲走遍全日本,而日本其他地区的清酒质量和市场迅速变化都面临重大挑战。 面对这样的挑战,我决定在包括香港和澳门在内的国际市场探索机会。 去年,我们完成了一个重要的里程碑,包括实施质量控制的冷藏仓库,为我们的销售团队提供全面的培训课程,并将重点放在市场上最可靠的供应商。"宫坂先生感谢所有人的持续支持,并邀请了 客人尝试他的公司的真澄风格。
同时,澳门大仓酒店总经理马志力先生欢迎各位嘉宾並表示,感谢各位支持"山里遇真澄""的推广。 我们非常自豪有机会与拥有超过350年丰富传统的著名宮坂酿造合作,并将这种独特的清酒带到澳门。 虽然「真澄」清酒可能不是一个大酒厂,但它不断专注于质量最好的产品,「真澄」清酒与澳门大仓及其山里餐厅统一组合。 我们很荣幸能有你们今天加入我们,以享受食物和饮料。 我们期待在 6月21日至 7月23 日期间的一个月的推广期欢迎您。
行政总厨林彰先生及其烹饪团队准备了正宗的午餐和晚餐会席,并与宫坂酿造专家密切合作,力求打造出完美的搭配,令您享受盛宴。
或諮询请电: (853) 8883 5127
邮箱: yamazato@hotelokuramacau.com
高达三小时钻石大堂正门免费代客泊车服务(受相关条款及细则约束)
星期一休息
澳门大仓酒店 ▪ 二十八楼 ▪ 「山里」
「澳門銀河™」综合渡假城 ▪ 澳门路氹城
www.hotelokuramacau.com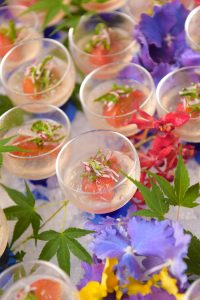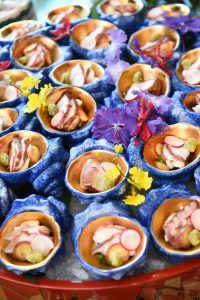 On June 22, Yamazato held the Masumi Sake Event at the Hotel Okura Macau on June 21, 2017 – over 50 Hong Kong and Macau media and corporate professionals attended.
President of Miyasak Brewing Company, Mr. Naotaka Miyasaka, greeted the guests stated, "Masumi sake is not a large sake brewery in Japan but it has a full history of innovation and meeting challenges. My grandfather and father have faced major challenges in sake quality and a rapidly changing market in Tokyo and other parts of Japan. With such challenges I decided to explore the opportunities for sake in the international markets, including Hong Kong and Macau. Last year we completed a major milestone that included implementing a refrigerated warehouse for quality control, full training courses to our sales team, and a focus to be the most reliable supplier in the market." Mr. Miyasaka thanked all for their continuing support and invited the guests to try his firm's famed sake.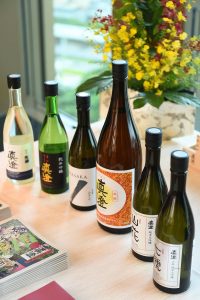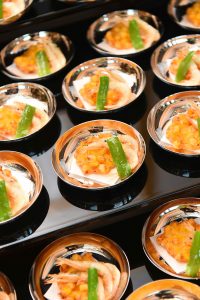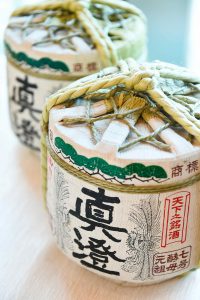 For On the same occasion, General Manager of Hotel Okura Macau, Mr. Niek Hammer, delivered a welcome message emphasized, "It was a great pleasure to welcome you on the first day of the 'Yamazato meets Masumi' promotion. We are extremely proud to have the opportunity to collaborate with the prestigious Miyasaka Brewing Company Ltd., which has a rich tradition of more than 350 years, and to bring this unique Sake to Macau. Although Masumi may not be a large sake brewery, its continuous focus on the delivery of only the best in quality unifies Masumi with the Hotel Okura Macau and its Yamazato restaurant. We are honored to have all of you joining us today to enjoy the food & drink.  We look forward to welcoming you during the 'Yamazato meets Masumi' month-long promotion period from the 21st of June until the 23rd of July".
Complementing Masumi's Sake, Okura's Executive Chef Akira Hayashi and his culinary team have crafted an authentic Kaiseki Lunch and Dinner set.  The Okura's culinary team is working closely with Miyasaki Brewing's experts to create a perfect pairing.  You are sure to enjoy this combination's warmth and harmony during your next dining experience!
Reservations and enquiries: (853) 8883 5127
Email: yamazato@hotelokuramacau.com
Opening Hours: 12:00-15:00 and 17:30-22:00 hours (Last order 21:30)
Closed on Monday
Up to 3-hours valet parking (main entrance at Diamond lobby *Terms & conditions apply)
28/F • Hotel Okura Macau
Galaxy Macau™ • COTAI • Macau
www.hotelokuramacau.com