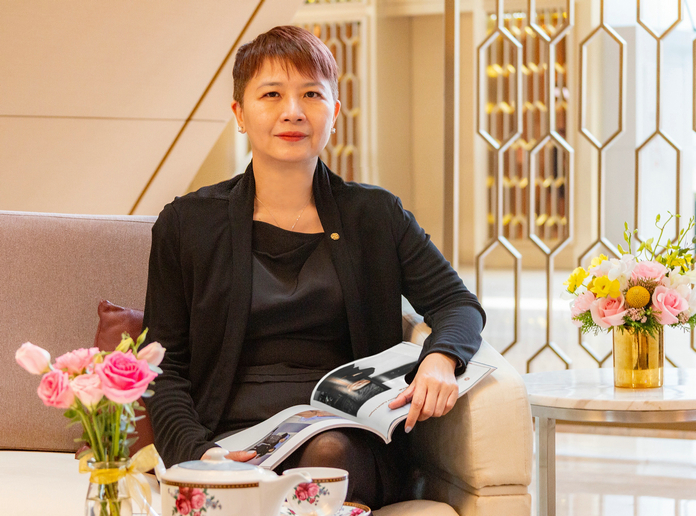 朗廷酒店集团今日宣布,郭以安女士担任代理总经理八个月后,以杰出的领导和对市场独到的见解和策略,被任命为广州南丰朗豪酒店总经理。
On 1st April, Langham Hospitality Group announced the appointment of Ms. May Kwok as General Manager of Langham Place, Guangzhou after 8 months in the role of Acting General Manager.
郭以安女士来自中国香港特别行政区,对酒店业有着与生俱来的热情,并拥有超过24年的酒店业经验。她与朗廷集团的故事始于2008年4月,加入香港朗廷酒店担任销售总监,丰富的销售经验和突出的销售策略使她获得了出色的业绩表现。在2015年3月,她以市场销售总监的身份加入了地处琶洲会展中心区域的广州南丰朗豪酒店。身为市场销售部的掌舵人,郭以安女士面对全新的市场环境,敏锐捕捉市场变化,以精准的市场洞察力确保了酒店收入的稳固增长,进一步扩大了酒店的市场号召力和影响力。凭借脱颖而出的能力和杰出表现,她获得了朗廷集团APEX计划的提名。
Originally from Hong Kong, Ms. May Kwok has an innate passion for the hospitality industry and brings more than 24 years of experience in the hospitality industry to this position. The Langham story for Ms. May Kwok started when she joined The Langham Hong Kong as Director of Sales in April 2008, her solid and diversified experience has endowed herself with prominent leadership skills, insight and unique views in regard to market strategy. She joined Langham Place, Guangzhou that located in the new central business district on Pazhou Island as Director of Sales & Marketing in March 2015. Her precise insight of market assured the business revenue grew steadily and her exceptional understanding of medias and guests experience has made the hotel widely acclaimed in the industry.
2020年,在新冠疫情全球性的严重冲击和市场严峻考验的压力下,凭借出色的领导力和"同一梦想"的团队协助精神,郭以安女士带领酒店继续保持专注和活力,时刻激发创新思维寻求新的发展战略。一直致力于为客人提供卓越的服务、开拓新市场、创新餐饮推广、优化收益管理、关注绿色节能以及与媒体的密切互动使广州南丰朗豪酒店屡创佳绩,在业界广受好评。接下来,郭以安女士将全面负责广州南丰朗豪酒店的运营和管理工作,确保团队一如既往的提供热情好客和具有朗廷品牌特色的服务。
With the quickly stood out as a great talent, resulting in her nomination for the Langham APEX program. This last year she has led Guangzhou team throughout the pandemic with focus and vigour in excellent service, expending new market, innovating catering promotion, optimizing revenue management, developing green energy saving and interacting with medias to reach a great achievement. Ms. May Kwok is responsible for the hotel operation of the Langham Place, Guangzhou, ensuring that the team continues to deliver the engaging hospitality and signature services for which the brand is renowned for.
作为一名女性领导者,郭以安女士行事果敢高效,同时又细腻周全,非常注重员工的职业规划和个人发展,善于激发团队和个人潜能,展现了别具风格的个人领导魅力。
As a lady leader, Ms. May Kwok is courageous, high-efficiency, and delicate. And she places great emphasis on the personal career development of her colleagues. Ms. May Kwok demonstrates excellent capability to inspire both team and individual to each potential and exceed the business goals.
郭以安女士非常热爱和享受在广州的生活,业余时间的兴趣爱好也丰富多彩,除了看电影和听音乐之外,参加各项体育运动更是她生活不可缺少的一部分,例如游泳、羽毛球、篮球、乒乓球、花式滑冰和美式桌球。清晨的游泳是她活力、高效每一天的最佳开启方式。
Made Guangzhou as her main work and playground. The Hotel is her passion, however in her spare time, she enjoys watching movies, listening to music and playing different kinds of sports, such as badminton, basketball, table tennis, wakeboarding and American pool. An early morning swim is the best way to start her day energized and productive.
---
广州南丰朗豪酒店
Langham Place, Guangzhou
广州市海珠区新港东路 638 号
638 Xingang East Road, Haizhu District, Guangzhou
Tel: +8620 8916 3388
Email: lpcan.info@langhamhotels.com