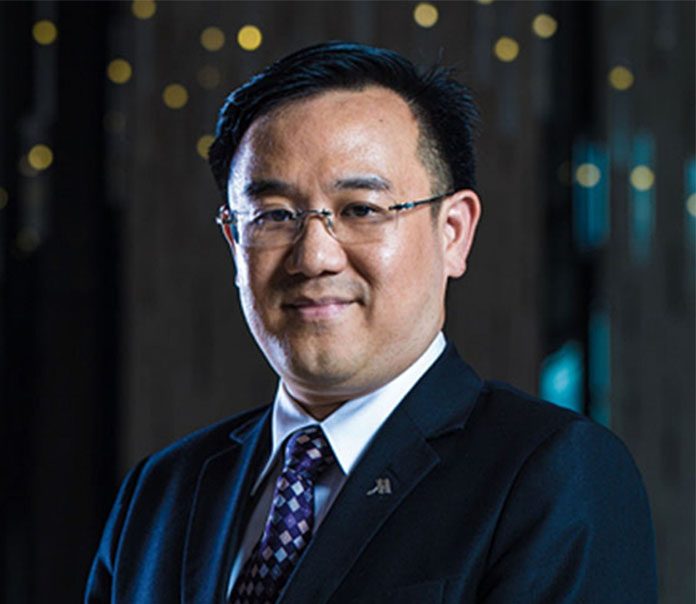 Michael Sam-佛山顺德美的万豪酒店总经理-General Manager,Shunde Marriott Hotel.
In the ancestral hometown of Bruce Lee, near the Lingnan garden and the water village, peacefully situates the Shunde Marriott hotel. Delta Bridges paid a visit where General Manager Michael Sam warmly welcomed us for an exclusive interview in a cozy lounge room of the hotel overlooking the beautiful scenery of the birthplace of Chinese cuisine; Shunde.
Background
Born in Ipoh, Malaysia, famous for its gastronomy, Michael came into contact with F&B already from a young age and found his passion in it. Started as a waitor, working his way up by gaining experience at several high class hotels like Hyatt, Conrad and Marriott in different countries throughout the world, he currently is assigned as the General Manager at the Shunde Marriott Hotel for almost a year now.
Shunde
Michael's passion for food becomes clearly visible when he talks about Shunde. He often walked around the area to explore and talked with the local people to get a better understanding about the culture of his new working environment. In this way, he discovered the Shunde population to be very demanding on how food needs to be prepared: "Shunde truly is a gastronomic city." "The local people here come into contact with preparing food since childhood, which learns them to prepare food into perfection already from a really young age." "Even billionaires can cook here!" "Furthermore, being easily accessible, Shunde is also a magnet for tourists from surrounding cities like Guangzhou, Zhuhai and even Shenzhen who often come for a weekend to enjoy the leisurely atmosphere and to feast on the local sea- and river delicacies."
Cuisine
"So how to conform with these high expectations of the Shunde customer?" "What we do as a hotel is adapt to these local cultures which means that we use high quality and fresh ingredients from this part of the region and use them into our own signature dishes." Explains Michael. "Look at India for example," "why are they so valued in maintaining their food quality on such a high level." "After studying the Indian food culture, I learned that the passion for their natural ingredients makes them succeed." "Here, at Shunde Marriott we inherited this culinary way of thinking by infusing our natural resources with other herbs and spices which results in our exotic and unique menu."
Marriott's Man Ho restaurant is a great example. It offers a range of refined Cantonese dishes, based on local preferences and are guaranteed fresh. For guests who favour authentic steak, American burgers etc. Goji restaurant is the place to be as it is one of the few, if not, the only place that offers western cuisine The combination of adapting to local food culture and the unique elements that Shunde Marriott puts in to its dishes assured the Hotel to be consistently ranked among the top 3 in food quality in the Asia Pacific of Marriott branded hotels.
Innovation
Another feature that makes Marriott stand out comes forward when Michael talks about Marriott's own developed mobile app. "With this app customers can inform at what time they prefer to check-in, get their key-card on the spot and thus avoid queuing up." "It furthermore acts as a communication platform that provides guests to communicate with the hotel hosts about their preferences at any time." "Whether guests wish to have an extra water bottle or a feather free pillow, or quickly want to order something when in a meeting, with this app we provide this service faster than ever before."