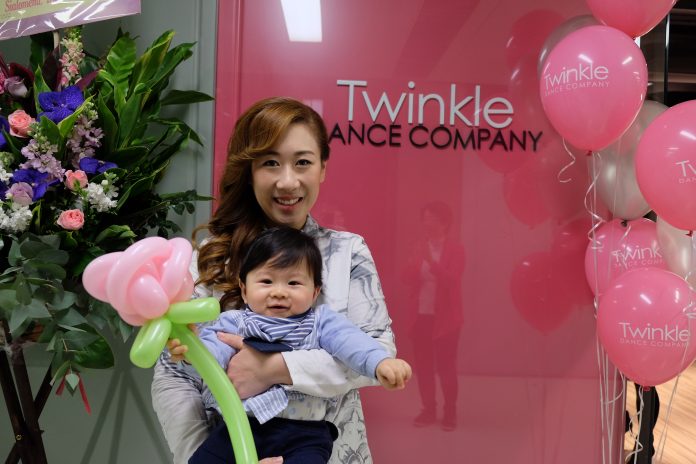 DB: What does dance mean to you and what inspired you to create Twinkle Dance Company?
To me, dance is a form of self-expression. As you move along with the music, or sometimes even without music, you are expressing feelings from the bottom of your heart. Returning from Canada, I noticed that many dance schools in Hong Kong are mostly established to train up professional dancers. Their teaching styles are rather traditional, sometimes even strict and learning outcomes take priority while children's feelings often take a back seat. At Twinkle Dance, we put the children's feelings first. We develop teaching methods that cater to the different personalities and abilities of children. This means our classes are suitable for all types of children, because after all, every child is unique and this is something that we embrace.

DB: What is your company philosophy and how does it tie in with your beliefs about early childhood learning and development?
My aim is for children to enjoy dancing and discover how they can express themselves through dance. At Twinkle Dance, we want to create a safe and fun learning environment for children because that is the ideal environment for learning and exploration. Children can learn and develop best when they feel safe and are interested in what they're doing.
In a classroom setting, children learn social contact through class activities, where they observe and interact. These interactions help them to understand the need to consider others around them. This is the idea that it is not only "about me" and that we have to care about the feelings of others and respect their personal space. This also helps them to practice patience.
Through our dance classes, I also wish to build up children's confidence. Whether it is to overcome challenges, setbacks or even just to communicate what we like or dislike, confidence is very important in many situations. Our class plans includes both individual and group exercises, allowing children to showcase their creativity and talent. With the teachers' constant encouragement, our classes can help boost children's self-esteem.
DB: What is the most rewarding aspect of your role?
One thing I'm really proud of is that we have created a complimentary special needs dance program around 2 years ago. We now provide weekly complimentary dance classes to children with special educational needs. I have always believed that there are not limitations to who can dance – everyone can dance! So, when we saw the difficulty parents of SEN children were facing when it comes to finding activities suitable for their children, we wanted to reach out to these children and introduce them to dancing. Throughout this SEN class program, we have received lots of positive feedback from parents and we are very thankful that our classes have positively impacted these children and their families' lives!

DB: In September, Twinkle Dance will be expanding its list of available classes to include yoga. How will this tie in with dance?
Twinkle Dance's Hatha Flow Yoga is designed with dancers in mind. Students will experience Hatha Flow Yoga as a slowly-flowing choreography that connects the mind and body. Our Hatha Flow Yoga stresses the uses of the entire body, meaning students will get to use all different parts of the body, from head to toe. By incorporating breathing, it even helps to strengthen and lengthen muscles, improving both bodily and mental fitness. For dancers, this gentle yet effective exercise can also help aid developing better alignment, posture and stabilisation.
DB: Can you tell us a bit about your new special project (Twinkle Dance: Project HK) and how it will combine performance with visual art?
ProjectHK is the very first photography project dedicated to highlighting our city's scenery and young dancers. The aim of the project is to present the city of Hong Kong with a unique concept that combines performing and visual arts. As Hong Kong's first photography project dedicated to highlight the city's scenic and children dancers, ProjectHK features Twinkle Dance students at some of the city's most photogenic spots. This includes scenes from the busy streets in Central, to Mong Kok open air markets, Bamboo Theatre and even Hollywood blockbuster filming locations. Each image aims to capture Hong Kong's stillness and energy, ingeniously showcasing its beauty, dynamics and spirits to the word using the universal language of photography.
From the images, we also feature costumes by our very own dancewear brand Tutulamb. The designs of these local-themed costumes were inspired by elements depicting everyday Hong Kong life, like the iconic flashing neon signs, transportations and even traditional Chinese calligraphy. With this project, we wish to draw the public's attention to children's inestimable potential. We want to show everyone it's possible for children to do the same… jumping, leaping, dancing and posing for the camera in the city just like adult dancers from professional dance companies.
ProjectHK gathers Hong Kong's abundant resources in art, culture, creativity, history and talent, promoting not only our tangible attractions but also accentuates the endless opportunities our home city encompasses. Blessed with ample ideas and the never-ending possibilities our city evokes and provides, we wish to continue helping promote Hong Kong and fascinating audience internationally!
DB: Where do you see the company in five years?
In the forthcoming 5 years, we will be expanding our studios to different areas of Hong Kong. We currently offer classes outside of HK Island with collaborating schools and venues. We have plans to expand our network in order to reach out to more children who are passionate about dancing. On top of that, we would also love to provide more opportunities to children with disabilities so they can learn dancing! We are still working on class plans with experienced teachers but we cannot wait to invite children to join us soon for the new classes we are offering.
Website: http://www.twinkledance.com/