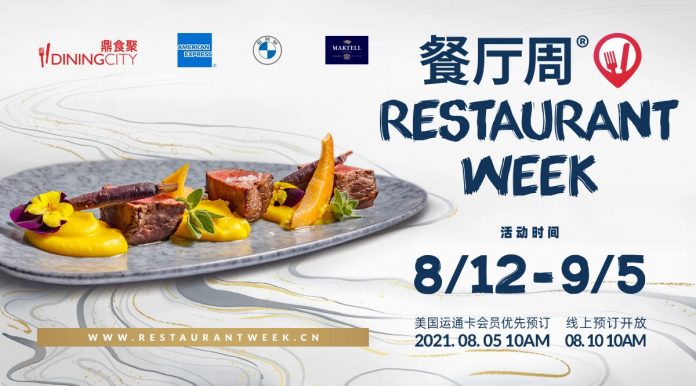 2021年8月12日至9月5日,DiningCity鼎食聚再度联合首席合作伙伴美国运通,倾力打造万众期待的全国美食盛事2021秋季中国餐厅周,邀您在秋日赏味之季共赴为期25天的飨宴之旅,纵享600余家中高端热门餐厅精心烹制的世界各地美肴及非凡味蕾体验!
DiningCity and its principal partner American Express will hold the next edition of China Restaurant Week from 12th August to 5th September, 2021. More than 600 mid- to high-end popular restaurants will join forces for a 25-day dining extravaganza with a curated program for culinary discovery in celebration of fall to ignite the senses and excite taste buds.
"中国餐厅周"一直致力于让饕客在高端餐厅以优惠价格享用精致美食,凭借十多年在中国中高端餐饮市场上的拓展与深耕,活动吸引了全球多家热门食府和海量用户踊跃参与,逐步发展成为食客和潮流消费者每年必打卡的"美食活动"。一年两次的中国餐厅周以为消费者创造更好的品质生活和丰富体验为己任,用美食搭建桥梁,旨愿与食客共同深度品略美食、文化、生活方式相织交融的丰盈滋味。
China Restaurant Week is dedicated to bringing diners the opportunity to enjoy exquisite cuisine at preferential prices across a wide variety of high-end restaurants. The event has developed into a much-anticipated bi-annual "gastronomy week" for consumers, drawing a large population of diners across China to indulge in world cuisines in their home country. Come Spring and Autumn, The Restaurant Week aims to create a better quality of life and richer dining experiences for its diners, and gives expectant diners a chance to experience an integration of gastronomy, culture and lifestyle.
2021秋季中国餐厅周横跨4个周末,涵盖上海、北京、广州、深圳等15大城市, 其中最新加入今年大火的网红城市——长沙,一座拥有"星城"美誉的历史文化名城,不仅拥有屡次刷屏全网的热门地标和城市美景,近年来更是孕育了大量刷爆朋友圈的热门餐厅,也在年轻人群体中掀起了舌尖上的湘味浪潮。本届秋季中国餐厅周活动囊括米其林餐厅、黑珍珠餐厅、奢华餐厅、知名五星级酒店餐厅等在内的600余家中高端品质餐厅。中国餐厅周采用固定套餐的形式,午餐套餐价格分别为78元、118元、148元, 晚餐套餐价格分别为118元、198元、298元(价格按位计算),每个价格档位的套餐皆含至少三道菜(Elite级菜单由餐厅自行定价)。
China Restaurant Week Autumn 2021 runs for three weeks, covering four weekends, across 15 major cities including Shanghai, Beijing, Guangzhou, and Shenzhen, with Changsha as the newest addition to the line-up of cities. Changsha is an up-and-coming city deemed as the Star City. Not only does it have many popular landmarks and a beautiful cityscape, but it also has a large number of Hunan featured trendy restaurants that have gained popularity among young people in recent years. China Restaurant Week Autumn 2021 has more than 600 mid- to high-end participating restaurants, including Michelin-starred restaurants and Black Pearl awarded restaurants, luxury restaurants, and restaurants from world-famous five-star hotels. Pricing for China Restaurant Week Autumn 2021 is set at RMB78, RMB118 and RMB148 for lunch, and RMB118, RMB 198 and RMB 298 for dinner(all prices are per person). Set menus from all price categories include at least three dishes. (The Elite menu price is set by participating restaurants.)
中国内地(不含港澳台地区)发行的美国运通卡持卡会员享有优先预订特权,8月5日上午10点即可优先预订。此外,中国内地(不含港澳台地区)发行的美国运通卡的持卡会员在指定餐厅(美国运通精选餐厅)预订用餐,可享指定饮品75折优惠(详情请见网站规则)。
Eligible card members of American Express cards issued in mainland China (not including Hong Kong, Macau, and Taiwan) will be granted priority access to make reservations from 5th August at 10am. In addition, Eligible card members of American Express cards issued in mainland China (not including Hong Kong, Macau, and Taiwan) can enjoy 25% off on selected house drinks at selected restaurants. (Visit the Restaurant Week website for details.)
 精选米其林餐厅 | A selection of Michelin-Starred Restaurants 
上海 – Shanghai
 8 ½ Otto e Mezzo BOMBANA – 米其林二星 **
 莱美露滋 | Maison Lameloise – 米其林一星 *
 PHÉNIX eatery & bar 斐霓絲餐厅酒吧 – 米其林一星 *
 Jean-Georges 法国餐厅 – 米其林一星 *
 三号黄浦会 | Canton Table – 米其林一星 *
北京 – Beijing
 京雅堂 | Jing Yaa Tang – 米其林一星 *
 Jing餐厅 王府半岛酒店 | Jing Restaurant and Bar @ The Peninsula Beijing – 米其林一星 *
 山河万朵中国素食 | VEGE WONDER – 米其林一星 *
 精选五星级酒店旗下餐厅 | A selection of Five-star Hotel Restaurants 
上海 – Shanghai
 翡翠36餐厅 上海浦东香格里拉 | Jade on 36 @ Pudong Shangri-La – 2021米其林餐盘,魔都上空的耀眼明珠
 1515牛排馆·酒吧 上海静安香格里拉 | The 1515 West Chophouse & Bar @ Jing An Shangri-La, Shanghai – 2021米其林餐盘,肉食爱好者的天堂
 嘉府壹号 苏宁宝丽嘉酒店 | Mansion on One @Bellagio – 尽显东方古典艺术的星馔食府
北京 – Beijing
 意味轩 北京金融街丽思卡尔顿酒店 | Cépe @ Ritz-Carlton Beijing, Financial Street – 2021米其林餐盘,以充满意大利北部风情的佳肴美馔载誉京城
 左岸 璞瑄酒店 | Rive Gauche @ The PuXuan Hotel – 2021米其林餐盘,洋溢着浪漫不羁和我行我素的巴黎风情
深圳 – Shenzhen
 彩云阁全日餐厅 深圳深铁皇冠假日酒店 | YUN All Day Dining Restaurant @Crowne Plaza Shenzhen NanShan – 云端休闲体验网红打卡之地
三亚 – Sanya
 铭轩中餐厅 三亚亚龙湾瑞吉度假酒店 | Ming Xuan Chinese Restaurant @The St. Regis Sanya Yalong Bay Resort – 备受赞誉的度假特色餐厅
 精选热门餐厅 | A selection of Trending Restaurants 
上海 – Shanghai
 日矢 上海艾迪逊酒店 | HIYA @ The Shanghai EDITION – 绝美外滩景观,网红打卡日料餐厅
北京 – Beijing
 怡庭 北京瑰丽酒店 | Bistrot B @ Rosewood Beijing – 时令法式菜肴,体验都市绿洲浪漫风情
深圳 – Shenzhen
 帰·天妇罗 | Gui Tempura – 天妇罗爱好者的天堂
广州 – Guangzhou
 FOODS国际美食舞台 广州富力丽思卡尔顿酒店 | FOODS THEATRE @ The Ritz-Cralton Guangzhou – 热门全天候自助餐厅
杭州 – Hangzhou
 西湖餐厅 杭州西子湖四季酒店 | WL Bistro @ Four Seasons at West Lake – 坐拥西湖美景,别具格调的热门餐厅
长沙 – Changsha
 ROOTS Eatery – 以西式手法料理本土食材的精致餐酒馆
 精选历届餐厅周经典餐厅 | A selection of China Restaurant Week Outstanding Restaurants 
上海 – Shanghai
 Mercato by Jean-Georges – 黑珍珠餐厅,上海外滩活力四射的分享式意大利餐厅
 爱玲 | EILEEN – 沪上超长观景餐台打造摩登风情,主打精细沪菜
北京 – Beijing
 福楼法餐厅 | Maison FLO – 2021米其林餐盘
 威斯汀扒房 金茂北京威斯汀大饭店 | Grange Grill @The Westin Beijing – 拥有开放式厨房,坐赏北京城美景的牛排海鲜餐厅
杭州 – Hangzhou
 明轩阁中餐厅 杭州明豪voco酒店 | Mingxuange Chinese Restaurant @ voco Hangzhou Binjiang – 杭州热门酒店中餐厅
 与澜 杭州康莱德酒店 | Blue Willow @ Conrad Hangzhou – 令人惊艳的云端餐厅
"自餐厅周创办以来,我们一直致力于通过美食为大众创造品质生活方式体验场景。"DiningCity鼎食聚董事总经理Toine Rooijmans表示。"10多年来,餐厅周随着中国城市消费水平的增长而不断成长,深受注重美食文化和高品质生活方式消费者的青睐与拥戴,这无疑为我们不断开拓新城市和发展高品质餐饮伙伴奠定了强大的基础。我们希冀能为更多城市消费者提供参与餐厅周活动的机会,食客可以超值价格探索一间间别具创新、满载美食文化的各国风情食府,乐享悠然沁心脾的每一口愉悦滋味。未来,餐厅周会一直陪伴消费者探索城市里的美好味道,携手用美食勾勒出一幕幕回味无穷的生活图景。"
"Ever since founding Restaurant Week, we have been committed in creating quality lifestyle experiences for the public through food," said Toine Rooijmans, Managing Director of DiningCity. "In the past 10 years, the reception of Restaurant Week has been consistent in its strong growth, hand-in-hand with China's impressive and consistent development. Restaurant week is deeply favored and welcomed by consumers who place great importance on food culture and high-quality lifestyle. This undoubtedly lays a strong foundation for us to continuously develop and explore new cities as well as restaurant partners. We hope to provide more urban consumers with the opportunity to be a part of Restaurant Week. Diners can explore innovative and exciting restaurants, and experience excellent food at great prices. Restaurant Week will continue to serve the public and provide a great selection of dining options for diners to explore their cities through lifestyle and food."
莱美露滋餐厅负责人表示:"这是莱美露滋第三年参加餐厅周活动了,对于上海的餐厅来说,餐厅周期间是一段非常特别的时间段,沪上几乎所有的高级餐厅会为了这个特别的活动联合起来。加入餐厅周,为莱美露滋带来了许多新的食客,我们也希望通过用心烹饪的每一道菜品给每一位到来的食客留下印象深刻的味蕾体验及用餐感受。这是一个让更多食客探索发现我们的餐厅、菜肴和精神的机会。餐厅周是城中少有的如此大规模的餐饮活动之一,很荣幸,我们餐厅有机会能参与2021秋季中国餐厅周活动。"
Restaurant Manager of Maison Lameloise , "Maison Lameloise is in its 3rd year of participation of dining week, it is always a special moment for Shanghai. Almost all the restaurants grouped together for a special period. It is the occasion to have new guests to discover our restaurant, our cuisine, our spirit. China Restaurant Week is one of the only organizations doing this kind of event of this size in the city. It's always a pleasure to participate."
2021秋季中国餐厅周将于8月10日上午10点开放公众预订,届时可登录「2021秋季中国餐厅周」官方预订平台www.restaurantweek.cn, DiningCity鼎食聚iOS/Android App或微信小程序进行线上预约。中国内地(不含港澳台地区)发行的美国运通卡持卡会员享有优先预订特权,8月5日上午10点即可优先预订。此外,中国内地(不含港澳台地区)发行的美国运通卡的持卡会员在指定餐厅(美国运通精选餐厅)预订用餐,可享指定饮品75折优惠(详情请见网站规则)。
Reservations for China Restaurant Week Autumn 2021 will open to the public on DiningCity's official website (www.restaurantweek.cn), the DiningCity mobile App and mini-app on WeChat from 10th August 2021 at 10am. Eligible card members of American Express cards issued in mainland China (not including Hong Kong, Macau, and Taiwan) will be granted priority access to make reservations from August 5th at 10am. In addition, Eligible card members of American Express cards issued in mainland China (not including Hong Kong, Macau, and Taiwan) can enjoy 25% off on selected house drinks at selected restaurants. (Visit the Restaurant Week website for details.)