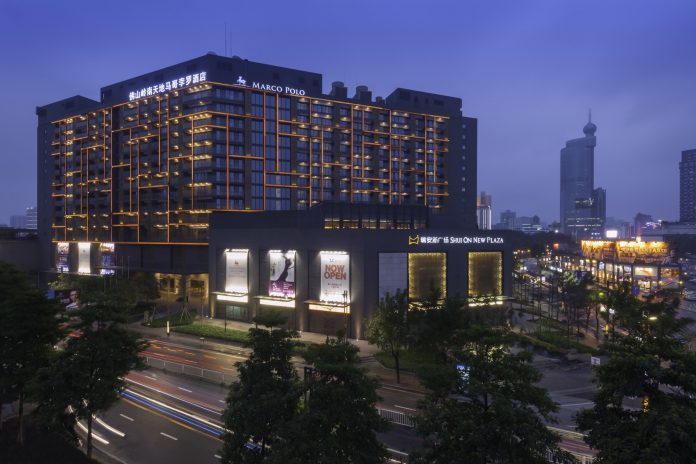 Giorgio Olivotti-佛山岭南天地马哥孛罗酒店总经理 – General Manager, Marco Polo Lingnan Tiandi, Foshan.
DB:在你看来,马哥孛罗酒店的核心文化是什么?What is the core of the hotel's brand culture in your eyes?
"以人为本"是酒店的核心文化,人的因素是构建星级酒店的决定性因素。酒店关心客户的居停餐饮体验,关心员工的成长与发展。
"People-oriented" is the core of hotel's brand culture because people is the determinant of building a star hotel. We not only care about our customers' experiences of staying and dining in our hotel but also concern our employees' growth and development.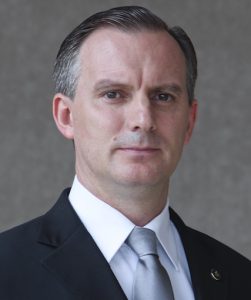 DB:请问你在佛山岭南天地马哥孛罗酒店工作了多久?How long have you been with Marco Polo Lingnan Tiandi Foshan?

我于2014年6月入职佛山岭南天地马哥孛罗酒店,在这里工作已经进入第三个年头。
I started to work at Marco Polo Lingnan Tiandi Foshan in June of 2014. This is the third year I work here.
DB:能说出三个关于佛山岭南天地马哥孛罗酒店最吸引你的地方吗?Could you name the three things about Marco Polo Lingnan Tiandi Foshan that attract you most?
1. 独特的外观设计,中西合璧与周边建筑和谐融合是酒店给我的第一印象。每间客房拥有独立阳台,天然光充沛。专为婚宴而设的马哥孛罗宴会厅、天地礼堂、花园套房,都令人有耳目一新的酒店感受。
1.Unique exterior design. My first impression of the hotel was its architectural design combining Chinese and Western styles, as well as its harmonious blend with surrounding buildings. Every room has a private balcony with plenty natural light. And the Marco Polo Ballrooms, Ceremonial Hall, and Garden Suites all bring a refreshing experience to our customers.
2. 优秀的餐饮服务,厨师团队为食客们量身定制各式美味菜肴,中西餐出品深受食客喜爱。
2.Excellent F & B Catering services. The Chefs team tailors different delicacies for our guests. Our Chinese and Western dishes are popular with gourmets.
3. 酒店内部客户——各岗位员工都充满热情与耐心;酒店外部客户——不断的支持与反馈,令酒店不断发展。
3.Hotel's internal employees—staffs of various positions are passionate and patient to customers; Hotel's external customers – customers' ongoing supports and feedbacks push the hotel to develop continuously.
DB:佛山岭南天地马哥孛罗酒店目前接待的消费群有哪些?酒店打算如何扩大其消费群? What kind of consumer groups does Marco Polo, Foshan often receive? What will the hotel do to expand its consumer group?
主要是大陆及港澳台同胞,海外客户多来自中东、欧美。首先要稳扎酒店服务质量,保证酒店设施设备及餐饮品质。不断接力现在能获得的新媒体渠道,获取更多客户资源,积极销售。同时,适应市场变化和客户需求,不断调整现有产品,如客房套餐、特色餐饮、个性会议、独特婚礼来扩大消费群。
We often receive Chinese customers from mainland China, Hongkong, Macau and Taiwan, and overseas customers from the Middle East, Europe and the U.S. We expand our customer groups by following measures: Firstly, we should maintain hotel's existing excellent service and guarantee good qualities of hotel's facilities and foods. Secondly, we should broaden our new media channels and achieve more customer resources. Meanwhile, we should adapt to market changes and customers' demands and constantly improve existing products, such as room packages, food specialties, customized conferences and unique weddings.
DB:佛山的历史文化底蕴深厚,是旅游出行的理想之选。酒店是如何帮助旅客探索这座城市呢?Foshan has a rich history, and it is for sure an ideal place for traveling. How does the hotel help travelers with their discovery journey in the city?
酒店拥有很好的地理位置优势,优美的岭南天地、祖庙近在咫尺,结合便利的景点优势推出了系列服务,如住宿包含祖庙门票,出示房卡可享受岭南天地租户优惠。同时,我们注重培训与信息传达,让员工能够很好地向客人介绍佛山景点。另外,我们将佛山最新旅游手册放于公共区域利于客人取阅,将佛山重要节庆做成套餐销售,每月酒店简讯介绍佛山节庆的独具魅力之处。
Marco Polo Lingnan Tiandi Foshan has a superior location. We are near the beautiful Lingnan Tiandi and close to the Ancient Temple. Taking this advantage, we launch out a series service, such as room packages with entrance ticket of Ancient Temple, showing the room card to enjoy discounts of shops in Lingnan Tiandi and so on. Meanwhile, we pay great attentions on staff training and information delivery so that our employees can introduce the famous places of interests of Foshan to our guests. What's more, we put the most updated Foshan Travel Guides in the public areas which are accessible for the guests. We also sell packages along with Foshan's important festivals and introduce the unique charms of such festivals in hotel's monthly newsletters.
DB:我们能从什么渠道了解更多'佛山岭南天地马哥孛罗酒店'?Where can we get more information about Marco Polo Lingnan Tiandi, Foshan?
微信公众号 WeChat Account:
Marco Polo Foshan
微博 WEIBO
官方网站 WEBSITE