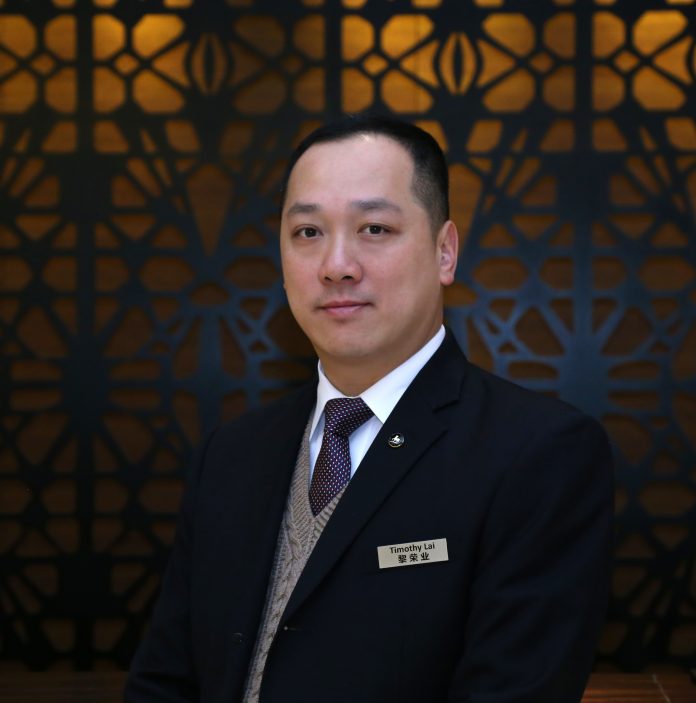 近日,佛山岭南天地马哥孛罗酒店任命黎荣业先生为酒店营运行政助理经理,他将协助总经理管理酒店日常运营工作,整合各项资源,强化产品和服务,致力提升酒店盈利。
Mr. Timothy Lai has recently been promoted as Executive Assistant Manager of Operations of Marco Polo Lingnan Tiandi Foshan. His responsibility is to assist the General Manager in managing the daily operation of the hotel, integrating various resources, improving products and services, and striving to improve the hotel's profitability.
黎荣业先生毕业于香港理工大学酒店及饮食业管理学专业,其后又修得研究生证书,并获得了美国康奈尔大学收益管理认定证书,曾于香港凯悦酒店、世纪香港酒店、港威酒店及马哥孛罗香港酒店任职。他于2011年佛山岭南天地马哥孛罗酒店开业筹备以来担任房务总监一职,在客房财务绩效、客户满意度、酒店安全保障及员工参与度方面取得了卓越成就。他带领和监督团队保持优秀的服务标准,令酒店在全球领先的旅游网站猫途鹰网上,连续5年获得佛山地区第一名的好成绩。
Mr. Lai holds the Bachelor Degree of Hotel and Catering Management and Postgraduate Certificate in Management from The Hong Kong Polytechnic University. He also received his Certification in Revenue Management by Cornell University. Mr. Lai worked for international chain hotel such as Hyatt Regency Hong Kong, Novotel Century Hong Kong Hotel, Gateway Hotel and The Marco Polo Hong Kong Hotel. Mr. Lai was appointed as Director of Rooms during the opening of Marco Polo Lingnan Tiandi Foshan in 2011 and he has made excellent achievements in rooms' financial performance, customer satisfaction, hotel safety and employee participation. He led and supervised the hotel team to maintain excellent service standards, resulting the hotel able to maintain number one position for five consecutive years in Foshan market on TripAdvisor.
黎荣业先生拥有超过23年的酒店经验,他重视员工凝聚力,以盈利为驱动,以标准服务为导向,锐意求新高效行动;受任新职务,相信黎先生将为酒店的营运及行政做出更多贡献。
Mr. Timothy Lai has over 23 years of experience in hospitality management. He attaches importance to staff cohesion, creation and efficient actions and he is revenue driven and standard service-oriented. We believe Mr. Lai will make more contributions to the operation and administration of the hotel in his new position.
关于佛山岭南天地马哥孛罗酒店
EXPLORE DISCOVER EXPERIENCE (用心探索 无限发现 非凡体验)
佛山岭南天地马哥孛罗酒店,设计揉合现代与东方建筑特色,座落于佛山市中心祖庙路和人民路交界,毗邻祖庙和优美的佛山岭南天地。酒店共有390间客房、套房及一至二房的服务式公寓,所有客房均设私人露台,可眺望岭南天地或市中心。从酒店步行至邻近祖庙地铁站仅需5分钟,到广州白云国际机场只需55分钟车程。如欲查阅更多资料,请登陆 marcopolohotels.com
About Marco Polo Lingnan Tiandi Foshan
EXPLORE DISCOVER EXPERIENCE
Located in the central Chancheng District of Foshan at the junction of Zumiao Road and Renmin Road, Marco Polo Lingnan Tiandi Foshan is designed with a modern and oriental touch. It is adjacent to the Ancestral Temple and the beautiful Lingnan Tiandi. It is only a 5 minutes' short walk to the Zumiao subway station and 55 minutes' drive to the Guangzhou Baiyun International Airport. The hotel features 390 rooms and suites, including three stylish villas with private gardens and a variety of 1-2 bedroom serviced apartments. All rooms have private balconies, either overseeing the Foshan Lingnan Tiandi or the city center. For more information, visit marcopolohotels.com.
关于「全球酒店联盟」
全球酒店联盟(GHA)是现今全球规模最大的独立酒店品牌联盟组织。通过共享的技术平台,GHA为旗下酒店提高收益,节约成本,幷实行囊括多家品牌酒店的会员优惠项目——探索之旅(DISCOVERY),现已拥有1千3百万会员。GHA联盟组织有超过30个品牌,多达550家高档豪华酒店,覆盖75个国家。详情请见:discoveryloyalty.com。
About Global Hotel Alliance
Global Hotel Alliance (GHA) is the world's largest alliance of independent hotel brands, bringing together 30 brands with over 550 hotels in 75 countries. GHA uses a shared technology platform to drive incremental revenues and create cost savings for its member brands. GHA's award-winning loyalty program, DISCOVERY, provides 13 million members exclusive opportunities to immerse themselves in local culture wherever they travel. For more information, visit discoveryloyalty.com.