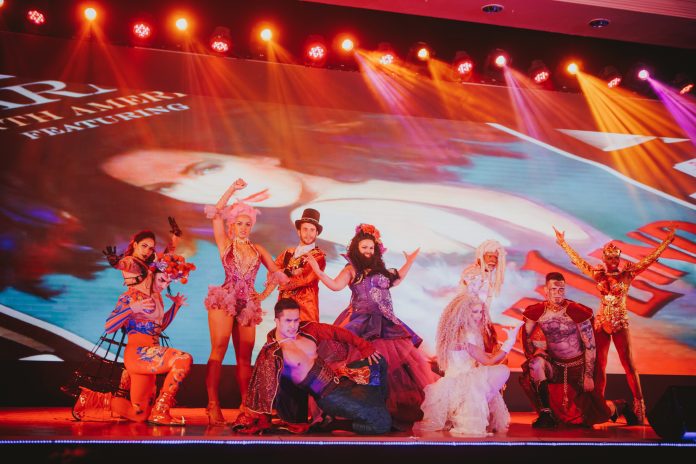 It was a night filled with tuxedos and evening gowns, bearded ladies and acrobats, but eventually even The Greatest Show had to come to an end.  The AmCham South China annual 2019 Spring Ball, one of the most glamourous annual events in Guangzhou, is now one for the history books.
This year's many sponsors included HSBC, Times Property, and PMI (Guangzhou). Over 400 people attended the May 18 held once again at the Guangzhou Garden Hotel, and 17 countries were represented.
One of AmCham South China Governors said, "AmCham has once again delivered yet again with the event of the season, indeed the greatest show in South China."
Those in attendance were first treated to pre-festivities cocktails in a lobby decked out to represent the entrance to a big top. Circus performers ambled through the crowd for ample photo opportunities. Consuls General and representatives from Australia, Austria, Belgium, Brazil, Ecuador, France, Germany, Italy, Japan, Korea, Switzerland, Mexico, Nepal, Netherland, Nigeria, Thailand, Uruguay all mingled with each other as the excitement grew.
AmCham South China President Dr. Harley Seyedin, decked out as the sequined ring leader, finally rang the bell as he was followed by the performers and other attendees into the main ball room.
Every year it seems AmCham South China outdoes itself when it comes to the annual traditions of the spring ball. This year was no exception. A massive stage with wall-to-wall video screens made sure no one had a bad seat at their table. These screens provided a light show throughout the evening beginning with the grand entrance as the band played at the attendees and danced on the stage.
Starting the show, Hong Kong actor, film director, producer and screenwriter Philip Chan had Master of Ceremonies and lottery duties. He's been on the stage for so many AmCham South China balls that he has become an annual treasure himself. Mr. Chan started the ball with a bang by giving away boxes of fine wine to lucky table numbers. The lottery continues throughout the evening with notable prizes including collection watches, international round-trip flight tickets, and free stays at various luxury hotels.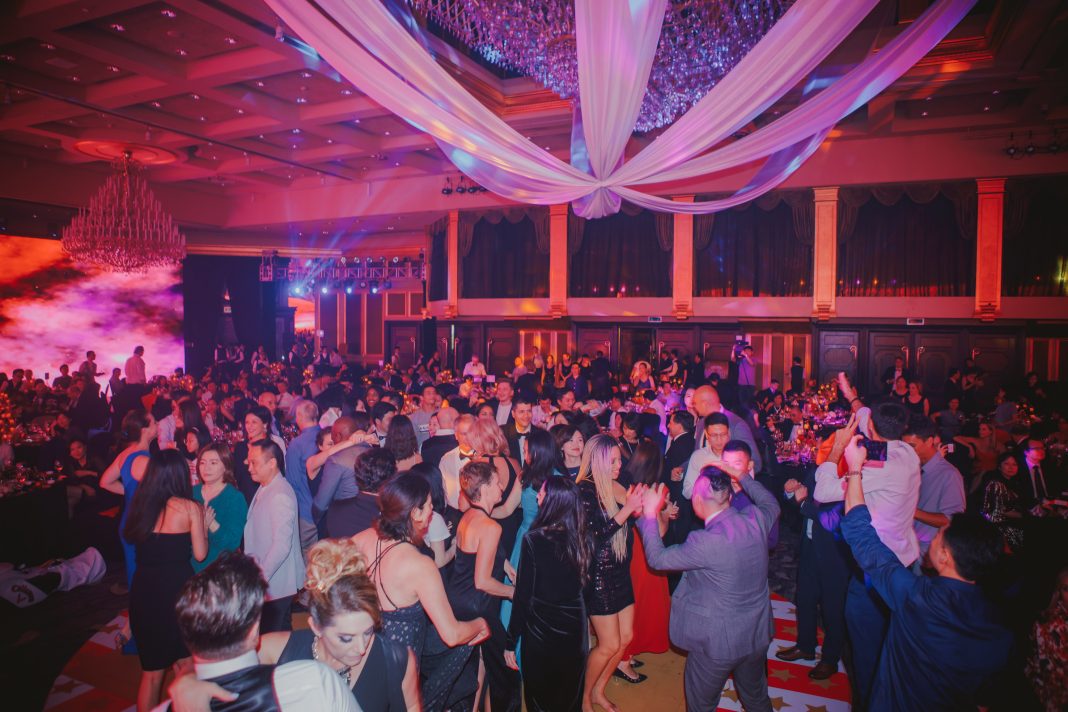 Attendees were delighted by a delicious eight-course dinner before the dancing began in full force. The house band truly delivered a music variety that kept the whole place hopping. One attendee said, "I especially enjoyed the dancing and live music. [The Ball] was also a good opportunity to make some friends and accumulate new relationships."
Of course, everything must end, but there was no reason to let this event diminish with a whimper. Dr. Billy Chan, Director of Faculty of Medicine at Macau University of Science and Technology surprised everyone when he hopped up on stage to play guitar and sing with the band.
Dr. Chan said this year's Spring Ball was fabulous. "Such a high level of organization and entertainment was superb, absolutely exceeded my expectations. Simply the best ball I have ever attended. Very classy indeed, sensational is the word."