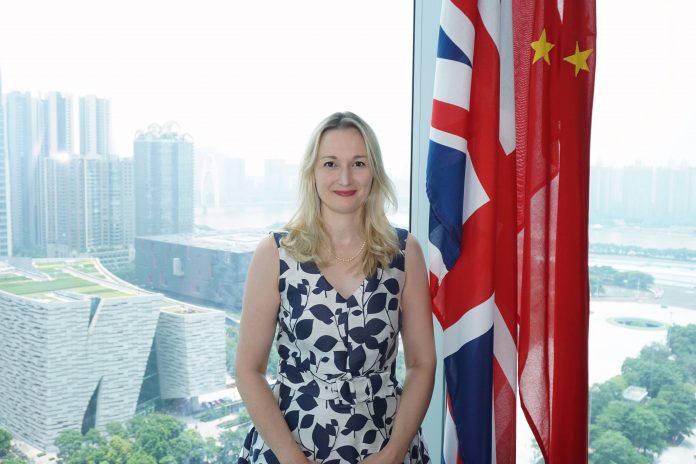 July 18, 2019 – Ms Jo Hawley, the new British Consul-General in Guangzhou, has officially taken office in the week of 15 July 2019.
This is her first Consul-General appointment, following a succession of senior appointments with the British government over the last 20 years.
Before taking up this appointment in Guangzhou, Jo was Director of International Trade and Investment at the British Consulate General in Hong Kong from 2014 to 2017. She has previously served as Private Secretary to a Minister and completed two postings at the UK Representation to the European Union. In addition to working for the Foreign Office and Department for International Trade, she has worked at the Cabinet Office and Department for Education in roles focused on improving and modernising public services.
Jo comes to Guangzhou with a proven record of commercial success. In Hong Kong, Jo led the trade team to deliver many high value business deals, which saw the UK become the No.1 European exporter to Hong Kong. Jo is excited about the enormous opportunities for the UK to collaborate with South China and will use her experiences to increase the UK-Greater Bay Area business ties.
The Consul-General spoke of her pride at being appointed to Guangzhou and her dedication to strengthening UK-South China links:
She said, "For me professionally, China is the most interesting place to be: dynamic and exciting with some of the most innovative companies in the world. I love that my job involves me introducing more British people to the joys of China and sharing with China some of those things that makes the UK so special. I know many Chinese people know all about our world-leading education institutions, but I've also been delighted to find here so many fellow Harry Potter, Peppa Pig and Downton Abbey lovers!
"Also personally, from my very first visit to China, I was hooked. I knew I had to live and work here. China has such incredible history, culture and scenery. Not to mention the widest range of food! I have found Chinese people so friendly and welcoming of me and my family…especially my 9 month old who gets photographed wherever he goes to cries of hen ke ai! "
Outside of work, Jo is a keen sports enthusiast. A world-record holding skydiver, Jo had to retire from the British Parachuting Team to come to work in Asia. She's also a keen marathon runner and football fan who is looking forward to seeing Guangzhou Evergrande play. Born in Nottingham in central England, Jo graduated from Durham University in Modern European Languages and has spent time living in Germany and Belgium. She is studying both Mandarin and Cantonese.
Background:
As the new British Consul-General, Jo will be leading the British Government's engagement in the six provinces of Southern China: Guangdong, Guangxi, Fujian, Hainan, Hunan and Jiangxi.
With respect to trade Guangdong alone accounts for around one third of UK-China trade, and growing by an average of 7% over the last five years. When it comes to investment, Guangdong was the 2nd most important province for UK investment in China. UK companies have invested around £4.62 billion in Guangdong since the year 2000 and £5.34 billion across South China."