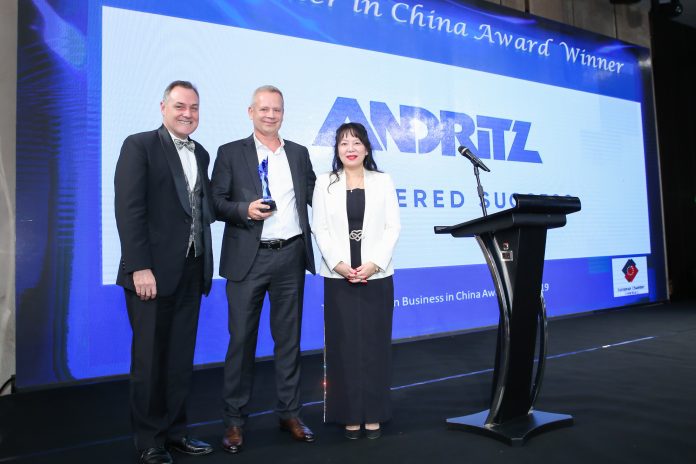 DB: 请问贵公司被评为最佳表现企业,有什么感想想要分享的吗? What do you think of your company being awarded as Top Performers ?
我觉得很开心、很自豪,也十分荣幸。在过去的十几二十年里,我相信中国欧盟商会已经在中国建立了非常高的声誉,不仅是在欧洲企业中,在中国中央及地方政府也同样,是有一定影响力的。所以能够当选为最佳表现企业,对我们来说毫无疑问是个巨大的荣誉。
I feel very glad, very proud and I feel very much honored. Over the last ten or twenty years, I believe that the European Chamber of Commerce has gained a very high prestige in China. This is the case not only with the European companies but also with the central, north and local governments. The voice of the European Chamber of Commerce in China has acquired meaning and so to be voted as the top performing chamber company is of course a very big honor.

DB: 请问可以分享一下作为中国欧盟商会成员的经历和体验吗? What are your company's experiences as a member of the EU Chamber?
我在这里工作已经五年了,但是我们公司成为中国欧盟商会成员的时间比五年还要长。在过往的时间里,我们一直活跃于中国欧盟商会的各种活动当中。举个例子,有一段时间,我们公司参与进商会不同的组别中,比如采购组、制造组等等。我很了解商会,也很了解商会的成员。商会为成员提供了许多有意思的东西。同时作为一个欧洲企业,我们为自己发声、找到自己的位置也是很重要的。在某些特定的日子,我们会承担一定的责任等等。
I have been in my current job for five years, but we have been members for longer. In the past, we have been more active in the European Chamber. For example, for a while we were engaged with different kinds of groups such as the purchasing group, manufacturing group and so on. I know the chamber well and I know the chamber members well. There are lots of things the chamber is offering that are very interesting. It is also very important as a European company that we establish a voice. On certain days, we've been involved in position purpose and so on.

DB: 请问可否讲述一下贵公司未来的计划是如何与大湾区的规划协调一致的呢?Would you like to share how the future plans of your company will conform to the development of Greater Bay Area?
其实大湾区的发展对我们来说影响不是那么大。作为一个城市,佛山算是刚刚起步的;20年前的佛山还只是一个相对落后的地方。我曾经在佛山居住超过五年的时间,现在住在北京。我的妻子是名中国人。当我告诉她我想住在佛山的时候,她很震惊:"什么?我简直不敢相信!"我相信中国的许多城市都被低估了它们的发展前景,佛山就是其中一个。佛山是个生活成本合理的现代城市,尤其对比起香港、上海,甚至是广州、深圳。佛山也是大湾区域中的一部分,在这个联系网当中。在广州的人也可以很容易地来到佛山,所以我觉得佛山的地理位置是非常理想的。
The development of the Greater Bay Area does not necessarily influence us. As a city, Foshan is only just manifesting. 20 years ago, it was just back water. I've been in Foshan for more than 5 years and I previously lived in Beijing. My wife, who is Chinese, was shocked when I told her I wanted to live in Foshan. "What?!" she said. "That's unbelievable!" I think that many cities in China are underrated and Foshan is one of them. It is a modern city with reasonable costs, especially compared to Hong Kong, Shanghai or even Guangzhou and Shenzhen. In Foshan, you are still in an interesting part of the Greater Bay Area and you are within a network. People in Guangzhou can still easily meet you in the Foshan area and so I think it is an ideal location.
更多关于2019欧洲在华企业杰出贡献奖颁奖典礼资讯请戳:More information about the European Business in China Awards Gala 2019 please click:
https://sanjiaoling.com/european-chamber-south-china-chapter-the-european-business-in-china-awards-gala-2019/