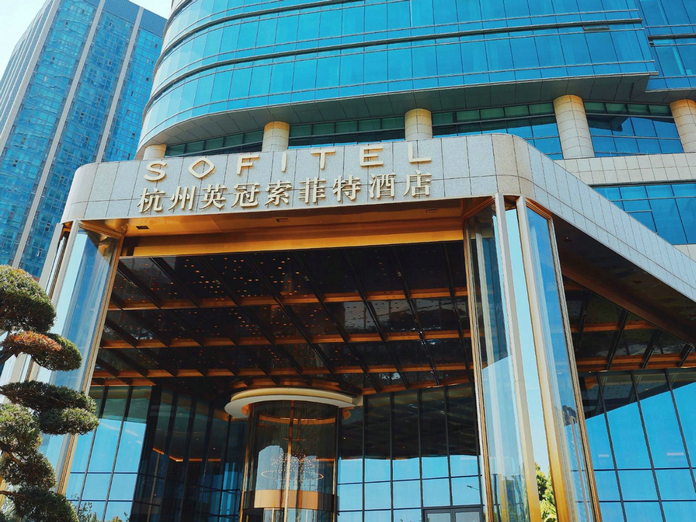 近日,雅高集团宣布杭州英冠索菲特酒店正式开业,为魅力之都杭州增添一处别具一格的会展活动及休闲旅游目的地。杭州的艺术气质、历史传承和文化精髓在索菲特酒店巧妙融合,为宾客带来精致的法式生活体验。
Accor recently announced the opening of Sofitel Hangzhou Yingguan as a distinguished destination for both leisure and meetings in the charming city of Hangzhou. The splendor of this Sofitel Hotel is a combination of the artful spirit, heritage and culture beholden to the city of Hangzhou.

杭州英冠索菲特酒店坐落于钱塘江南岸,毗邻滨江中央商务区中心,是该区域内首家国际品牌奢华酒店。酒店离杭州国际博览中心和奥林匹克体育中心仅两站地铁站,是商务旅客的便利下榻处所。酒店靠近湘湖和宋城主题公园,距风景如画的西湖仅七站地铁,是休闲游客的理想度假之地。同时,杭州英冠索菲特酒店周边交通便利,距杭州南站30分钟车程,距杭州萧山国际机场40分钟车程。
As the district's first international branded luxury hotel, Sofitel Hangzhou Yingguan is situated along the south bank of Qiantang River in the heart of Binjiang Central Business District. For business travelers, the hotel is conveniently located near Hangzhou International Expo Center and Hangzhou Olympic Sports Center. For leisure guests, the hotel is close to Xianghu Lake and Songcheng Theme Park, and only seven metro stops from picturesque West Lake. Sofitel Hangzhou Yingguan is within 30 minutes drive from Hangzhou South Station and 40 minutes' driv from Hangzhou Xiaoshan International Airport.

杭州素有"人间天堂"的美誉,兼具深厚浓郁的文化底蕴和优雅精致的生活品位。如今,杭州吸引了大量创新技术,走在中国蓬勃发展的科技行业前沿,引领着新颖的生活方式。杭州英冠索菲特酒店凭借其优雅精妙的室内设计、别具特色的餐饮概念和精致不凡的生活方式,展现了杭州的文化传承与现代风范。
Hangzhou has long been revered as a 'paradise on earth', with a reputation for sophisticated culture. Today, Hangzhou is synonymous with innovation and stands at the forefront of China's booming technology sector and leads in creativity and lifestyle. Sofitel Hangzhou Yingguan captures Hangzhou's heritage traditions and contemporary edge by embodying these dual aspects through its interior design, food culture and extraordinary lifestyles.

雅高集团大中华区首席执行官罗凯睿表示:"索菲特酒店在中国的持续成功源自于中国消费者对法国生活方式及其独特文化的共鸣和青睐。最新开业的杭州英冠索菲特酒店卓尔不凡,是宾客沉醉于令人向往的法式生活风尚的理想场所。酒店凭借在当地首屈一指的活动场地、精致的餐饮概念和健康生活方式,在吸引会议展览、奖励旅游、商务差旅及休闲度假方面展示出独有的魅力。"
"The continued success of Sofitel in China is thanks to Chinese consumers' connection and appreciation for French lifestyle and its unique culture. The latest Sofitel in Hangzhou provides guests with a superb place to indulge in Living the French Way," said Gary Rosen, Chief Executive Officer with Accor Greater China. "Sofitel Hangzhou Yingguan is a destination that has demonstrated its appeal to MICE, business and leisure guests, as it offers a variety of event spaces second to none in addition to some of the city's finest restaurants and wellness options."
杭州英冠索菲特酒店由知名的酒店设计公司赫希贝德纳联合公司(HBA)设计,酒店内多处设计匠心独运,比如壮观的大堂楼梯和明亮的橙色浴具等,吸引宾客拍照打卡,留下难忘回忆。酒店设有580间设施完善的客房和套房。其中25间家庭房的设计灵感源自法国知名童话故事《小王子》,贴心吸引各位小宾客。此外,所有客房均拥有索菲特MyBed™特色寝具,在窗边还可一览城市和公园景致;客房搭配智能控制系统,呈现直观的室内科技体验。酒店还将别致时髦的法式设计细节与丝绸、刺绣、篆刻等浙江传统文化标志融为一体,处处彰显高雅隽永的唯美气息。
Sofitel Hangzhou Yingguan is designed by hospitality legend HBA. The spectacular lobby staircase and light-flooded orange hued bathrooms are just two unforgettable images destined for sharing on social media. Its 580 well-appointed guestrooms and suites include 25 family rooms with design inspired by the children's storybook 'Le Petit Prince'. In addition, all guestrooms offer the signature Sofitel MyBed™ experience, city and park views, and a smart control system that makes in-room technology intuitive. Chic French details are blended with Zhejiang province's cultural elements, exemplified in design motifs on silk, embroidery and seal carvings throughout the hotel providing an elegant and timeless aesthetic.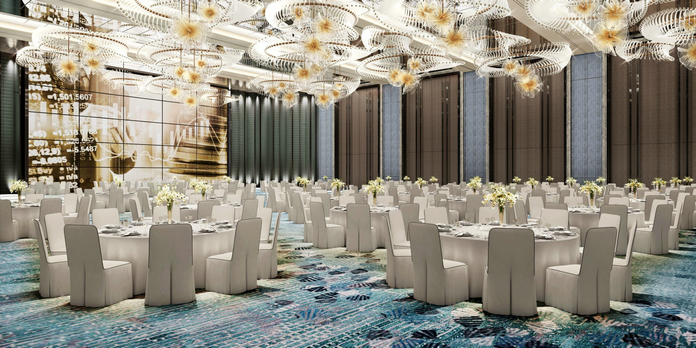 杭州英冠索菲特酒店为宾客提供享誉全球的美味料理,力求成为都市社交中心。乐活吧展现了当代法式生活艺术的精髓,是适合每天任何时候光顾的活力热情之地,展现多重功能:早晨在这里享用咖啡,唤醒一天的时光;下午这里变身为会客厅,供应精心制作的手工茶饮糕点;夜晚在此享受现场音乐表演,在这活力四射的酒廊小酌一杯。全日餐厅旋转木马供应精致可口的美味佳肴,其开放式中央厨房为宾客打造奇妙的就餐体验。潮筷是具有法国风情的粤式餐厅,以雅致的法国艺术演绎粤菜的独到美味。中餐厅萧湘阁供应正宗的时令杭州菜式和萧山地方特色菜品,让宾客在用餐过程中体会当地馥郁醇厚的茶文化。酒窖兼品酒室80酒廊向法国葡萄酒文化致敬,宾客在这里邂逅佳酿,听取侍酒师和葡萄酒大师分享知识。喜爱在户外用餐的宾客可以在露台吧品尝室外烧烤,欣赏开阔的公园美景,与亲友欢聚一堂,享受惬意休闲的时光。
Sofitel Hangzhou Yingguan will tempt the most sophisticated taste palates with exciting dining options that promise to be the center of the city's social scene. Lohas Bar is at the heart of the hotel, setting the stage for contemporary French art de vivre. It transforms from coffee club in the morning hours to a meeting place in the afternoon serving artisanal teas and cakes to a dynamic venue with live music in the evening. Carrousel is an all-day restaurant that showcases live culinary performances. Baguettes is a specialized Cantonese style restaurant with a French flair. Terroir is the hotel's Chinese restaurant, presenting authentic and seasonal Hangzhou and Xiaoshan specialties alongside local tea culture. 80 Quatre Vins pays homage to French wine culture and is a flexible cellar and tasting room where sommeliers and wine masters share their knowledge of fine vintages. Le Balcon caters to those who enjoy dining under the stars and offers both barbecue and al fresco dining with panoramic park views for idyllic gatherings surrounded by friends and family.

杭州英冠索菲特酒店拥有目前该区域最大的会议活动场地,总面积达6000平方米, 可用于召开大型会议、举办盛大婚礼等。酒店拥有两间宴会厅,层高7.5米。其中无柱式豪华宴会厅面积达1450平方米,是萧山区最大的宴会厅;另一宴会厅面积为906平方米,适合举办各类不同规模的活动。屋顶2000平方米的场地秘密花园以杭州优美的天际线为背景,浪漫唯美,是举办婚礼、私人庆典或商业活动的理想场所。会展策划者可享受索菲特酒店的"精彩会议"服务,举办富含法国风尚的创意活动,或通过"精彩茶歇"服务,策划独特难忘的丰富活动。索菲特水疗中心配备六间理疗室和25米长的游泳池,供宾客放松身心,尽情享受;索菲特健身中心设有动感单车室、瑜伽室和健身房,为健身爱好者带来多样化的健身体验。
Sofitel Hangzhou Yingguan provides a magnifique place for conferences and weddings, with 6,000 square meters of event and function spaces – by far the most in the district. Its two ballrooms each offers 7.5 meter high ceilings, with its column free 1,450 square meter ballroom standing as the largest in Xiaoshan and its second one at 906 square meters for more modest functions. A 2,000 square meter rooftop garden dubbed Jardin Secret is a romantic spot for weddings, private celebrations or business functions with the city skyline as backdrop. MICE planners can take advantage of Sofitel Magnifique Meetings to create innovative events infused with French savoir faire or Magnifique Breaks offering unique options for distinctively memorable events. Wellness seekers are pampered in one of the six treatment rooms in the Sofitel SPA, a relaxing swim in the 25 meter long swimming pool or an invigorating workout in Sofitel Fitness spin room, yoga room or gym.
杭州英冠索菲特酒店总经理 Jens Corder 表示:"在蓬勃发展的杭州开设这家独具一格的索菲特酒店将为我们带来莫大的机遇。杭州英冠索菲特酒店将为该地区的奢华酒店体验树立全新标杆。酒店凭借独特新颖的设计理念,为追求法式风尚的会展策划者、商务旅客、休闲游客和当地居民,打造难以忘怀的法式生活体验。"
Jens Corder, General Manager with Sofitel Hangzhou Yingguan, said: "We are proud to open this gorgeous Sofitel Hotel in Hangzhou. The Sofitel Hangzhou Yingguan sets a new benchmark for luxury hospitality experiences for the area. It offers memorable experiences for MICE groups and business travelers as well as leisure guests and local residents keen to enhance their daily lifestyles with a touch of French glamor."
---
杭州英冠索菲特酒店
Sofitel Hangzhou Yingguan
杭州市萧山区明星路485号
No 485 Mingxing Road, Xiaoshan Area, Hangzhou
HB733@sofitel.com
Tel: +86 571 – 8269 8888
all.accor.cn