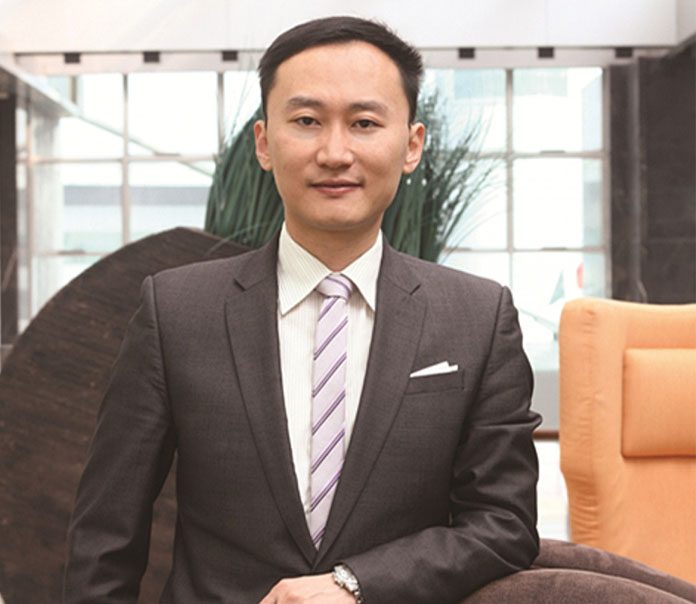 Ning Shi – 广州白云机场铂尔曼酒店营销总监-Director of Sales and Marketing at The Pullman Guangzhou Baiyun Airport. A rising star in the Accor Pullman Group.
Ning Shi has steadily worked his way up the ranks of the hospitality industry. Since graduating from ESSEC, the prestigious Parisian business school in 2010 on a scholarship from the Accor group, Ning has swiftly risen to the position of Director of Sales and Marketing at the group's Pullman Guangzhou Baiyun Airport. In his current role, he has exceeded expectations and was able to explain to us that despite being the youngest Department Director at the time of his appointment, he was able to apply creative new ideas that allowed the hotel to flourish. The hotel has undergone enormous expansion recently, adding 118 bedrooms to a newly opened wing, as well a 1500m2 ballroom where events are frequently held. Though maintaining a hotel of 578 rooms may seem a mammoth task, the Accor Pullman at Baiyun Airport is consistently ranked amongst the best airport hotels in the world. Ning was keen to share his experiences at the hotel, and didn't hesitate in explaining the reasons behind its success.
He modestly presents himself as one of a new generation of hoteliers, open to different ways of thinking in an ever more globalised world. He explained how this is key to both his and his hotel's success: to set yourself apart in the hospitality industry you need to be willing to change, develop and adapt to changing circumstances. His background in finance, coupled with the confidence to pursue unconventional ideas has given the owner's group a great deal of trust in his decisions. Luckily, these decisions have paid off, and during the three years he's served as DSM, room revenue, rental revenue and gross operating profit have risen considerably. Having completed the first expansion of the hotel, the owners have given the go ahead for an enormous second expansion, due to begin soon, thanks in no small part to Ning's excellent performance as Director of Sales and Marketing.
Synergy was the key word of the interview, as Ning kept bringing the conversation back to the significance of cooperation and teamwork in the running of a successful hotel. As the Baiyun Airport has expanded, so too the hotel has grown to compensate for the elevated footfall, however, a physical expansion is only one way in which a hotel can stand out from its competitors. Ning was emphatic in pronouncing the necessity for a strong team of staff. To really improve the experience of a one-night stay in an airport hotel, it seemed clear that the service needed upgrading. The Accor Pullman in the Baiyun Airport is in the process of streamlining the entire airport process, providing ticket machines in the hotel lobby, and flight info on hotel room TV screens, for example. With strong partnerships with a number of airlines, the hotel seeks to always be one step ahead of its competitors in terms of its service. From Ning's own experience, though, it seemed that the way in which the group values its staff is essential in maintaining the high quality service.
Having himself benefitted from a strong training and development program, to which he owes his swift career progression, the young Director of Sales and Marketing was keen to explain how these could improve the experience of the customer. For him, a staff member must fully appreciate the significance of their role within their company and feel valued enough to pursue a career in the industry. It seems that he was willing to put his ideas into practice, as his assistant assured us after the interview that he really is a warm and caring boss. He sees himself more as a coach, he told us. Whilst recruitment can be difficult in the hospitality industry, due to such a competitive market, it is the actions of people such as Ning who make a company stand out. Having trained a number of current staff members in the hotel himself, it is evident that Ning cares about his workforce.By nurturing bright young talents in this way, the group can ensure that customers are presented with a positive, motivated team of staff. Though young, Ning was bright, passionate and determined when he underwent the transition from Director of Revenue to Director of Sales and Marketing in 2013. Whilst some companies would never consider the promotion of a young professional over a more experienced colleague, Accor Pullman makes it a possibility for new employees. The hotel's brilliant track record for customer satisfaction is undoubtedly linked to the satisfaction of its staff. If a customer is welcomed back to a hotel by a familiar smiling face, they are more likely to come back, Ning told us, perfectly illustrating the way that the company's training model can improve the customer's entire experience.
The interview ended with a discussion of the future. As far as Mr Shi was concerned, the hospitality industry is swiftly becoming more digitised, as new online formats open hotels to a host of new opportunities. He was confident in assuring us that the hotel experience will become so much more than just a night in a bed, as mobile applications develop to bring the world to your hotel room. With business, leisure, shopping and dining experiences equally become more digitised,Ning proposed that the hotel would become the platform from which these opportunities emerge. It's his job to analyse emerging trends on the market, so Ning's probably a good person to trust. Warm, chatty and intelligent, he was able to give us a real insight into the hospitality industry and the way that Accor Pullman at Baiyun Airport continues to flourish. If his past successes are anything to go by, it seems that his own future is equally as bright as the hospitality industry's.