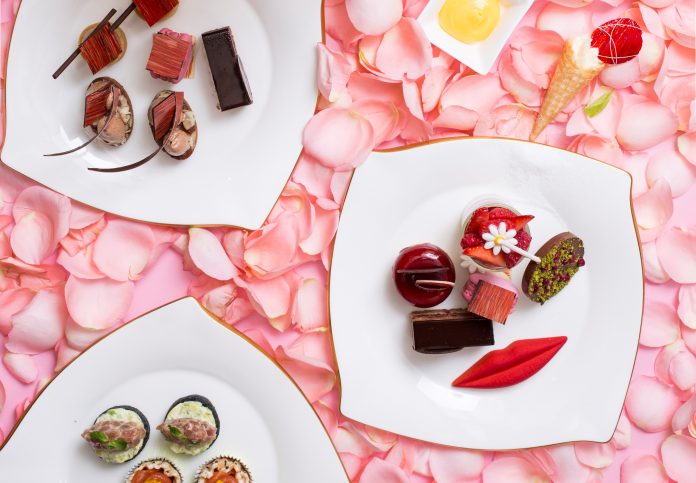 The Valentine's Day is just around the corner. With the Chinese New Year following right after this romantic day, this might be just the chance for you to impress your beloved one before leaving him or her to your family, or even before meeting the parents togther. What is your plan? A bouquet of roses or quality chocolates are nice gifts. A bit more, indeed, should be anticipated to whet your lover's appetites and passion.
If we may be at your assistance, how about spending intimate time with your beloved one, savoring delicacies in an atmosphere of romance at one of the distinctive restaurants or bars at Shangri-La Hotel, Guangzhou.
---
This precious moment for lovers deserves the most flavorful dishes with only the finest ingredients. Executive Chef Scott Henderson from the United Kingdom and the culinary team at RIBS has created a Valentine's Day Set Dinner menu with the British perception of romance for the occasion. Unveil a romantic night with your beloved one with a 6-course dinner in the cheerful and inspiring restaurant with soothing lightings. The menu features Rossini Fillet, a luxury combination of steak, foie gras and truffle. The tender Rossini tournedos is garnished with a silver of foie gras and slices of truffle. Republica Del Cacao Heart unfolds the chef's insight into the magic of love – beneath the solid chocolate shell is the soft, delicate heart. Together with Artic Halibut and Caviar, the authentic European-style romance just a fork away.
RIBS
Valentine's Day Set Dinner Menu
Caviar and Duck Egg
Steamed Custard, Brioche, Vodka Cream
Boston Lobster
Ceviche, Mango Salad, Rice Cracker
Double Boiled Oxtail Soup
Apple Smoked, Chanterelle Mushrooms
Silver Cod
Organic Pumpkin and Vanilla, Brussel Sprouts and Lemon
Fillet Rossini
Wagyu Tenderloin, Seared Foie Gras, Rosti Potato, Truffle Sauce
Republica Del Cacao Heart
Melting Chocolate Heart, Vanilla Yogurt Mousse, Marshmallow
---
The chefs at S.E.Asia Kitchen&Bar know very well how to pair culinary delights with the passionate feeling of the lovestruck couples. The whole restaurant is well furbished by timber with cute bamboo lamps as interior decorations, complemented with warm lights. In the lively vibe, savour a special Valentine's Day Set Dinner in hearty portion to treat your taste buds. Shuck an oyster to kick off the night. The flavour of the fresh oyster reaches its prime with the refreshing glow of Thai coriander and citronella salsa Sauce. Taste the platter which comprises popular street food like chicken satay, beef satay etc. presented in an elegant way. What's next? How about the hot Seafood Tom Yun Koong to expel the cold of the winter night. One of the main courses, Rendang Beef is cooked slowly, simmered in the rich spice paste with coconut till the beef is meltingly tender and full of complex flavors. This is just like the process of building a relationship, which takes time and patience. As a finale to the dinner, Pandan Cake with Coconut Crunch and Durian Sphere brings refreshing enjoyment to eyes and taste buds.
S.E.Asia Kitchen&Bar
Valentine's Day Set Dinner Menu
(Indulge your inner love by sharing with your love one)
Freshly Shuck Oyster with Thai Coriander & Citronella Salsa
Appetizer
Combination Platter of Chicken Satay, Beef Satay, Shrimp Cake & Acar Salad
Choice of Soup (Select 1)
Seafood "Tom Yum Goong"
Singapore Oxtail Soup
Choice of Main Course (Select 2)
Malaysia Beef Rendang
Nyonya Style Chicken Curry
Wok-fried Tiger Prawn with Salted Egg Yolk Sauce
Seafood Char Kuay Teow
Turbot Steamed with Citronella and Galanga Lime Sauce
Choice of Vegetables (Select 1)
Stir-fried Chinese Water Spinach with Garlic
Wok-fried Okra with Sambal Sauce
Dessert (Select 1)
Pandan Layer Cake with Coconut Crunch & Durian Sphere
Coconut Ice Cream with Coconut Meat, Corn & Fresh Coconut Juice Shooters
---
Shangri-La Hotel, Guangzhou
NO.1 Hui Zhan Dong Road, Hai Zhu District
Tel: +8620-8917 6498
E-mail: fbreservation.slpg@shangri-la.com