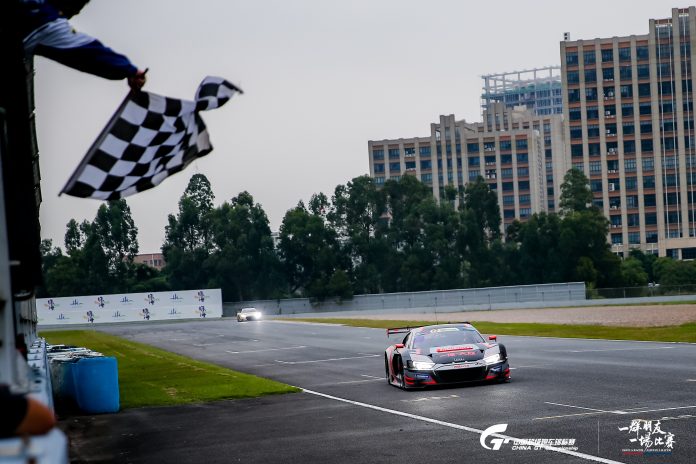 At the Zhuhai International Circuit, the FAW-VW Audi Racing Team strengthened their lead of the China GT Championship GT3 standings leading home an Audi 1-2-3 with a win in round three for Audi Sport Asia driver Cheng Congfu and Anthony Liu. Teaming up with Audi Sport Asia driver Chen Weian for the first time, Audi R8 LMS GT4 driver Hu Bo continued his successful season, the Pro-Am pair taking both China GT Championship GT4 victories after two faultless races.

At the rolling start, pole-sitter FAW-VW Audi Racing Team's Cheng Congfu held firm the first position as the field roared into the first turn. Cheng built the advantage until the mid-way point and Anthony Liu exited the pits in the lead after the driver changeover. However, the second place car was able to pass on the inside as the two cars came up on a back marker, and grab the lead, as Liu was forced around the outside.

Liu hounded his race rival for the next 25 minutes until he moved on the inside to reclaim the lead. Liu claimed a second season win in three races for the FAW-VW Audi Racing Team, further strengthening their lead in the GT3 standings. Hu Bo and Chen Weian celebrated their debut GT4 victory together.

Starting from second for the second race, Liu and Cheng tried everything to catch the car in front, but in the end they had to settle for second. Hu and Chen in the Absolute Racing Audi R8 LMS GT4 finished another strong race together and took their second consecutive GT4 class win.

In the Audi Sport Asia Trophy standings, a season-long contest for all non-professional Audi drivers competing in the region, Hu Bo tops the leaderboard, his success in the Audi R8 LMS GT4 earning him 2,732 points so far. Audi R8 LMS GT3 expert Anthony Liu trails Hu by just 464 points.

TEAM QUOTES:
Alexander Blackie (Manager of Audi Sport customer racing Asia): "Big congratulations to FAW-VW Audi Racing Team and Team X Works for picking up both victories in a very strong weekend for the Audi R8 LMS GT3 at China GT. Hu Bo's continued success with the Audi R8 LMS GT4 means the race for the 2021 Audi Sport Asia Trophy is really heating up as we head into the final stages of the season."
Fabien Fior (Absolute Racing Team Director): "Of course, we would like to come away with two overall victories this weekend. We couldn't have done much better than this today after yesterday's victory; we had more handicap weight, a longer minimum pit stop time, and fewer medium compound tires available than our direct competitors. Regardless, we are still pleased with the results, since we comfortably lead the GT3 class standings. David and Hu Bo, on the other hand, were flawless, and we took two well-deserved GT4 class victories."
Cheng Congfu (#99 FAW-VW Audi Racing Team Driver): "There isn't much to say. Despite the fact that we won yesterday's race and came in second today, there are still some issues with the regulations. Now I'm looking forward to the CEC season finale next month."
David Chen Weian (#16 Absolute Racing Driver): "The entire weekend went off without a hitch. My main goal for this race was to assist my teammate in becoming more comfortable with the car and the track. This was my first time driving a GT4 car in a race, and it was also my first time teaming up with Hu Bo. First and foremost, I want to express my gratitude to our entire team. They had set up a fantastic car for us, as usual, that is extremely fast in qualifying and in the race. We also supported him with extensive training prior to the race. He, too, has made rapid progress and is overjoyed to have won the races this weekend."
WEEKEND RESULTS (*.pdf)
Qualifying
Race 1
Race 2
– END –
About Absolute Racing:
Founded in 2010 by motorsports specialists Ingo Matter and Fabien Fior, Absolute Racing rapidly grew into a formidable force and a powerhouse in the region.
Currently operating from Shanghai, Zhuhai, and Sepang, Absolute Racing has captured victories in every major racing series it has entered including the Asian Le Mans Series, Audi R8 LMS Cup, Blancpain GT Series Asia, China GT Championship, GT Asia Series, Intercontinental Le Mans Challenge, Pirelli World Challenge, Porsche Carrera Cup Asia, Formula Masters Series and F3 Asian Championship certified by FIA.
Enjoying tremendous success both on and off the track, Absolute Racing brings experience, trust, and credibility to all brands and partners associated with the team.
With a strong brand presence and identity, Absolute Racing offers different levels of Customer Racing services. It was no coincidence that a world-class race proven sports car outfit like Absolute Racing was appointed as the sole motorsports organisation to manage the prestigious Bentley's Customer Racing programme in Asia and USA. Today Absolute Racing partners with Audi Sport customer racing Asia and Porsche Motorsport Asia Pacific.
As a major player in one of the fastest growing sports in Asia, the Team is able to take any driver on a journey through the junior formulas to the top level of the sport in the most professional environment.
CONTACT INFORMATION: