广州四季酒店邀您与亲密的家人好友,悠享云端之上的宅居假日体验,在深藏在高层地标建筑国际金融中心69至100层云海之上的"家"中,感受别具特色的愉悦度假时光。
Four Seasons Hotel Guangzhou introduces a one-of-a-kind Staycation! Imagine a mini-retreat nestled in the clouds between the 69th and 100th floors of the iconic IFC building. This fantasy Staycation can be experienced with your closest friends or family, in the very heart of Guangzhou.
广州城央时髦好去处 | Experience the Chic surroundings in the Heart of Guangzhou
漂浮在云海之上,广州四季酒店每间客房都拥有超宽阔落地窗,饱览广州城市天际线和珠江两岸旖旎景观。仅需信步之遥,即可抵达花海烂漫的花城广场,感受四季如春的魅力。窝于简约时尚的云尚城景客房,在云上小天地享受私人的静谧时光 – 阅读一本好书,浸一场放松身心的泡泡浴,或沉浸在白云山胜景和城市霓虹夜景之中放空,让时光在美好中慢慢流逝。登上高空中远离尘嚣的避世桃源,在轩敞舒适的客房空间中享受城中宅度假的快乐。
Floating amongst the clouds, the Hotel's floor to ceiling, wall to wall windows showcase the stunning skyline and iconic Pearl river below – the guestrooms are a destination in themselves. Take in day-to-night views of the stunning Guangzhou skyline or go for a stroll in the famous Hua Cheng Square, just steps away from the hotel. Retreat back to your sanctuary and curl up with a favorite book, a hot bubble bath or simply relax while gazing out at mesmerizing night views of the city and the Baiyun mountains. With wonderfully spacious interiors and among the largest guestrooms in the city, Four Seasons Guangzhou is the perfect escape from your hectic lifestyle.
可爱的"梦幻云堡"主题客房更是以其高颜值不仅深受家庭出游客人的喜爱,还打动了女士们的童趣梦幻的少女心。此客房将90层以上的超过60平方米的宽敞客房全面升级改造成为缤纷乐园:超人气拍照打卡位热气球、梦想号宇宙飞船、童心滑梯、星际主题双层床、云状沙发茶几以及飞机概念电视柜和迷你吧,与窗外云端景色交相辉映,仿如置身空中。
Select from the Tower King City View guestrooms or our uniquely designed themed Dream Castle rooms, which have been transformed into a fantasy paradise, with over 60 square meters above the 90th floor. The room features a Hot Air Balloon, Dreamer Spaceship, a slippery slide, a themed playroom/bunk bed, a cloud-shaped soft sofa with a table and an airplane themed TV closet and Mini Bar, which is both fun and photogenic, while surrounded by the breathtaking Guangzhou skyline.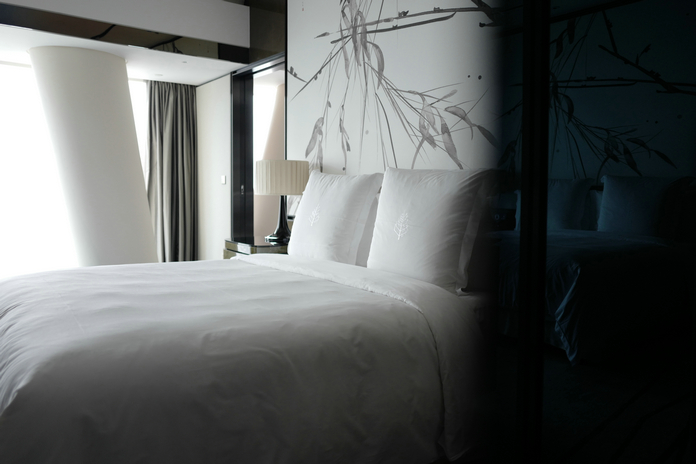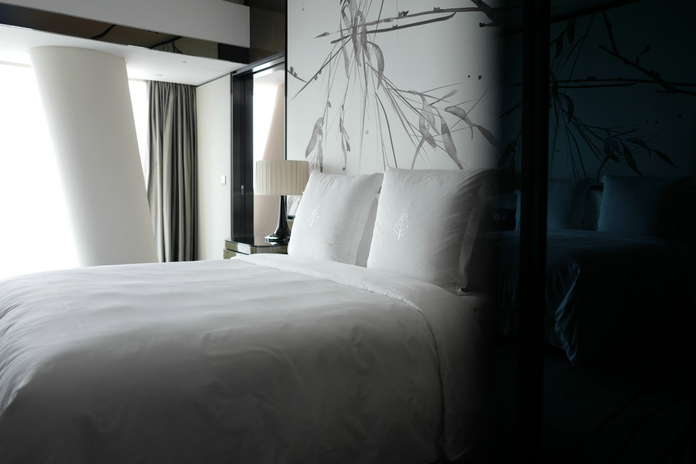 居停,玩乐,度假 | Stay, Play, Vacay
在备受宾客欢迎的四季床垫上享受一夜好眠,迎来晨光,以美好丰盛的早餐唤醒灵魂。客人可于客房内享受客房送餐或者到72层意珍品尝丰富的早餐精选 – 根据你喜好定制的蛋品,新鲜沙拉,粤式点心以及由Chef Patrick手工制作的一系列意式佳肴。
After a restful night's sleep on the Four Seasons signature mattress, linger a little while longer over a gourmet breakfast-in-bed. Or savor authentic Italian specialties in the welcoming ambience of Caffe Mondo on the 72nd floor. The breakfast menu features eggs prepared to your liking, a variety of fresh seafood, live salad stations, Dim Sum and handcrafted Italian specialties from Chef de Cuisine Patrick.
悠然午后,在69层饱览绝美景观的无边泳池畅泳,或奢享一场愉悦身心的水疗护理。或在毗邻酒店的广州友谊商店,选购琳琅满目的时尚商品,从珠宝、化妆品到家用电器,一应俱全。值得一提的是,出示广州四季酒店房卡更可享受广州友谊国金店消费折扣优惠,让购物充满乐趣。
During the afternoon guests can also enjoy a leisurely swim in the infinity pool, or take in a rejuvenating spa treatment at Hua Spa, followed by shopping at IFC Friendship Store. This high-end department store is adjacent to Four Seasons Hotel and offers special privileges when presenting your Four Seasons room keycard. Enjoy the exclusive discounts on top local fashion brands, jewelry, cosmetics, household products and electronics.
位于70层,拥有可270度全角度观看珠江两岸和城市景观的中庭酒吧专为茶点爱好者打造迷幻醉人夜色伴随的夜茶聚时光,完美将悠然的下午茶的甜蜜滋味延长到夜幕笼罩时刻。
Tea aficionados can extend their high-tea moment to the evening with panoramic night views of the Pearl River and Canton Tower, while enjoying a dazzling array of sweets and savories. This special Skyline evening tea has recently been introduced in the Atrium lounge located on the 70th floor.
入夜之后,更可扩大夜生活地图,信步而至酒吧和俱乐部林立的街区狂欢畅饮,或在霓虹夜景闻名遐迩的珠江两岸步道散步,享一刻夜景。
Next, celebrate Guangzhou's famous nightlife starting with a sunset cocktail at Tian Bar, located on the 99th floor of the hotel, where our uniquely talented Head Bartender Antonio will handcraft your favorite drink while you savor the stunning views and hip atmosphere.
---
四季时髦宅度假 | Signature Staycations
宾客可选择如下两种宅度假模式,有效期至2021年5月30日。
Guests can select from two bespoke staycation packages, valid until 30 May, 2021.
闺蜜休闲逛吃住宿套餐 | Let's Go Shopping followed by Afternoon Tea!
甜蜜夜茶与时尚购物,人民币2,399元起/晚,已包含服务费及税费,包含如下礼遇:
Enjoy afternoon tea in style combined with promotional shopping offers. Starts from RMB 2399 all-inclusive. Included in the offer:
• 一晚入住云尚城景客房
• 翌日意珍双人自助早餐
• 中庭酒吧夜茶时光(三层优雅夜茶套餐,晚上6-10点供应)
• 广州友谊国金店尊属折扣优惠及礼遇
• One night stay at Tower King Room City View
• Daily buffet breakfast for two at Caffe Mondo
• Skyline tea at the Atrium (Three tier evening tea is offered from 6pm to 10pm)
• Exclusive discount vouchers and VIP privileges at Guangzhou IFC Friendship Store
重拾童真的梦幻云堡 | Childhood Memories at the Dream Castle
在云层之上的沉浸式童趣云堡放肆畅玩,唤回纯真无邪的童年玩乐回忆。适用于周日至周四,人民币6,088元起/晚,已包含服务费及税费,包含如下礼遇:
Discover an interactive colorful playground in the Clouds, retreat back to childhood with this wonder-filled themed room, available Sunday to Thursday. Starts at CNY 6088 all-inclusive and includes:
• 60分钟双人有机田园水疗护理
• 花水疗中心享用护理后的双人下午茶套餐
• 翌日意珍双人自助早餐
• 广州友谊国金店尊属折扣优惠及礼遇
• One night stay at the themed room Dream Castle
• 60 minutes Organic Garden therapy for two at Hua Spa
• Buffet breakfast for two persons served at Caffe Mondo
• Afternoon Tea Set for two people, served at Hua Spa VIP room, following your Spa treatment
• Exclusive discount vouchers and VIP privileges for Guangzhou IFC Friendship Store upon check-in.
---
广州四季酒店
Four Seasons Hotel Guangzhou
广州市天河区珠江新城珠江西路5号
5 Zhujiang West Rd., Zhujiang New Town, Tianhe District, Guangzhou
Tel:+8620-8883-3888
www.fourseasons.com/guangzhou