2017 Guangzhou British Day
广州英国日
Saturday, 20th May
5月20日, 星期六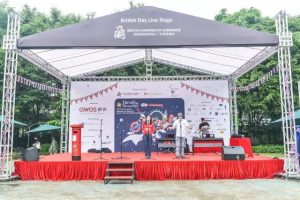 A fantastic day was had by all at last Saturday's Guangzhou British Day! It was great to see so many guests from both the local and international community get together at Guangzhou's wonderful Favorview Palace. This year marked the 6th anniversary of our annual British Day event and we were delighted to welcome over 3,500 guests, who all came to enjoy the "Tastes of Britain". Although the British weather came as anticipated, the summer rain didn't dampen our spirits and enthusiasm. We celebrated an afternoon with British bands playing live music, as well as lucky draw dips with over 100 prizes including round-trip flight tickets to London and an European city.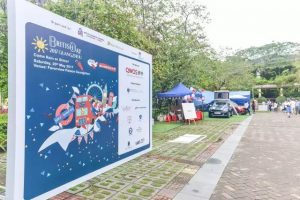 上周六5月20日,3500多名中外来宾齐聚广州汇景新城享受了一个"趣味英伦范"的广州英国日!今年是广东英国商会在广州举行的第六届英国日,活动当天,英式天气如约而至,绵绵细雨丝毫没有影响现场观众的热情,热烈的乐队表演将观众情绪带向了一波又一波的高潮。活动当天主办方提供了超过100份的奖品做为现场来宾幸运抽奖,其中包括了多张广州伦敦以及欧洲城市往返商务舱机票!
Opening Speeches Guests
开幕致辞嘉宾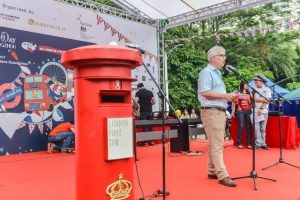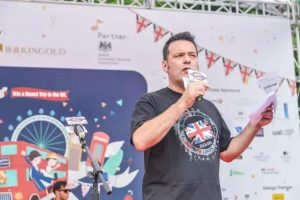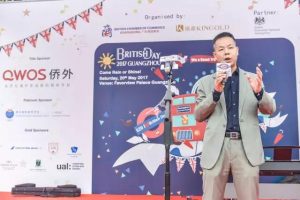 Tastes of Britain
趣味英伦范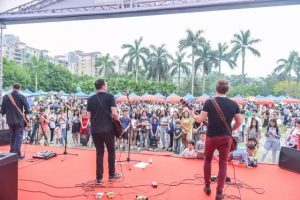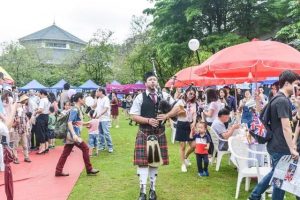 Our event brought a taste of Britain to Guangzhou, a city embraces different culture. At the event, guests experienced both interesting and authentic British treats, ranging from fish and chips to ciders, British ales and Scottish gin. There was also plenty for the children, who enjoyed the ice cream and candy floss on offer, as well as the bouncy castle. The rain failed to dampen the enthusiasm of the guests, as they continued to have a great time whilst under a sea of colourful umbrellas. Our live stage was continuously crowded with those rocking out to amazing and wonderful performances, such as the live bagpipe show. In addition, the excellent performance by students from Yew Wah International Education School-Guangzhou and Citic Lake Bilingual International School added a beautiful quality to the day.
活动当天我们将英国的情怀带到了广州这一座充满人文气息的城市,来宾们在这里体验具有趣味性的英式风情,感受到浓浓的英伦文化,不管是炸鱼薯条、苹果酒、英国啤酒还是苏格兰杜松子酒,我们通通都有!同时,活动当天的冰淇淋,棉花糖和巨型充气城堡的游戏也受到了许多小朋友的喜爱!雨水并不能降低嘉宾的热情,多彩的雨伞下是观众们热烈而憧憬的表情,空气中弥漫着欢快的气息和味道。活动表演开始,人们纷纷聚集在舞台周围,欣赏着精彩的风笛表演,享受视觉与听觉的盛宴。此外,耀华国际教育学校广州校区以及中信山语湖学校的学生也带来精彩的表演,为英国日增添了美妙的色彩。
Just like the wonderful British Days that have taken place in previous years, this year's event attracted thousands of guests and had all kinds of excellent prizes including airline tickets, restaurant vouchers and golf class trial vouchers. There were all kinds of unique booths at this year's event. British Day title sponsor, QWOS held their U.K. Investment & Immigration Report Press Conference at British Day this year, which provided professional data analysis of UK investment and immigration for the guests.
如同往年的英国日那般精彩绝伦,今年的英国日吸引了各地成千来宾,现场有机票、酒店礼券、高尔夫球体验课券等各式各样的奖品。今年的现场摊位各式各样,别出心裁,本届英国日冠名赞助商侨外移民公司更是把英国投资移民白皮书发布会开到了英国日的现场,为来宾们提供专业的英国投资移民数据分析。
With Thanks To
致谢
From all of us here at the British Chamber of Commerce Guangdong we would like to thanks all those who contributed to making the day so special and we hope to see you all at our Shenzhen British Day at the end of the year! We would like to give a huge thank you to all our sponsors, co-organizers, partners, volunteers, without your generous support 2017 Guangzhou British Day would not have been this successful.
广东英国商会的全体成员衷心地感谢为2017年广州英国日做出贡献的所有朋友,我们期待在今年年底的深圳英国日再次与您相约!十分感谢我们所有的赞助商,协办单位,合作伙伴及志愿者对我们的帮助与支持,如果没有您们的倾情支持,2017广州市英国日就不会如此成功!