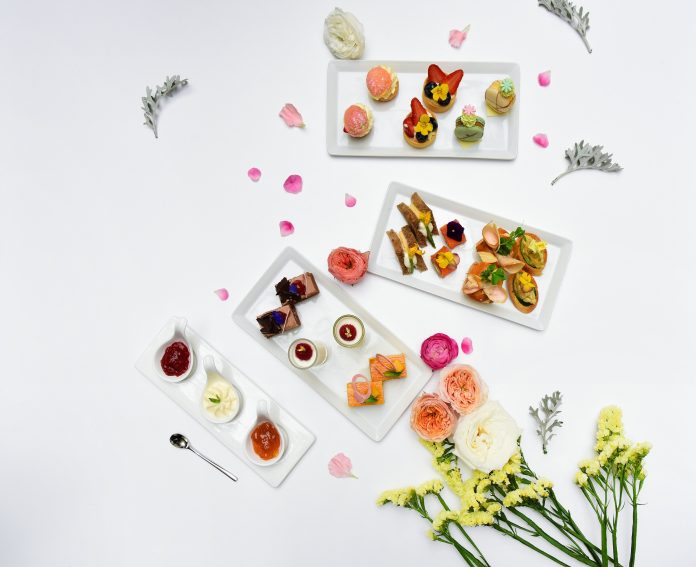 June 15, 2017 (Shenzhen) – An exquisite set of afternoon tea with a cup of coffee and several desserts may be your best choice for either enjoying brilliant afternoon time of summer with friends or having informal and casual meetings with business partners. Thus recently Marco Polo Shenzhen has elaborately prepared its colorful afternoon tea set menu for you to share and enjoy.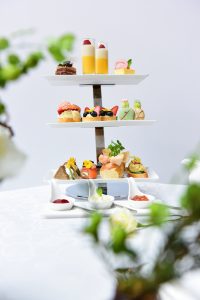 The brand new Colorful Afternoon Tea Set Menu includes 11 delicate desserts and 7 healthy drinks, such as Black Forest Cake, Mini Ham and Cheese Sandwiches, Strawberry Puff and Tartlet. Every dish has been embedded with innovational ideas and collaborated with new elements, thus the desserts taste light and fresh, unlike the traditional dairy with cloying taste. Everything in the plate is edible, including the decorative petals and leaves. In this very moment, it will be rejoicing to gather with friends and families at the Connect Lobby Lounge to enjoy our special prepared afternoon tea.
Spring Afternoon Tea Menu:
Venue: Connect Lobby Lounge, 1/F, Marco Polo Shenzhen
Price: RMB148 per person
RMB248 per two persons
Wechat followers and in-house guests will have 20% off.
For booking or enquiries, please call (86 755) 3339 7715
*Above prices are subject to 10% service charge and 6% VAT.
About Marco Polo Shenzhen
Marco Polo Shenzhen is located in the heart of Futian Central Business District, and is only 15 minutes to the Luohu Railway Station and Shenzhen Bay Port, 20 minutes to Shenzhen North Railway Station and Shenzhen Bao'an Airport, and 10 minutes to Futian/Huanggang Checkpoint. The 391 well-appointed rooms and suites are equipped with broadband Internet access, luxurious bathrooms, and state-of-the-art communications and entertainment facilities. Situated from the 35th to 41st floors of the hotel, The Continental Club provides the most luxurious accommodations for travelers. The hotel has 6 restaurants and bars, including Café Marco, Margarita Bar, Connect (lobby lounge), Carrianna Chinese Restaurant, Nishimura Japanese Restaurant and MCClub. Marco Polo Shenzhen has 31 function rooms, including Marco Polo Ballroom and one auditorium, which can accommodate up to 3,000 people and provide the ideal Shenzhen venue for meetings, seminars, and social events. The hotel's fully equipped Fitness Center includes a gym, sauna, and outdoor swimming pool, and hotel guests can indulge in relaxing spa treatments at the renowned Pure Spa.
For more information please visit marcopolohotels.com
About Global Hotel Alliance
Global Hotel Alliance (GHA) is the world's largest alliance of independent hotel brands, bringing together 35 brands with 550 hotels in 76 countries. GHA uses a shared technology platform to drive incremental revenues and create cost savings for its member brands.  GHA's award-winning loyalty programme, DISCOVERY, provides nearly 10 million members exclusive opportunities to immerse themselves in local culture wherever they travel. For more information, visit gha.com