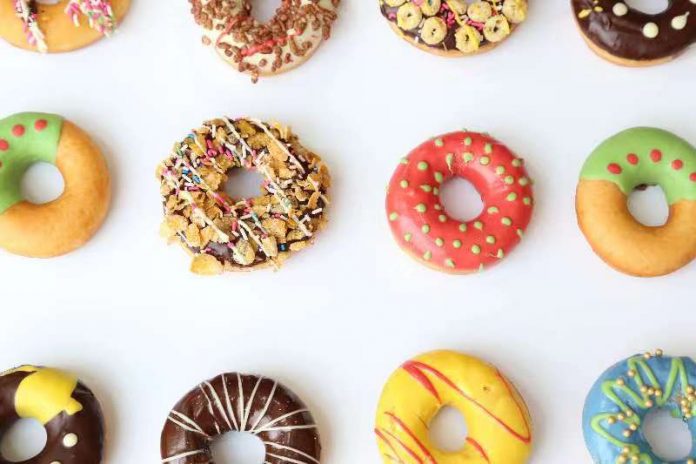 9月15日将迎来旅行家马可·波罗先生诞辰765周年,秉持其 [探索·发现·体验] 人生哲学, 佛山岭南天地马哥孛罗酒店浓情献礼,多款美食与住宿优惠礼遇齐齐上线! 前年酒店推出丝绸之路拿破仑蛋糕,去年呈上比萨斜塔彩虹蛋糕;今年,酒店餐饮团队带来新意十足的甜甜圈树!
On September 15, we will celebrate the 765th Birthday of the Traveler- Mr. Marco Polo. Upholding his philosophy of life of [Explore Discover Experience], Marco Polo Lingnan Tiandi Foshan will present various food and accommodation packages and privileges for our guests. Let us recall that the Hotel presented a Silk-road Napoléon Cake the year before last and a Rainbow Cake in the shape of Pisa Leaning Tower last year. While in this year, the hotel RB&E team will bring our guests the innovative donut tree!
有朋友说"一听到甜甜圈,会不禁快乐起来!"那么看到挂满甜甜圈的树,快乐是不是要成倍增长?马哥的甜甜圈树下,我们一起开启源自于澳洲的网红甜品~~雪糕甜甜圈之旅!
Some people said, "When you hear donuts, you can't help being happy!" So when you see a tree full of donuts, will your happiness multiply? Under the Donut Tree of Marco Polo, we're going to start our tour of the internet-popular dessert which is ice-cream with donut from Australia together!
眼前甜甜圈口味丰富,每一枚甜甜圈精心制作,颜值极高:包括波波米甜甜圈,玉米片甜甜圈,玉米爆谷甜甜圈,巧克力甜甜圈、彩针甜甜圈,还有果绿甜甜圈。香气满溢的甜甜圈,配上一个来自新西兰的雪糕球,形状可爱得溜溜圆圆圈圈的,十分惹人爱!不仅有惹人爱的外表,还有让人赞口不绝的味道!你准备好了吗?大大地咬上一口,雪糕冰凉丝滑,甜甜圈带点脆意带点韧劲;一口冰凉一口香,毫无油腻,雪糕与甜甜圈融合得如此美妙,忍不住一口又一口。惊呼,这就是雪糕甜甜圈风靡澳洲的原因!
The donuts on the tree are rich in flavor. Each donut is carefully made and is good looking, including Rice Krispy Donut, Cornflake Donuts, Popcorn Donuts, Chocolate Donuts, Colored Sugar Sprinkles Donuts, and Fruit Green Donuts.

旅行家Marco Polo诞辰765周年之甜甜圈系列,9月10日商城惊喜开售,雪糕+甜甜圈仅需12元/套,单个甜甜圈仅需6元/个。9月13日至15日于现场付款购买,每购买一套,将为酒店慈善活动贡献1元。甜甜圈仅限9月13日至15日于酒店1楼大堂酒廊兑换,欢迎登陆酒店官方微信或致电0757-8250 1888详询。
On September 10, Donuts for Traveler Marco Polo's birthday will start to be on sale on Hotel's WeChat Mall. The package of ice cream with donut only costs CNY 12 per set while a single donut only costs CNY 6 each. If you buy and pay on site from September 13 to 15, one yuan will be donated to the hotel charity activities for each set. Donuts are only exchanged in the Lobby Lounge on the 1st floor of the hotel from September 13 to 15. Please refer to the Hotel's official WeChat account or call 0757-8250 1888 for further inquiries.